IIFT 2017 Topper Interview: Take plenty of mock tests before appearing for the exam, says 99.94 percentiler Manan Shah
Manan Shah, the topper of IIFT, says it was the support of his boss and colleagues at work that helped him immensely during his preparation for management entrance exams. And it was his consistent and focused preparation that allowed him to top the exam with 99.94 percentile. Manan appeared for several B-school entrance exams and received admission offers from multiple B-schools. Nevertheless, he found his interest towards Finance domain much before he took the different entrance exams and that's why choosing IIFT over other B-schools was an obvious choice for him. Manan was a professional Electrical engineer with almost two years of work experience before joining IIFT, Delhi.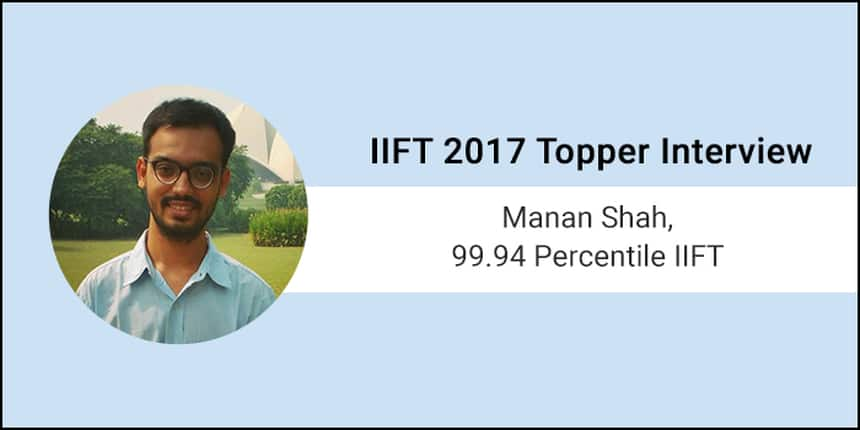 In this interview with Careers360, he tells us how regular studies and support at workplace helped him achieve the top rank in IIFT 2017. Read on to know more.
Read the full interview here:
Careers360:  Congratulations on your admission to IIFT Delhi. What was your score in IIFT 2017?
Manan: Thanks. I scored 21.25 in English Comprehension, 15.34 in Quantitative Analysis (QA), 22 in Logical Reasoning & Data Interpretation (LRDI) and 5.83 in General Knowledge (GK). The total score was 64.42 which makes it 99.94 percentile.
Careers360:  Did you appear for any other entrance exam? If yes, please share the score.
Manan: I appeared for some other management exams as well. Here are their scores - 99 percentile in NMAT, 96.11 percentile in CAT and 99.40 percentile in XAT.
Careers360:  Did you have admission offers from other B-schools? Why did you choose IIFT over other B-schools?
Manan: I got admission offers from XLRI HR, NMIMS Mumbai, IIM Udaipur, IIM Raipur, IIM Rohtak and IIM Kashipur.
Due to my prior inclination towards Finance domain, I had already decided to do my majors in Finance. IIFT being the most prestigious B-school for their specialty in Finance & Trade among others, it was the obvious choice for me.
Careers360:  Please share your preparation journey. How did you strike a balance between your academic/professional life and preparation for an entrance exam?
Manan: I prepared for entrance exams for nearly 10 months. While preparing, I had full support from my boss & colleagues at work which helped me focus on my exams during last few weeks. I usually studied for 2-3 hours each day.
Careers360:  What was your section-wise strategy for the exam? Did you follow any specific preparation strategy for IIFT?
Manan: My strategy was mostly based on the weightage of a particular section and my proficiency in that domain. Based on my performance in mocks and knowing my strengths, I prepared a specific strategy and followed the same during the exam.
Careers360:  Mention section-wise books and study materials you referred during your preparation.
Manan: For Quant and LRDI, I used the study material provided by T.I.M.E. institute and some chapters from Total Gadha website. For Verbal/RC, I used to read newspaper and novels regularly.
Careers360:  Were you a part of any coaching institute? Do you think coaching is necessary for aspirants to bag the top rank?
Manan: Yes, I took study material and enrolled for test series of three different coaching institutes which certainly helped me prepare in such a short span of time. T.I.M.E. institute was one of them.
Careers360:  What is the significance of mock tests in your success? When did you start taking mocks and what was the frequency?
Manan: Mock tests help a lot. While preparing for CAT, I wasn't friendly with the question pattern of other exams such as IIFT, NMAT or XAT. I wrote at least 10 mock tests before appearing for each exam which helped me a lot on the final day of the exam.
Careers360:  What was your section-wise time management strategy on the exam day?
Manan: I am good at Quant and LR. So, I completed both of them along with GK in the first hour. Verbal and RC took another 35-40 minutes and then I moved to DI part. I applied this approach based on my previous mock tests.
Careers360:  Apart from the assignments and class projects, what other non-academic activities you are involved in? Share your experiences.
Manan: I was the part of a marathon event organised by Melange - cultural committee of IIFT recently. Apart from that, there is always something going on on the campus, be it Sectional war, Ultimate warrior league or Panipuri competitions.
Careers360:  How has your journey been at IIFT so far?
Manan: For me, it's been a wonderful journey indeed. Everything is great here from curriculum to professors to peer to peer learning, etc.
Careers360: Any suggestion that you would like to share with aspirants?
Manan: Don't take stress at all and give your best on the IIFT 2018 test day!
Questions related to IIFT
Showing 198 out of 198 Questions