CMAT 2021 Preparation Tips and Trend Analysis
CMAT 2021 Preparation Tips and Trend Analysis - One of the national level entrance examinations that provides entry into management programs of Indian B-Schools is the Common Management Admission Test which is popularly known as CMAT. Candidates who are preparing for CMAT 2021 must be aware that until 2018, All India Council for Technical Education (AICTE) was responsible for conducting CMAT on yearly basis as per the rules and regulations of The Ministry of Human Resource Development (MHRD), Government of India. But, CMAT is now conducted by the National Testing Agency (NTA). In this article of CMAT 2021 Preparation Tips and Trend Analysis, Careers360 will discuss the major preparation strategies that need to be followed along with the analysis of CMAT trends over the years. CMAT for the years 2021, will be conducted tentatively in the last week of March 2021. Past trends in CMAT exam reveal that CMAT 2021 exam preparation can be synchronized with other MBA entrance exams.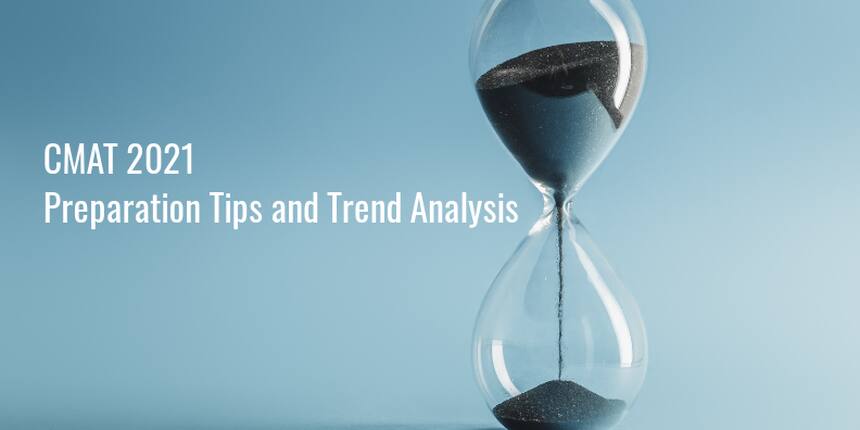 CMAT Exam Dates 2021
Candidates who are planning to give the exam this year must be aware of the exam dates of CMAT 2021. Details related to start and end of registration, availability of admit card, exam day and all are provided under exam dates.
Exam Dates of CMAT 2021
Events

Tentative Dates

CMAT 2021 Registration Start Date

December 23, 2020

Last Date To Submit CMAT 2021 Application Form

February 25, 2021
March 01, 2021

Availability of CMAT 2021 Admit Card

March 24, 2021

CMAT 2021

March 31, 2021

Announcement of CMAT Result 2021

To be announced
CMAT Preparation Tips 2021
Careers360 brings the detailed CMAT 2021 preparation tips in order to help candidates to ace one of the most popular management entrance examinations after CAT and XAT. Given below tips can be followed by candidates before they start their preparation for CMAT 2021. These preparation tips of CMAT 2021 can be used by candidates in other MBA entrance exams as well -
Be Aware of Exam Pattern

Focus on Distributive Learning Strategy

Clarity of Concepts

Select Right Books

Take Study Breaks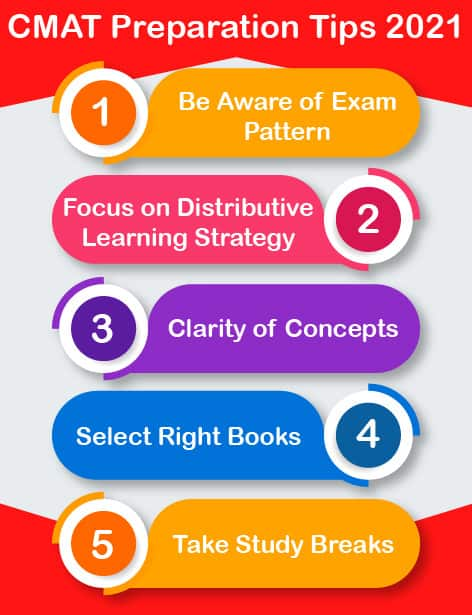 Let us look at each point one by one to have a better clarity -
CMAT 2021 Preparation Tips and Trend Analysis - Be Aware of Exam Pattern
First and foremost it is very important for candidates to be aware of the exam pattern of CMAT 2021 before they start their preparation. Details related to the marking scheme, number of questions, time duration etcetera are provided under the CMAT 2021 exam pattern. Over the years the basic structure of the CMAT exam did not encounter many alterations and remained constant except in 2021. An additional section of Innovation and Entrepreneurship has been added in CMAT 2021. Preparation tips of CMAT 2021 will remain incomplete if the CMAT exam pattern 2021 is not discussed.
Exam Pattern of CMAT 2021:
Particulars

Details

Duration

3 hours 30 minutes

Sectional Time Limit

No

Number of Sections

Four -

Quantitative techniques and data interpretation

General awareness

Logical reasoning

Language comprehension

Innovation and Entrepreneurship

Marking Scheme

Four marks will be awarded for correct answer

One mark will be awarded for incorrect answer

No mark will be deducted for unanswered questions

Total number of questions

125 questions

Options per Question

4 options per question

Question Type

MCQs
CMAT 2021 Preparation Tips and Trend Analysis - Focus on Distributive Learning Strategy
It is always advisable to candidates preparing for CMAT 2021 to have a distributive learning strategy. This strategy guides and focuses on the fact that candidates must try to cover more than one section per day. Following a distributed learning practice in CMAT 2021 allows candidates to have baseline understanding of the sections. Studying/cramming only one section for long hours will make one's mind distressed and redundant. Hence, as CAT 2021 preparation tips, candidates must try to make their study plan in such a way that at least two sections per day come in their revision/study pattern.
CMAT 2021 Preparation Tips and Trend Analysis - Clarity of Concepts
Concept clarity is the essence of securing good marks, no matter in which way the questions related to a particular topic are asked. The best to clear concept of any topic/entrance exam is to go through the previous year question papers of CMAT. Along with that, mock tests, sample papers and test series also are helpful in CMAT preparation. Hence, as one of the preparation tips of CMAT 2021, candidates must include in their preparation plan the study and revision of question/sample papers/mock tests etc.
As per many experts, the level of difficulty of the CMAT exam mostly ranges from easy to moderately difficult questions. Having the basics in place will help candidates in solving the questions with confidence.
CMAT 2021 Preparation Tips and Trend Analysis - Select Right Books
To ace any competitive exam be it CMAT, CAT, XAT, IIFT or any other, candidates must know the best books so that they can crack the exam with good scores. Hence as part of CMAT preparation tips 2021, candidates must have the right set of books to prepare from. Since there is so much material to study that is available both in online and offline markets that candidates tend to get baffled. Number of books are available for the CMAT exam, but it is prudent to look for only those books that cover the sectional topics as per CMAT syllabus 2021.
Quick link -
What are the Best Books for Preparation of CMAT 2021?
CMAT 2021 Preparation Tips and Trend Analysis - Take Study Breaks
One of the CMAT 2021 preparation tips is that candidates should take study breaks in between their study time. This could be understood better with the help of a famous proverb that says "All work no play makes Jack a dull boy". Studying for longer hours could feel burned out leading to distressed and drained environments. Hence while making their study time table, candidates should try to divide their time in such a way that they are left out with some refreshment time as well. For example, if a candidate is ready to devote four hours to one section, then he/she should try to have a gap of at least 10-15 minutes between the four hours set schedule. This will help rejuvenate the energy and mind will not be stressed out.
Also Check- CMAT 2021 Syllabus
CMAT 2021 Preparation Tips: Quick Facts to Remember
The option of switching between sections will be available. Hence, candidates will be allowed to switch between the four sections and answer as per their preference

As per the exam pattern of CMAT 2021, there is no negative marking for leaving a question unanswered. Hence candidates leaving a question unanswered do not have to worry about marks deduction

All candidates will have access to a desk with a computer terminal. For rough work/calculations a plain paper will be given to candidates which they will be asked to submit at the desk once the examination is complete

Carrying any paper/notebook inside the exam centre of CMAT 2021 is strictly prohibited

No breaks will be allowed during CMAT 2021

Candidates will be allowed to carry only CMAT admit card 2021
CMAT 2021 Preparation Tips and Trend Analysis
As mentioned above, CMAT till the year 2018 was conducted by AICTE. It was introduced in the year 2012 and the maiden exam was conducted in February, which was followed by September CMAT 2012. In the year 2013 on special request of the state governments, an additional CMAT exam was conducted in May in order to facilitate those candidates who could not appear in the earlier CMAT in February that year. It was mentioned that only those candidates who had not taken CMAT in February would be allowed to take the additional test

Owing to the fact that the admission in various B-Schools is taking place through CMAT scores in the State, several state-level MBA entrance exams like UPSEE, RMAT, MAH-CET etcetera were discontinued. However, later they were made back to active mode and still the exams are conducted

Around 70,000 registrations were received in the first CMAT registration and with each passing year, the registrations increased. As per NTA, CMAT 2020 Statistics is given below -
Statistics of CMAT 2020:
The National Testing Agency (NTA) conducted the Common Management Admission Test (CMAT) on January 28, 2020. Given below is the category wise CMAT 2020 statistics.
| | | | | | | |
| --- | --- | --- | --- | --- | --- | --- |
| | General | EWS | OBC | SC | ST | Total (PWD) |
| Male | 25879 | 2187 | 9947 | 2228 | 605 | 40846 (132) |
| Female | 23877 | 1010 | 6672 | 1594 | 483 | 33636 (52) |
| Transgender | - | - | 2 | 1 | 1 | 4 (-) |
| Total | 49756 | 3197 | 16621 | 3823 | 1089 | 74486 (186) |
CMAT Question Paper 2021
One of the important aspects while preparing for CMAT 2021 is to prepare through previous year question papers of CMAT 2021. Here is the links of previous year CMAT 2021 question papers.
Previous Year CMAT Question Papers
Questions related to CMAT
Showing 2985 out of 2985 Questions