CMAT 2021 Exam Day Guidelines and Strategies to Crack the Test
CMAT 2021 Exam Day Guidelines and Strategies to Crack the Test - Being skeptical about the preparation and how the question paper is a common nerve that every candidate gets on the day of CMAT 2021. This anxiety becomes the source cause for candidates and mistakes are bound to happen. So how to go about them? Well, after months of toiling no one wants to flounder. In this article of CMAT 2021 Exam Day Guidelines and Strategies to Crack the test, Careers360 brings to you the dos and don'ts for the exam day and some major strategies to crack CMAT 2021 entrance exam in one go. CMAT is a national-level entrance exam that is conducted by the National Testing Agency and has conducted on March 31 in two shifts. Before appearing for the entrance exam of CMAT 2021, candidates are advised to go through the basic instructions provided in the admit card to avoid any negligence on their part.
Stay up-to date with CMAT News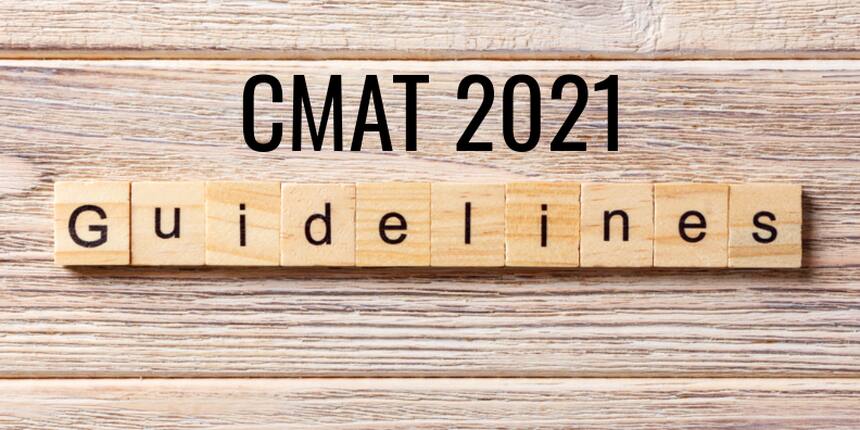 CMAT 2021 Exam Day Guidelines and Strategies to Crack the Test
Experts and previous year toppers always suggest that instead of panicking and worrying about the negative side, it is better to focus and think about how you can make your results improved. Although the CMAT 2021 admit card has contained all important information related to exam day guidelines, candidates are advised to go through the dos and don'ts given below to excel in CMAT 2021.
Since 2020 was the COVID 19 pandemic year, hence for the CMAT 2021, related guidelines are strictly followed. Some of the major guidelines are -
Use of sanitisers

Masks to be mandatory - All candidates are requested to wear masks for safety purposes.

Follow social distancing - Candidates have to strictly follow social distancing before, during as well as after commencement of the exam.
Check Exam Centre in Advance
Candidates appearing for CMAT 2021 must check the exam centre allotted to them in advance. It is advisable to visit the place one or two days prior to the date of the exam to avoid any last-minute delays on exam day. CMAT 2021 exam centres are the places where the exam has conducted.
Carry Admit Card and related documents
On the day of the exam, one of the major exam day guidelines for all candidates carry the CMAT 2021 admit card in hard copy. Without the admit card of CMAT 2021, no candidate will be allowed to enter the exam centre. Apart from the admit card, NTA also requires candidates to carry one ID proof. A passport size photograph is mandatory for all candidates.
Any of the following can be carried along with the CMAT Admit Card 2020 -
Aadhaar Card (With photograph)/E- Aadhaar/Ration Card/ Bank Passbook with Photograph)

Driving License

Original PAN card

Voter ID

Passport with Photograph
Be on Time
Managing time is one of the most important exam day guidelines for candidates appearing in CMAT 2021. All candidates need to report at their test centre one hour prior to the test schedule.
What not to carry? - Personal Belongings
As per the exam pattern of CMAT 2021, the exam has conducted in computer-based mode. Candidates should not carry with them the following items to the exam centre as the same may lead to cancellation of their candidature -
Electronic devices like mobile phones, digital calculators, cameras, tape recorders, microphones

Geometry box, pencil box, pen, papers, purse, handbags

Any kind of eatables and drinking items
Check Seating Arrangements
After reaching the exam centre of CAT, candidates need to check their seat firstly. The details regarding the same are mentioned in the notice attached either within the premises or on the exam centre gate. All candidates should take their seats immediately and are not allowed to leave the exam hall before completion of the time.
Quick Links
CMAT 2021 Preparation Tips and Trend Analysis
What are the Best Books for Preparation of CMAT 2021
Unfair Means
Candidates caught indulged in any unfair practice during the examination has held responsible for their actions. The same may lead to disqualification/cancellation of candidature.
CMAT 2021 - Strategies to Crack the Test
While attempting the question paper, some of the basic guidelines that candidates should follow are given below.
Carefully Read Questions
Since there is no sectional time duration in CMAT 2021 question paper, hence candidates are advised to read the questions carefully. Mark the questions that you think are attemptable. Divide the number of questions in such a way that questions are attempted accurately. Moreover, there is no sectional limit, hence candidates can opt for any section which they are comfortable in dealing with. Take the leverage and pick the section accordingly.
Do Not Waste Time
Even though there is no sectional timing, candidates should not waste more than 2 minutes on any particular question. On reading any question, your brain signals whether you know the answer. If not, then simply move on to the next question without wasting any further time. It is advisable to solve questions on the basis of foresightedness i.e. in starting to attempt the question which you can answer. If the time is remaining then give a shot to the unattempted or time taking questions that need more concentration.
Know the Art of Leaving
CMAT is considered to be a tough exam in terms of its marking scheme. One mark is deducted for every incorrect answer. Hence, candidates must be aware of this thing in advance and leave the questions which are out of reach.
Revision
Make sure to have enough time to revise. Before submitting the CMAT 2021 question paper candidates must re-check the answers marked. Along with the marked answers, answers which are left unanswered should be reviewed as it may happen that candidates might have left it while answering in haste.
Quick Link -
Questions related to CMAT
Showing 3021 out of 3021 Questions