CMAT 2020 Exam Day Guidelines and Strategies to Crack the test
CMAT 2020 exam day guidelines and strategies to crack the test - CMAT exam was conducted on January 28, 2020. While some experts say that it is best to stay away from books one day before the exam, others say that a little revision will not do any harm. What are the things to expect on the exam day? This article provided the guidelines for the CMAT exam day and strategies to ace the test. Apart from taking the exam for three hours, you have to undergo a series of checks before you reach your exam desk such as checking of admit card, photo identity card etc. As you must be very well aware of the CMAT exam pattern, we bring to you the tips on how to prepare yourself for the eve of the exam day.
Latest: Check the CMAT 2020 analysis and expected cutoff. NTA will release the answer key of CMAT 2020 anytime soon after the exam.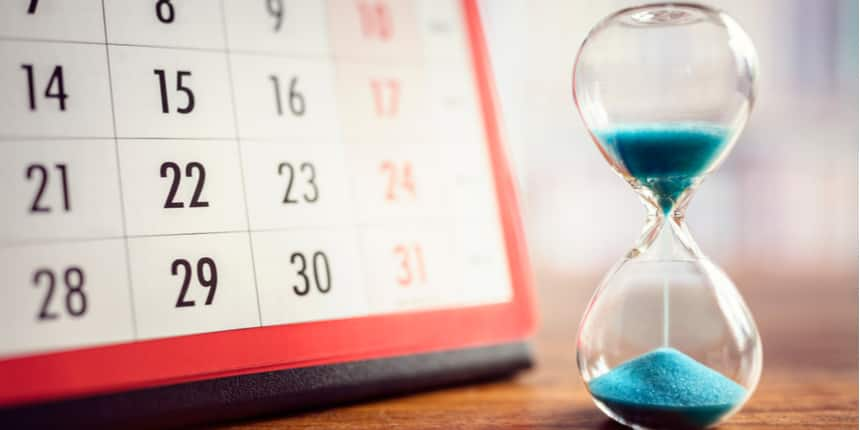 Watch Video on "CMAT - Dos & Don'ts for Exam Day"
CMAT 2020 exam day guidelines and strategies to crack the test
Let's start with the practical tips for CMAT 2020 which you must follow for the exam day.
Check your test centre
Check your CMAT 2020 exam centre location a couple of days prior to your CMAT schedule. If possible visit your test centre a day prior to your exam to get an estimate of the distance and time it will take you to reach the venue on time. Make the necessary travel arrangements to avoid last muinute hassle.
Arrange your documents
Before assigning you the exam desk, your documents will be checked in order to prove your candidature. The documents which you must carry at the CMAT exam centre are as follows:
A print out of CMAT Admit Card 2020 with your scanned passport size photo on it.

At least one original and valid photo identification which includes Driver's license, Passport, PAN Card, Voter ID, UID card or a notarized Affidavit (in English) with Photo, Signature, Date of Birth and Residential Address.

Physically disabled candidates have to bring the valid Disability certificate in Original and an ATTESTED photocopy. Attestation can be done by institute head also.

Do not bring any material which is not allowed to carry in the test centre including but not limited to wrist watch, calculator, cell phone etc.
What To carry Along with the CMAT Admit Card 2020
Along with the admit card of CMAT 2020, candidates are required to carry with them a valid identity proof. such as:
Original PAN card
Driving License
Voter ID
Passport with Photograph
Aadhaar Card (With photograph)/E- Aadhaar/Ration Card/ Bank Passbook with Photograph)
What Not To Carry To The Test Centre of CMAT 2020
Candidates are not allowed to carry with them any of the following stationery, electronic and items with them:
Instrument
Geometry Box
Pencil box
Handbag
Purse
Any kind of Paper/ Stationery/ Textual material (printed or written material)
Eatables and Water (loose or packed)
Mobile Phone
Ear Phone
Microphone
Pager
Calculator
DocuPen,
Slide Rules
Log Tables
Camera
Tape Recorder
To wear/carry any type of watch including Electronic Watches with facilities of calculator
Any metallic item or electronic gadgets/ devices i
Reach the test centre on time
You need to report at your test centre one hour prior to the test schedule.
You must also ensure that the name which appears on your Admit Card should match with that on your photo identity card. AICTE mentions, "If the name has been changed due to events such as marriage, you must show the relevant document mentioned below and submit a photocopy at the time of the test, interview and at the time of joining a programme. Marriage Certificate, Divorce Decree, Legal Name Change Document."
Important Links:
Now we will share with you the exam taking strategies.
Read questions carefully
As soon as the test starts, skim through the questions. Mentally mark the questions which you are comfortable to attempt. Make sure that you have divided a good number of questions in each section in order to maintain a section wise balance and meet the cut off score.
Start with your comfortable section
Start with a section which you are comfortable in dealing with among the total number of four sections. Starting the exam with questions from your section of strength will instil confidence in you. If you start well, you will take the entire exam confidently. Also, since there is no compulsory section to start with, you can leverage the opportunity and take your pick.
Manage your time well
The total duration of the exam is three hours. The total number of questions is 100. According to experts, an attempt of over 15 questions in each section will fetch you a good score. Hence you need to allot time to each question carefully so that you don't run out of time or attempt less number of questions than you had planned.
Don't get stuck in a question
At times the question which seemed easily solvable turn out to be a tricky one. It might take longer than usual to get the idea on which direction to move towards. In such cases, leave the question and select another question instead. "Do not waste your time in solving one question. Generally, you will get a brain wave within two minutes of reading the question. If you don't get any idea on which direction to take, the question is not meant for you to be solved," says Vinayak Kudva, Product Head, IMS Learning.
Utilize your scratch sheet
You will get scratch sheets for your rough calculation. Make proper use of it by showing your step by step method of calculation. The examiners will check your scratch sheet to ensure that you have answered a question correctly on the basis of your calculation method itself. Don't forget to keep it neat and presentable so that your work is decipherable by the examiners. Also, do not forget to mention your name or roll number on each page of the scratch sheet, as would be instructed by the invigilators.
When in doubt, leave it out
It is not uncommon to receive a wrong question in your CMAT paper. None of the answer options would match with the answer which you have derived after spending a good number of minutes working it out. Either the question is incorrect or your method is wrong. In any which way, it is better to leave it out.
Revise
If you finish before three hours, revise your answers as well as the scratch sheet. Ensure that there is no silly mistake in the exam which can mar your score. While taking the test, manage your time in such a way so that you are left with a considerable amount of time for revision.
Also Read:
Questions related to CMAT
Showing 2815 out of 2815 Questions