CMAT 2021 Preparation Tips for General Awareness: Best Books, Strategy, Tips &Tricks
CMAT 2021 Preparation Tips for General Awareness: CMAT is one of those national level entrance exams that has equal weightage for GK section. The general awareness section is said to be most dreaded among the aspirants. But worry not, we have brought some amazing GK preparation tips for CMAT 2021 exam. CMAT GK preparation must focus on covering topics on history, geography, current affairs – economic, business, awards, sports, corporate events, etc. Other topics related to entertainment, politics, and the environment are also asked. A vast CMAT GK preparation material is available in the market but in order to clear CMAT, it is necessary to refine that study material. Let us check some advanced CMAT 2021 preparation tips for the general awareness section.
Read More-
Stay up-to date with CMAT News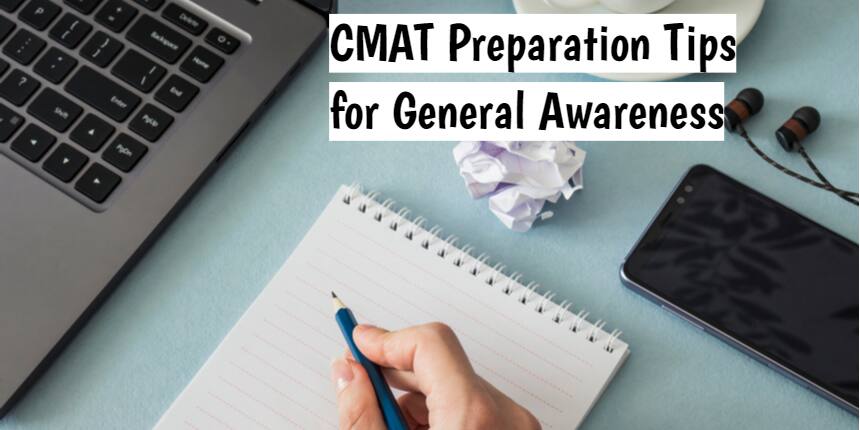 Top B-schools Accepting CMAT Scores
CMAT 2021 Preparation Tips and Trend Analysis
CMAT Exam Pattern 2021
Before diving deep into the CMAT preparation strategy for the general awareness section, it is necessary to be familiar with the exam pattern of CMAT 2021 and to analyse its importance in CMAT 2021.
Revised NTA CMAT 2021 Exam Pattern
| | | |
| --- | --- | --- |
| Sections | Number of questions | Marks |
| Quantitative techniques and data interpretation | 25 | 100 |
| General awareness | 25 | 100 |
| Logical reasoning | 25 | 100 |
| Language comprehension | 25 | 100 |
| Innovation and Entrepreneurship (optional) | 25 | 100 |
Also Read-
CMAT 2021 exam day guidelines and strategies to crack the test
Analysis for GK from CMAT exam pattern
The conclusion that can be drawn from the above exam pattern is that the CMAT GK section has equal weightage like other sections in the exam paper with 25 questions and +4 marks awarded for every correct answer. This is dissimilar to IIFT and XAT, MAT exams which have different weightage for GK. Hence the GK section plays a significant role in enhancing your overall score in CMAT.
CMAT GK Section Past Years' Trends
In order to prepare well for the CMAT 2021 GK section, candidates must be well familiar with the trends that have been followed over the past years. In CMAT 2020, out of the 25 questions, majority questions (24) came from Static Gk, while the rest from Current affairs (1). This implies you have to focus a lot on Static GK in CMAT. Check the GK section trends in CMAT over the past years.
CMAT GK Questions 2020, 2019, 2018
| | | | |
| --- | --- | --- | --- |
| GK Questions | 2020 | 2019 | 2018 |
| Static GK | 24 | 20 | 18 |
| Current Affairs | 1 | 5 | 7 |
| Total | 25 | 25 | 25 |
Related Links-
MAT Preparation for Language Comprehension & Verbal Ability
Best Books for MAT Preparation 2021: Reasoning, Mathematical, Data Analysis
Types of CMAT GK Questions
There are two types of general awareness questions asked in CMAT- static and current GK. Static GK broadly consists of areas that do not change over time. The static GK questions for CMAT may be asked from the following topics:
History

Geography

Economy

Companies and Brands

Indian Political System & Constitution

Organizations

Science & Technology

Sports

Miscellaneous
For current affairs for CMAT, candidates can focus on the following topics:
Economy

Business & Corporate News

Indian Polity

Organizations

New Developments in Science & Technology

People in News

Sports

Miscellaneous
Quick Read-
30 days preparation strategy for CMAT 2021
CMAT 2021 Preparation Tips for General Awareness
How to prepare GK for CMAT? To provide solutions to all your questions, we have compiled together a few CMAT GK preparation tips. Have a look at CMAT exam tips below for drawing a preparation strategy:
A cup of hot tea with a Newspaper
This is an age-old method which most of you may find to be adopted by your elder family members. The difference being today's youth doesn't use this method to brush up their knowledge. Newspapers like The Hindu, The Economist, etc. are some of the pronounced informative newspapers. The editorial section in this news not only widens your purview but also improves your vocabulary and verbal ability.
Solve quizzes daily for GK preparation
Who doesn't like to solve a quiz? Especially the enthusiastic ones will never miss on this. Infact it is one of the proven tactics by previous year toppers. You can solve GK Quiz on Famous Personalities of India and World, Indian Polity and Governance, GK Quiz on Chief Minister of the States, Parliamentary system in India, General Science, events during British India and many more. You can refer to books like Lucent's GK, Manorama Year Book, etc.
Fan of Reading Offline? How about Monthly GK Magazines?
So there are people infact majority who do not want to strain their eyes by long exposure to laptop or mobile screens. So what is another way to become intelligent and all rounder without the internet? Well you cannot neglect the importance of the internet in today's era. However, if you are a book reader and prefer reading things offline, you can opt to get a monthly subscription of GK magazines which are easily deliverable to your doorstep. The GK magazines are infact very helpful as they are sorted and printed in such a way. You can even highlight the pointers and refer to them during your revision phase. Bonus point- you don't have to make notes everytime!
Online alerts notifications
Well this is not a promotion platform but based on youth's preference, there are various apps available which can notify you from time to time and every single minute about the current event happening. For example we have an inshorts app and other good applications in the market so that you do not have to waste time in reading the entire paper instead some 50 to 100 words that are enough for CMAT GK preparation.
Previous Years' GK Papers, It's a boon in disguise
Yes you read it right. Many of us do not prefer solving previous years' CMAT question papers for the GK section considering it to be old and outdated. But do you realise the importance of having a look at them? The current GK of course is outdated but what about the static GK. Maybe you get lucky enough that one or two GK questions you get are from previous years. Furthermore you will get an idea of what type or what are the events on which exam conducting authorities focus on while setting GK questions.
CMAT GK Expected Questions 2021
Candidates can check few of the general knowledge questions that are asked on the same lines in CMAT:
1. Bhavai' is a traditional dance form of ______.
a) Punjab b) Maharashtra c) Bihar d) Rajasthan
2. The Peace Prize of the German Book Trade 2020 was won by _______ .
a) Surjit Bhalla b) Manmohan Singh c) Raghuram Rajan d) Amartya Sen
3. Indian Railways has targeted to become 'Green Railway' by _____
a) 2025 b) 2032 c) 2024 d) 2030 e) 2027...
4. When was the Dandi march undertaken?
a) 13 april,1919 b) 18 march,1919 c) 12 march,1930 d) 5 feb,1922
5. Who was the first transgender to receive Padma Shri award ?
a) Gita Mehta b) Saalumarada Thimmakka c) Narthaki Nataraj d) Shonali Nagrani
Read More-
Questions related to CMAT
Showing 2991 out of 2991 Questions