How to Prepare for IBSAT 2022 in 3 Months - Study Plan, Best Books and Tips
How to Prepare for IBSAT 2022 in 3 Months: ICFAI Business School Aptitude Test or IBSAT is to take place in the last week of December 2022. Candidates who want to clear the IBSAT exam can start their preparation even if they have just three months.
Stay up-to date with IBSAT News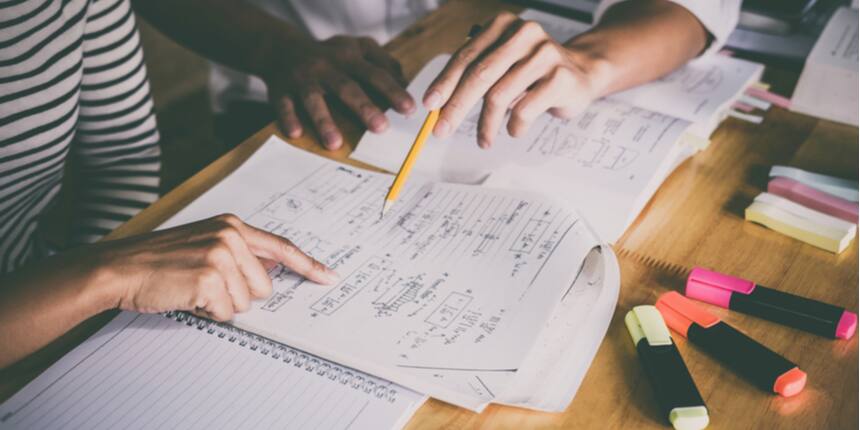 Apply below or Click here to fill IBSAT 2022 registration form.
If candidates have a solid IBSAT 2022 preparation strategy and have the stronghold of the IBSAT exam syllabus, nothing can prevent them from cracking the IBSAT 2022. Careers360 brings to you expert and previous years' toppers' advice on how to prepare for IBSAT 2022 in 3 months before the D-Day.
IBSAT 2022 Preparation in 3 Months
First, let us understand the IBSAT exam pattern and the marking scheme. IBSAT 2022 has no negative marking scheme, and it should be more than a sigh of relief to have tried as many questions as candidates like. The overall difficulty level of the IBSAT exam is expected as easy to moderate.
So, if candidates have prepared or appeared for other MBA entrance exams like CAT, XAT, MAT, or CMAT, the IBSAT 2022 preparation in three months will not be a difficult achievement.
Relevant Links -
IBSAT Exam Pattern 2022
IBSAT 2022 is a computer-based test of two hours duration. Each question carries a +1 mark and there are no negative marks. This is an advantage of IBSAT compared to other MBA entrance exams with a negative marking scheme. See the table below to know the important points of the IBSAT test pattern 2022.
IBSAT 2022 Paper Pattern Overview
| | |
| --- | --- |
| Sections | Number of Questions |
| Verbal Ability (VA) | 50 |
| Reading Comprehension (RC) | 30 |
| Quantitative Aptitude (QA) | 30 |
| Data Adequacy/ Sufficiency and Data Interpretation (DA/ DI) | 30 |
| Total | 140 |
Key Points to crack IBSAT in 3 months?
Preparing for the IBSAT in three months can be a daunting task for many. But with a well-listed strategy, one can easily win the IBSAT 2022 exam by preparing for three months. To know how to prepare for IBSAT in 3 months, then take a look at the points mentioned below.
Understand the exam pattern of IBSAT 2022 and get acquainted with the topics

Don't just rely on books for IBSAT preparation, check out online IBSAT preparation guides as well.

Appear following the IBSAT mock test, check your weak points, and polish them.

Answer previous year's IBSAT question papers.

Determine your strengths and weaknesses area.
In addition to the points mentioned above, there are several important points that you need to consider when preparing for the IBSAT exam, section-wise. Let's look at the section-wise IBSAT preparation strategy: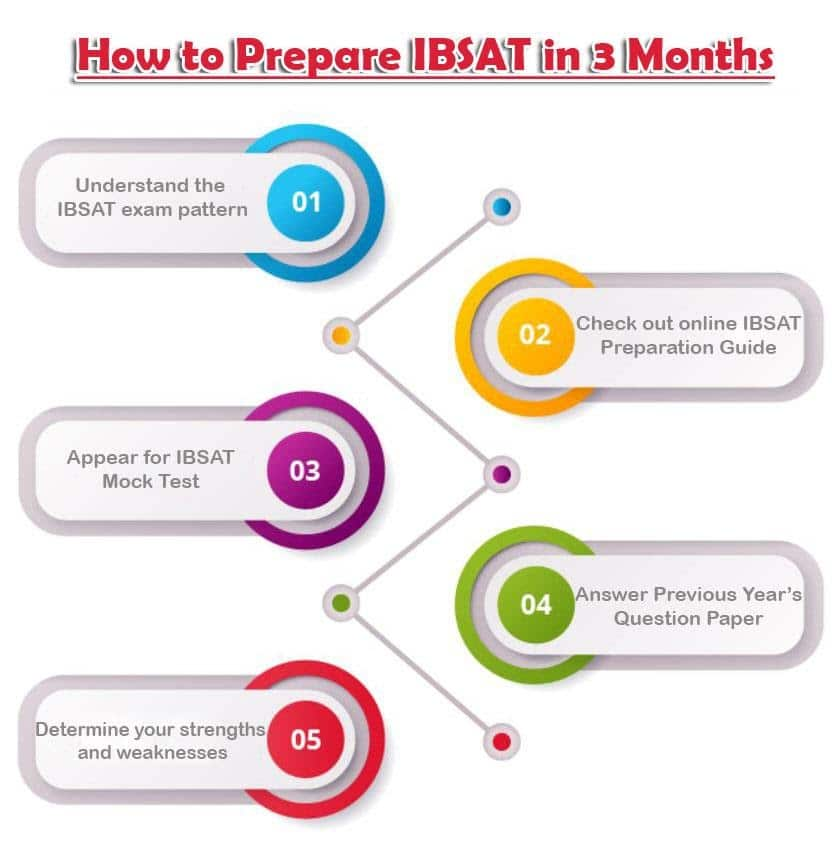 Basic tips on how to prepare for IBSAT 2022 in 3 months
In addition to the above, candidates should check the following tips to excel in IBSAT. The key points that candidates need to focus on are listed below;
Eat healthy food

Practice as much as you can

Concentrate

Exercise

Focus on tricks
IBSAT Section-wise Preparation Tips 2022
Given below is the detailed strategy for section-wise IBSAT 2022 exam preparation.
IBSAT Verbal Ability Section
This plays a major role in the IBSAT exam as the section has a maximum number of questions and most of them are based on vocabulary. Quite naturally, there is no end to how much vocabulary candidates should have in their bucket. Again, if candidates have a habit of reading newspapers, blogs, articles, and magazines, candidates need not worry because most of the verbal ability section is covered by these things.
Also, stick to reading different types of articles, as a variety of articles will expand your vocabulary site. For English grammar, go for Wren & Martin. In the IBSAT 2022 exam, candidates should not dedicate more than 30-35 minutes to this VA section. The procedure for preparing this part is important. Note the mistakes you usually make in this section when taking practice tests. Try to understand if they are funny mistakes or if candidates have no ideological clarity. If this is the latter, go to the grammar books and catch those parts with regular exercises.
IBSAT Reading Comprehension Section
In the reading comprehension section of IBSAT, usually, the paragraphs are not very long, but they are based on inference. With inference, candidates need to work at speed so that they can cross all the passages and solve them within the allotted time. This section should be scored, so try to resolve it as quickly as possible.
Make it a habit to read two to three editorials daily and it will help you a lot and increase your reading speed. Read editorials in different English newspapers. The editorial can contain anything in nature, i.e. artificial, analytical, descriptive, and psychometric. After that, mention the main points of the editorial or any article candidates read. This will help in answering RC questions during the IBSAT mock tests or main exams.
IBSAT Quantitative Aptitude Section
More or less, IBSAT's quantitative skill section is generally considered to be time-consuming and difficult. But a basic understanding of algebra and arithmetic (averages, time-speed-distance, ratios, interest, mixtures, and percentages) and geometry will help the candidates. The level of difficulty can range from intermediate to difficult. But again, if you are one of those students who want to keep the basics right, questions can easily travel.
IBSAT Data Interpretation Section
IBSAT's data interpretation includes section computation and an in-depth understanding of the given information. Questions will be based on growth rates, line graphs, consolidated tables and percentages, profitability sets, etc. Good computational speed plays a big role in this section, so practice as much as you can as you do not have much theoretical knowledge other than a basic understanding of graphs and diagrams. It is recommended not to spend more than 25 minutes in this section of the exam.
Top MBA Entrance Exams in India
Detailed IBSAT Preparation Strategy for 3 Months
Prepare Time Table
To ensure a systematic approach, prepare a timetable for determining the section-wise preparation time in a day. Be sure to set aside more time for weak areas. The schedule should include at least two to three IBSAT mock tests and practice tests.
IBSAT Mock Test
IBSAT mock tests are a great way to test your knowledge and preparation level. Since you do not have much time for the exam, you should appear for two to three full-length mock tests a week and one section test each day. This way you can find out where the shortcomings are and fix your weaknesses.
Once you have done the basics, you can increase the number of mock tests of IBSAT on a daily basis. Eventually, you can appear for two to three mock tests, which will help you improve your speed and accuracy.
IBSAT Mock Tests Analysis
For IBSAT preparation in 3 months, it is important to carry out mock tests and get mock tests analyzed by experts or guides to understand the flaws and ways of improvement. After that, you should change the IBSAT preparation plan accordingly based on expert advice.
Communicate with colleagues
It is also important to connect with fellow IBSAT aspirants or other MBA entrance exam candidates to discuss and exchange your preparation strategy and plans. This will not only motivate candidates but also give them new ideas and strategies to prepare. You can exchange books and notes and schedule group studies. Monitor the level of competition at the same time.
Expert Advice for IBSAT
There are many blogs and articles to help candidates during IBSAT exam preparation. Many successful candidates and alumni share their useful suggestions and forms and how to approach questions. Candidates need to look at the way they solve their questions and the way they use them when solving specific questions.
Must Read -
Frequently Asked Question (FAQs) - How to Prepare for IBSAT 2022 in 3 Months - Study Plan, Best Books and Tips
Question: Is it possible to prepare for IBSAT in 3 months?
Answer:
Yes, It is possible to prepare for IBSAT in three months. This is going to take a lot of effort on your side.
Question: Are 3 months sufficient to prepare for the IBSAT?
Answer:
Yes, if you put in 100 percent of your effort, it's more than enough.
Question: What is the best study plan to prepare for IBSAT in 3 months?
Answer:
The best preparation strategy for IBSAT in three months is taking mock tests as much as possible and solving previous year IBSAT question papers. Also, go through the online preparation guidelines.
Question: How many questions will be there in the IBSAT mock test 2022?
Answer:
ICFAI Business Schools will conduct IBSAT mock tests the same as the actual exam to give candidates alike environment. So the mock test contains 140 questions.
Question: Does a candidate have to pay any fee for the IBSAT 2022 mock test?
Answer:
Candidates are not required to pay any fee for providing a mock test of IBSAT 2022. However, registration for IBSAT 2022 is required.
Questions related to IBSAT
Showing 137 out of 137 Questions