IBSAT 2022 Exam Analysis: Expected Cutoff, Section-wise Difficulty Level & Review
IBSAT 2022 Exam Analysis: ICFAI Foundation for Higher Education will conduct IBSAT 2022 on December 24 and 25. Post conclusion of the entrance test, candidates can check the IBSAT 2022 exam analysis that includes the questions asked from each section and the overall difficulty level of the IBSAT test.
Stay up-to date with IBSAT News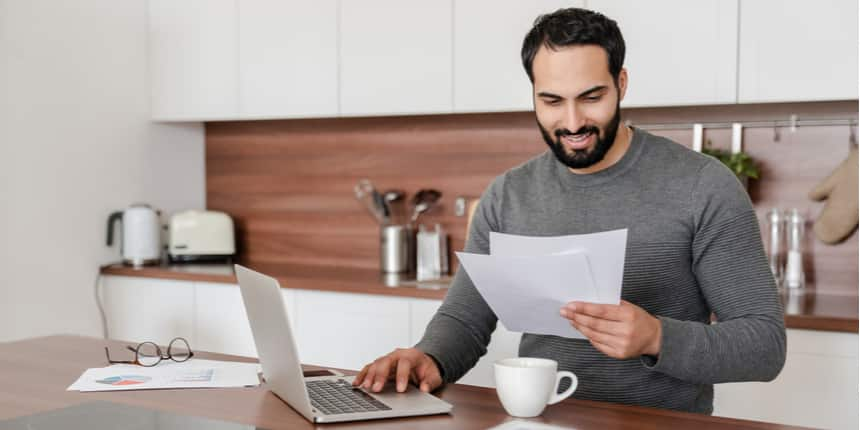 Apply below or Click here to fill IBSAT 2022 registration form.
Going by past year trends, the IBSAT exam level ranges from easy to moderate. The duration of the IBSAT exam will be of two hours and the question paper will carry a total of 140 questions divided into four sections, namely Verbal Ability, Reading Comprehension, Quantitative Aptitude, and Data Adequacy & Data Interpretation. There will be 30 questions from 4 RC passages. The verbal ability section will be comparatively easy questions except for a few tricky ones in the Vocabulary section. Quantitative Aptitude will be blended questions from arithmetic to geometry and logarithms. The data adequacy and Data Interpretation section will have questions from PI graphs, and line graphs. In this article, candidates will be able to check the detailed IBSAT exam analysis 2022. Check all the details below.
Relevant Links -
IBSAT 2022 Overview
| | |
| --- | --- |
| Particulars | Description |
| Exam Name | IBSAT i.e. Institute of Chartered Financial Analysts of India (ICFAI) Business School Aptitude Test (IBSAT) |
| Conducting Body | ICFAI Foundation for Higher Education (Deemed to be unviversity) |
| Common Name | IBSAT |
| Level | National |
| Mode of exam | Proctored home-based Test |
| Total no. of questions | 140 total |
| Total Campus | 9 IBS Campus |
| MBA Course | IBS Hyderabad, IBS Dehradun, IBS Jaipur |
| PGDM Course | IBS Pune, IBS Kolkata, IBS Ahmedabad, IBS Bengaluru, IBS Gurgaon, IBS Mumbai |
| Marking scheme | No negative marking |
| Helpline Number | 1800-425-55-66-77 |
IBSAT Exam Analysis 2022: Key Highlights
IBSAT 2022 exam will be between easy to a moderate level in terms of difficulty
There will be no sectional time limit in the IBSAT exam
Expected IBSAT 2022 cut off for ICFAI Hyderabad to remain 80-85 percentile
None of the questions will be asked out of the IBSAT 2022 syllabus
There will be 30 questions from 4 RC passages with a word limit between 500-600
There will be no negative marking in IBSAT 2022
Most of the test takers can easily attempt 32-34 questions from each section in half an hour
IBSAT Important Dates 2022
Candidates can check the important dates and events of IBSAT 2022 in the following table to avoid missing any event.
IBSAT 2022 Exam Dates
| | |
| --- | --- |
| Events | Dates |
| Commencement of IBSAT Application process | July 1, 2022 |
| Last date to fill the IBSAT application form | Third week of December 2022 |
| Admit card of IBSAT 2022 | TBN |
| IBSAT 2022 Exam Date | December 24 and 25, 2022 |
| Announcement of IBSAT Result 2022 | First week of January 2023 |
| IBSAT selection procedure 2023 | February/ March, 2023 |
Exam Structure of IBSAT 2022
As per IBSAT 2022 exam pattern, there will be 140 questions that have to be answered in 120 minutes (2 hours). Candidates will be free to move between the sections. Each question's weightage will be one mark and no negative marks for incorrect answers. Following are the number of questions asked in each section.
IBSAT Exam Pattern 2022
| | |
| --- | --- |
| Section | Number of Questions |
| Verbal Ability | 50 |
| Reading Comprehension | 30 |
| Quantitative Aptitude | 30 |
| Data Adequacy & Data Interpretation | 30 |
| Total | 140 |
Expected IBSAT 2022 Verbal Ability Section Analysis
The Verbal Ability section will have a total of 50 questions with a total weightage of 50 marks. In this section, questions will be asked from the Meaning of idioms/ phrases, Jumbled Paragraphs, Synonyms, Antonyms, Word Analogy, Cloze Passage, etc.
Topics in Verbal Ability
Topic
Meaning of idiom/phrase
Synonyms of the word
Jumbled Paragraph (4 sentences)
One word substitute of the given phrase
Find error from four underlined parts
Antonyms
Word Analogy
Double FIB
Replace the underlined part of the given sentence
Cloze passage
As per the past year's trend, those who will be able to attempt the entire section with an accuracy rate of 85 percent, can easily ace this section. No negative marking scheme is applicable which means feel free to attempt all the questions. No more than 25-27 minutes will be required to solve the IBSAT Verbal Ability section.
Exam Analysis of IBSAT 2022: Reading Comprehension
The Reading Comprehension section will consist of a total of 4 passages. Each passage will have an average word count of 500 to 600 words. Those who have a good command of reading and understanding could ace this section in the stipulated time.
Relevant topicd in Reading Comprehension
Passage
Passage 1- A celestial star (500 words)
Passage 2 - Earthquake (800 words)
Passage 3 - Election and economy (800 words)
Passage 4- Ecosystem (900 words)
Those who were earlier able to attempt 20-22 questions within a given time with an accuracy level of 80 to 85 percent can score well.
IBSAT 2022 Analysis: Quantitative Ability
Questions in the Quantitative Ability (QA) section will be asked from arithmetic, geometry, and analytical geometry. Most of the questions will be based on distance and time, the ratio of proportion, work problems, heights, progressions, likelihood, percentages, etc. Candidates good in mental calculation could attempt all the questions within the stipulated time.
Quantitative Ability
Topics
Numbers
HCF-LCM
Divisibility
Arithmetic
Percentages
Ratios
Time-Speed-Distance
Averages
Simple-Compound Interest
Profit & Loss
Time and Work
Algebra
Polynomials
Simple equations
Geometry
Mensuration
Quadrilaterals
Triangles
Modern Maths
AP-GP
Sets
Functions
Probability
Logarithms
Permutation - Combination
As per the previous year IBSAT exam analysis, around 15 to 18 questions will be considered as good attempts. Experts say not more than 25 to 30 minutes will be required in the Quantitative Ability section.
IBSAT 2022 Analysis- Data Adequacy and Data Interpretation
The Data Adequacy and Data Interpretation section will be the most time-consuming section. Candidates with strong command over logical thinking can solve this section with ease. Questions will be asked from Caselet, Pie + Bar, Numbers, Arithmetic, Algebra, Geometry, etc.
Data Adequacy and Data Interpretation
Topics
Data Interpretation
Table (Calculations)
Caselet (Calculations)
Pie + Bar Chart (Calculations)
Data Sufficiency
Numbers
Arithmetic
Algebra
Geometry
Modern Math
Total
As per past year trend, the sectional difficulty level for Data Adequacy and Data Interpretation was moderate.
What after IBSAT Result 2022?
The IBSAT 2022 selection process will commence after the announcement of the IBSAT result 2022. The participating institutes of IBSAT 2022 will shortlist the candidates on the basis of their cut-off. The cutoff can vary from institute to organization. The shortlisted candidates must appear in the IBSAT selection process 2022, which involves both GD and PI. The following factors will be included in the final merit list:
Final Merit List Weightage
Selection Criteria

Weightage (in %)

Past academic records of Students

Class 10

12

40

Class 12

12

Graduation

16

Group discussion (GD)

30

Personal Interview (PI)

30

Total Score

100
IBSAT Cut Off 2022- All nine constituent institutes of ICFAI will announce their individual cut-offs for the shortlist of candidates for MBA and PGPM programs. After the declaration of the result of IBSAT, the official cut-off will be released. Here is the previous year's cut-off for the participating IBSAT institutes.
IBSAT Cutoff (Previous year)
| | |
| --- | --- |
| Campus | Cut off |
| IBS Gurgaon | 62+ |
| IBS Mumbai | 62+ |
| IBS Bangalore | 65+ |
| IBS Hyderabad | 68+ |
Questions related to IBSAT
Showing 124 out of 124 Questions