CAT 2020 Exam Day Guidelines: 10 Dos and Don'ts for the Exam Day
CAT 2020: 10 Dos and Don'ts for the Exam Day - Feeling skeptical for CAT 2020, which was conducted on November 29, is common especially amongst candidates who are taking the test for the first time. This is where the hassle occurs and candidates tend to lose marks. It is imperative that candidates stay calm on exam day and have knowledge about what is to be done and whatnot. In this article of CAT 2020: 10 Dos and Don'ts for the exam day, Careers360 will help and guide candidates for the quick CAT 2020 exam day tips that are to be followed during the IIM Entrance Test. Read the complete article to take a look at the instructions which need to be followed by the candidates. IIM Indore has conclusively advised the candidates to follow these CAT 2020 exam days' do's & don'ts.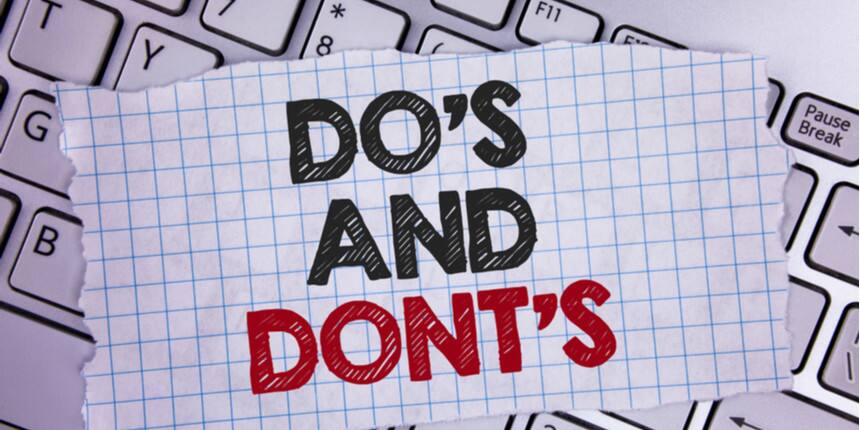 CAT 2020 do's and don'ts for the exam day
Check the timings
Candidates who appear for the exam must be aware of the timings for the CAT 2020 exam so that they do not miss anything. This is the foremost CAT 2020 exam day tip. In wake of the prevailing situation that is caused due to COVID 19, candidates will have to follow certain guidelines and are expected to reach the CAT test centre at a time before the commencement of the exam so that the authorities have adequate time to check their documents as well as the temperature.
A detailed schedule for the CAT 2020 exam
Time


Activities


Approximate time for the activity


Remarks
Shift 1
Shift 2
Shift 3
7:00 a.m
11:00 a.m
3:00 p.m
Arrive at Test center (candidate's reporting time)


Gate closes 15 minutes before the Test start time.
7.05 AM
11.05 AM
03.05 PM
Locate your Test Lab number
1-5 minutes
Candidate checks the location of the Exam Lab from Barcode Desk.
7.10 AM
11.10 AM
03.10 PM
Scrutiny of admit card
1-5 minutes.
First scrutiny of the documents done at the Entry gate.
7.15 AM
11.15 AM
03.15 PM
Deposit the personal belongings (mobile phone, bag etc.)
1-10 minutes.
Candidate deposit their personal belongings at the entry gate
7.25 AM
11.25 AM
03.25 PM
Frisking of the candidates
3-5 minutes.
Assigned Security staff to frisk candidates.
7.30 AM
11.30 AM
03.30 PM
Document (id card and admit card) checking at the Test Lab entrance
1-10 minutes
Document verification is done.
7.40 AM
11.40 AM
03.40 PM
Candidates reach their Test Labs
1-10 minutes
Candidate reaches Exam Lab.
7.50 AM
11.50 AM
03.50 PM
Candidates go to the registration desk and signs (manual) on the attendance sheet
1-5 minutes
Candidate signs Attendance Sheet available at the Registration Desk.
7.55 AM
11.55 AM
03.55 PM
Registration Process
1-10 minutes.
Candidate photograph and IRIS captured as per process.
8.05 AM
12.05 PM
04.05 PM
Candidates check their photo in the registration terminal to ensure it is their photo
1-5 minutes.
Candidate verifies captured photo at the Registration Terminal.
8.10 AM
12.10 PM
04.10 PM
The candidate receives the scribble pad from the invigilator and sits at the terminal
1-5 minutes.
Candidate checks the allotted Console in the Exam Lab collects Writing Pad from the Invigilator
8.15 AM
12.15 PM
04.15 PM
Login to Test screen
1-5 minutes
The candidate completes the first login.
8.20 AM
12.20 PM
04.20 PM
Verify & confirm the profile information
1-5 minutes
Candidate verifies and confirms the profile Information, which he/she had filled during the CAT 2020 Registration.
8.25 AM
12.25 PM
04.25 PM
Read & agree to Declaration
1-5 minutes
Candidate reads all the instructions given for the Exam and clicks on "Accept".
8.30 AM
12.30 PM
04.30 PM
Test Starts
120 minutes
Exam starts
10.30 AM
02.30 PM
06.30 PM
Test concludes & candidate shares the feedback
1-5 minutes.
After 120 minutes. Exam gets over and the feedback page displayed on the screen. The candidate shares his feedback.
10.35 AM
02.35 PM
06.35 PM
Return scribble pad
1-5 minutes.
The candidate returns the Writing pad to the Invigilator.
10.40 AM
02.40 PM
06.40 PM
Exit Test Lab and collect the deposited belongings
1-5 minutes.
Candidate exits the Exam Lab and collects belongings (if any)
10.45 AM
02.45 PM
06.45 PM
Exit the Test centre


The candidate leaves the Test Center.
Major COVID 19 Guidelines to be Followed
Preparation at CAT exam centre
Standard Operating Procedures for implementing safety precautions and for maintaining the required standard of hygiene are getting implemented by IIM Indore
As per GOI guidelines, GAP between two seats has maintained
For the safety purpose of staff and candidates, hand sanitizers is available at entry and inside the exam venue
All processes is touch-free to ensure social distancing norms
To avoid crowding, candidates are requested to reach at the Reporting/Entry time
A fresh 3 Ply mask before entry was provided to all candidates
What to Carry at the CAT Exam Centre?
CAT exam related documents such as duly filled admit card, ID card
A simple transparent ballpoint pen
Additional photograph (For attendance sheet)
Personal hand sanitizer (50 ml)
Personal transparent water bottle
List of Do's for CAT 2020 Exam Day
Carry Admit Card and Photo ID Proof

Self Declaration Form

Prior Visit To The Exam Centre of CAT 2020

Be On-Time

Check Seating Arrangements

Verification of Documents

Rough Work On Scratch Sheet

Obey The Invigilators

Use Washroom Beforehand

Submit Admit Card, Writing Pad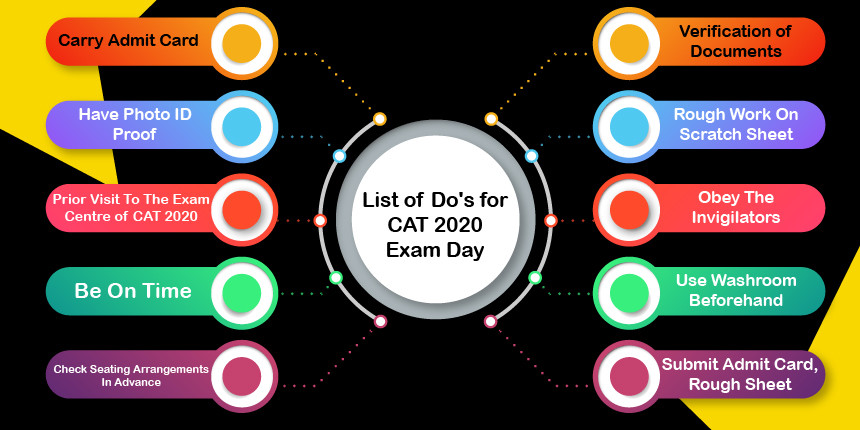 Let us look at each point one by one to understand what all is mandatory and should be done by candidates on the day of CAT 2020:
Carry Admit Card and Valid Photo ID Proof
Important CAT 2020 exam day tip- Carry a hard copy of the admit card of CAT 2020. Note that candidates who will not carry the admit card in hard copy were not be allowed to enter the exam centre at any cost. A duly filled CAT 2020 admit card is a mandatory document. Test takers must ensure that signature and photograph printed on the admit card is legible. Candidates are requested to check the following information on their admit card beforehand:
Name of the candidate

PwD Status

Date and Day of Test

Registration Number

Reporting/ Entry time at Centre

Gate Closing Time of Centre

Test Center address

Test City

Time and Session of CAT 2020
As an important do's of CAT 2020, along with the CAT admit card 2020, candidates have to carry at least one photo ID as proof. Candidates must keep in mind that the photograph and signature provided on the ID proof should be clearly visible and not be smudged or damaged by any means. Candidates who have an (a) pacemaker or (b) implants (metal) or (c) other devices (s) for Medical reasons (s) has required to produce a medical certificate for the same. Any of the below-mentioned documents can be used by candidates as photo identity proof on exam day:
Passport

Voter ID Card

Aadhaar Card

PAN Card

Driving License

Employer ID Card

College ID Card
Note- No candidates were allowed inside the exam hall without an admit card, valid ID proof, and proper frisking. Frisking will be carried out without touching the body through Handheld Metal Detector (HHMD).
Self Declaration Form
This is also one of the important CAT exam day tips regarding the self-declaration form. Self Declaration (Undertaking) form regarding COVID-19, has to be filled in by all candidates and presented to the authorities upon reaching the exam centre. The self-declaration form is made pre-available with the CAT admit card.
Be On-Time
As per the previous records, candidates are required to report to the exam centre one and a half hours prior to the exam. Time management is very important in CAT exam 2020 be it in reporting time or completing the questions accurately. The last entry stops 15 minutes before the exam time.
CAT 2020 Slots and Reporting Time:
| | | | |
| --- | --- | --- | --- |
| Sessions | Time Slot | Last Entry Time | Reporting Time |
| Morning | 8:30 AM – 10:30 AM | 8:15 AM | 7:00 AM |
| Afternoon | 12:30 PM – 2:30 PM | 12:15 PM | 11:00 AM |
| Evening | 4:30 PM – 6:30 PM | 4:15 PM | 3:00 PM |
Check Seating Arrangements In Advance
Once candidates reach the exam centre, the first thing they need to do is find their respective seats. Lab number will not be displayed outside the centre to avoid any crowding at any one place in any situation. At the time of entry, bar code readers were available to scan the CAT admit card. Details pertaining to the hall/lab number will be informed to candidates at the same time.
Verification of Documents
After getting inside the exam centre, an important CAT 2020 exam day tip is that the candidates will have to get their documents verified. This is an important process because it is only after the verification of the documents that candidates were allowed to proceed to their respective exam labs to take up the test. Candidates are required to paste passport size photograph and sign on the Attendance sheet
Rough Work On Scratch Sheet
Upon reaching the exam lab, candidates were provided with five rough sheets to do the calculation work. Candidates will not be allowed to leave before the total duration of two hours is complete. Candidates who solve the questions on the desk/hand/anywhere else are subject to be punished. Do your rough work only on the sheets provided by the invigilator. It is directed by the invigilator that candidates should write their names and registration ID on the rough sheets.
Obey The Invigilators
The examiner who were there to assist candidates before, during, and post CAT 2020 is the invigilator. Candidates will have to follow his instructions if they do not wish their candidature to be canceled. In case of any issues like finding a seat, while logging in, any hamper during the exam, submit issues, etc., candidates can ask for the help of the invigilator. If you have any issues, ask for clarity. Social distancing norms must be followed by candidates.
Use Washroom Beforehand
Since time management is an important aspect, candidates are requested to carefully plan everything prior to the exam time. If candidates are feeling uneasy due to sensitivity/exam day pressure, they are advised to use the washroom before the exam starts. As CAT is considered to be the toughest of all MBA entrance exams, candidates are not allowed to use the washroom during the exam duration.
Submit Admit Card, Writing Pad
On completion of the CAT exam 2020, the candidates are advised to follow this CAT exam 2020 tip- candidates were permitted to move out in an orderly manner one candidate at a time. While leaving the exam lab/hall, candidates will have to submit the rough sheets provided by the invigilator along with the hard copy of the admit card for security reasons. Candidates not abiding by the rules may face severe consequences.
Quick Links -
Note - Test Day Exception Forms - In case any exceptional situation arises on the day of CAT 2020, candidates would be required to sign an Exception Form.
List of Don'ts for CAT 2020 Exam Day
Say Bye to Personal Belonging

Do Not Sign Admit Card Beforehand

No Unfair Practices

Seat Change Request

No Bio-Breaks

Do Not Peek Into Fellow Test Taker's Screen

Do Not Apply Mehndi/Henna

Don't Wear Restricted Items

Do Not Waste Rough Sheets

No Companion Allowed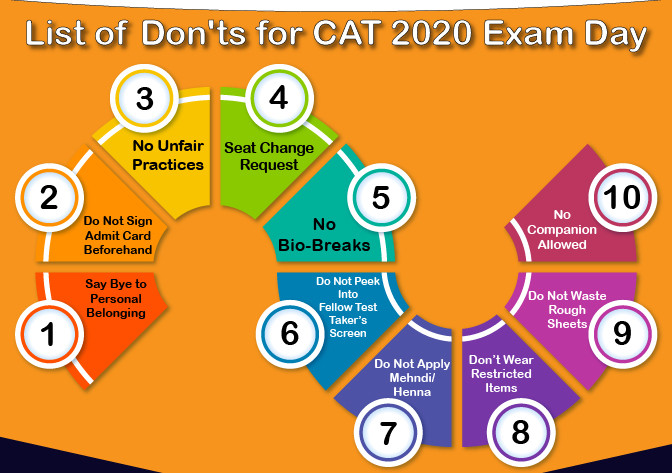 Let us look at each point one by one to understand what all is mandatory and should be not be done by candidates on the day of CAT 2020:
Say Bye to Personal Belonging
To ensure proper safety measures, no candidate should keep any personal belongings with him/her. Personal belongings refer to the followings items:
Mobile phone

Watch

Bag/wallet

Electronic Gadgets

Stationery items
Do Not Sign Admit Card Beforehand
One of the important CAT 2020 exam day tips is not to sign the admit card of CAT without the presence of an invigilator. Sometimes candidates don't read the instructions and make the mistake of signing the admit cards beforehand. Note that, it is strictly required that candidates have to sign on the CAT 2020 admit card in presence of the invigilator only. Any candidate's admit card which is signed prior to the entry would be considered invalid. Also, candidates must ensure that the signature done by them matches the printed signature i.e. the one they have uploaded at the time of registration.
No Unfair Practices
In CAT 2020 no candidate should use unfair practices to crack the test and get good results. Carrying short notes, writing on hands with pen/henna, or any such means are strictly prohibited by IIM Indore. Any candidate found guilty will not be allowed to carry forward with the test and their candidature would be canceled immediately.
Seat Change Request
In no case, seat change requests made by candidates were entertained at the end moment. Candidates were required to sit only on the seat allotted to them. The gap between 2 seats was maintained as per GOI guidelines related to COVID 19. Before each shift starts seating area was thoroughly sanitized - monitor, keyboard, mouse, webcam, desk, and chair.
No Bio-Breaks
Any request related to bio-breaks while inside the exam lab will not be entertained by the invigilators. Unless it is a medical emergency and candidates have no option left. Those suffering from diabetes or any other ailment must carry a medical certificate and produce it to the invigilator if any need arises.
Do Not Peek Into Fellow Test Taker's Screen
No candidate should look or should be interested in what other/fellow candidates are doing. Keep your posture straight and look only at the computer screen provided. Do not peek into what others are doing or which answers they are marking. In case of any confusion/doubt, candidates should only clarify those doubts from the invigilators or test centre officials.
Do Not Apply Mehndi/Henna
This instruction is especially important for female candidates. Usually in CAT candidates have to do biometric and in case mehndi/henna is applied on hand it may create issues in completing the biometric process.
Don't Wear Restricted Items
A complete list of items that are restricted/prohibited for candidates to carry/wear in CAT is released by IIM Indore. Candidates must not wear jackets, jewellery, watch, electronic gadgets, shoes. If candidates are wearing or carrying any of these items, you will have to deposit them at the entrance gate. The responsibility of any loss will not be taken up by IIM Indore.
Do Not Waste Rough Sheets
Before starting the exam, the invigilator will provide a writing pad to the candidates which have to be submitted back once the exam is over.
No Companion Allowed
Until and unless a candidate is a PwD candidate and has asked for a scribe, no friends/companions/relatives accompanying you were allowed to enter beyond the gates of the test centre.
Quick Links -
Which B-Schools to apply for with 70-80 percentile in CAT
Questions related to CAT
Showing 9637 out of 9637 Questions