Difference between PGDM and MBA?
Difference between PGDM and MBA? - Completed your Bachelor's and wondering which course to pursue for career growth? Well whenever someone thinks about Postgraduation, MBA pops up in their mind. Ok great, taking admission in MBA? Wait! We have PGDM as well. But what is the difference between PGDM and MBA? Candidates in India aspire to get a post-graduate degree in order to uplift their chances of a better job prospect. While most candidates think both are similar and are unaware of the difference between PGDM and MBA. It is important for candidates to know the differences between PGDM and MBA before they plan to pursue either of them. In this article, Careers360 brings to you the major difference between PDGM and MBA, be it in terms of fees, focus, the entrance exams to be qualified. Along with that, we will also discuss the famous colleges that provide PGDM and MBA. No doubt about the fact that pursing PGDM and MBA admissions both will bag great careers growth, better position as well as salary.
Latest- Know about CAT Mock Test 2020. Candidates can download CAT 2020 admit card from October 28.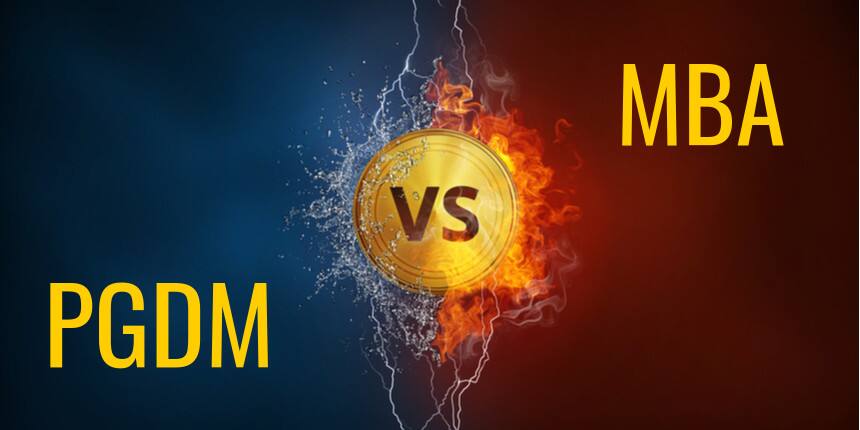 Overview of the Difference between PGDM and MBA:
| | | |
| --- | --- | --- |
| Basis of Difference | MBA | PGDM |
| Full-Form | | Post Graduate Diploma in Management |
| Curriculum Type | MBA Curriculum is unchanged and unaltered by affiliated colleges. Only universities can make changes | The curriculum of PGDM is more flexible as autonomous institutes can make elementary changes to make it more effective |
| Focus | Theoretical business and managerial knowledge, case studies and hypothesis | A practical approach to business areas, industry-oriented |
| Affordability | Less expensive | More expensive as compared to MBA |
| Duration of Course | Two years | One year to 2.5 years |
| Effective | MBA candidates is given more weightage | PGDM candidates have only a diploma and not a degree |
| Forged | MBA degrees are granted by Universities and have lower chances of fraud claims | Since autonomous bodies offer PGDM, candidates are always careful in selecting institutes |
Let us look at each difference carefully to understand the difference between PGDM and MBA in a better format:
What is PGDM?
With the rise of positions of managerial level, most of the candidates are attracted towards pursuing postgraduate in management studies. Post Graduate Diploma in Management or simply PGDM is a diploma study course at the postgraduate level. PGDM is offered by those institutes which are approved by AICTE i.e. All India Council for Technical Education, the institutes which are autonomous and are not affiliated to any Indian University. However, PGDM degree is considered equivalent to MBA due to the institute's accreditation by the Association of Indian Universities i.e AIU.
What is MBA?
Since years having an MBA in your academic qualification is definitely an add on. For those of you who are unaware of what an MBA is, MBA is the abridged form of Master in Business Administration. MBA is a postgraduate degree (not diploma) and is offered by Universities and colleges/institutes affiliated to Universities. Note that only Universities can grant an MBA degree. To take admission in IIMs, candidates have to qualify Common Admission Test.
Difference between PGDM and MBA on the Basis of Curriculum
Discussing about the syllabus of both, PGDM and MBA can also be differentiated on the basis of the curriculum as well. MBA syllabus can be similar throughout the years, for the simple reason that Universities provide the MBA syllabus. Affiliated colleges do not have any authorities to make changes in the syllabus. Hence, the curriculum of MBA degree is not frequently revised and colleges can not introduce any such changes without the consent of that particular University. Whereas, for the PGDM syllabus, as PGDM is offered by autonomous bodies, hence to make changes in the PGDM syllabus is easy and institutes can introduce elementary changes more frequently. Hence, we may say that the PDGM diploma curriculum is more up to date as compared to MBA degree curriculum. However, Universities are trying to bring changes and will soon upgrade to annual revision of curriculum.
Difference between PGDM and MBA on the Basis of Focus
MBA being a traditional degree course have its importance and thus focuses on giving theoretical knowledge of business aspects to candidates. Whereas, PGDM being a new trend aims to provide practical and industry-oriented knowledge to candidates. Both have equal importance as some say, what will you do in practical world if you do not have clarity of theoretical concepts? While others say, which theories will you apply if you do not know how to survive in real business world? Thoughtful though! Nowadays Universities and other autonomous institutes are changing their perspective and trying to focus on both theoretical as well as practical approach while proving knowledge to candidates.
Difference between PGDM and MBA on the Basis of Fees
In terms of affordability of both courses, an MBA degree is economical as compared to PGDM. The course is cheaper with government aids and funds being as a backup in an MBA course, whereas the PGDM course is administered by independent, autonomous institutions, hence the fees of PGDM is more.
Difference between PGDM and MBA on the Basis of Duration of Course
MBA degree courses are generally for a period of two years which is divided into four major semesters. Whereas a PGDM diploma course duration could be from one year to 2.5 years depending upon the autonomous institute's choice. Both PGDM and MBA courses have summer as well as winter internships included in the course. MBA can be full time, Part-time MBA or online MBA as well. Nowadays for working professionals, executive MBA and PGDM
Difference between PGDM and MBA on the Basis of Effectiveness
Although PGDM is more in trend as compared to MBA degree courses, yet the importance of MBA degree can not be neglected. MBA degree is considered by many organizations over PGDM degree. However, due to change in scenario, both PGDM and MBA courses are considered of equal effectiveness. Both PGDM and MBA courses are accepted programme with great employability ratios if pursued from top b-schools like Indian Institute of Management and other top B-Schools other than IIMs. Picking the right b-school for this programme is very important in order to boost your career opportunities. There are various organisations that recruit skilled managers every year. Fresh graduates can apply for various jobs after pursuing this course.
Difference between PGDM and MBA on the Basis of Forgery
Since the MBA degree course provides University level degree and the colleges offering it gives University degree hence MBA degree is less likely to be fraudulent. The chances of fraud claims of fake MBA degree are less registered. Whereas PGDM diploma courses are offered by autonomous bodies which automatically increases the chances of it being fake. However, not always a PGDM diploma course is fraudulent. Yet, candidates are more careful while selecting a college for PGDM course.
Top institutes offering PGDM:
Top institutes offering MBA: