CAT Exam Centres 2020 : City Wise Exam Centre List
CAT Exam Centres 2020 - Indian Institute of Management, Indore will conduct the Common Admission Test and mentions the list of CAT 2020 exam centres. Candidates will be given the option to choose six exam centres of CAT while they fill the application form. CAT 2020 will be conducted across 156 cities similar to that of CAT 2019. While registering for the exam, candidates must ensure that they choose the CAT exam centres 2020 which is relatively close to their house in order to avoid any inconvenience. CAT will be conducted in computer-based mode on November 29. Read the complete article to know all the details related to CAT exam centres such as the states and the cities where the exam will be conducted.
Latest- CAT registration 2020 commences from August 5, 2020. CAT 2020 to be held on November 29.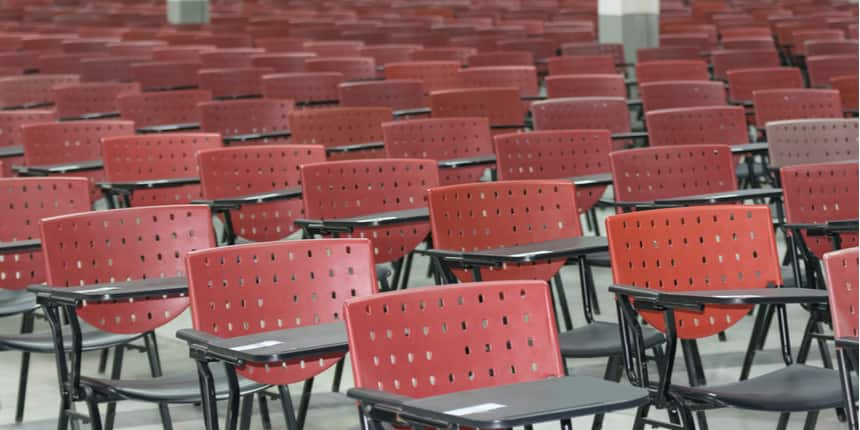 How To Choose CAT 2020 Test Centres?
Candidates will have to select at least four cities where they can appear for CAT while filling the application form

Selection of CAT exam centres 2020 has to be made in order of preference

Candidates will be allotted the city of their choice depending on the availability

If the seat is not available at that particular test centre, then the candidate will be allotted the next available test centre
CAT 2020 Exam Centres
CAT 2020 will be conducted across 156 exam citis. The list of states and the cities where CAT exam centres are likely to be located is given below in the table. At the time of filling the CAT application form 2020, candidates have to select the exam city as per their preferences. IIM Indore did not increase or decrease the number of exam centres of CAT 2020.
List of States and Cities for CAT 2020
Name of the states

Cities

Andhra Pradesh

Tirupati

Visakhapatnam

Kurnool

Nellore

Kakinada

Guntur

Rajahmundry

Vizianagaram

Vijayawada

Assam

Silchar

Guwahati

Jorhat

Tezpur

Dibrugarh

Andaman and Nicobar Islands

Port Blair

Arunachal Pradesh

Itanagar

Bihar

Patna

Muzaffarpur

Darbhanga

Aurangabad

Arrah

Bhagalpur

Chattisgarh

Raipur

Bhillai

Bilaspur

Chandigarh

Chandigarh

Mohali

Delhi-NCR

Delhi

Faridabad

Gurugram

Ghaziabad

Greater Noida

Meerut

New Delhi

Noida

Haryana

Ambala

Hisar

Karnal

Kurushetra

Panipat

Rohtak

Gujarat

Surat

Rajkot

Vadodara

Gandhinagar

Ahmedabad

Mehsana

Anand

Goa

Panaji

Himachal Pradesh

Shimla

Hamirpur

Jharkhand

Bokaro

Ranchi

Jamshedpur

Dhanbad

Hazaribagh

Jammu and Kashmir

Jammu

Karnataka

Belagavi

Bengaluru

Dharwad

Hubbali

Kalaburagi

Mangaluru

Mysuru

Shivamogga

Udupi

Kerala

Trivandrum

Kannur

Kollam

Ernakulam

Kottayam

Kozhikode

Thrissur

Madhya Pradesh

Bhopal

Gwalior

Indore

Jabalpur

Sagar

Satna

Ujjain

Maharashtra

Mumbai

Nagpur

Amravati

Pune

Ahmednagar

Aurangabad-Maharashtra

Jalgaon

Kolhapur

Nanded

Nashik

Satara

Solapur

Ulhasnagar

Raigad

Thane

Palghar

Navi Mumbai

Vasai

Mizoram

Aizawl

Meghalaya

Shillong

Nagaland

Kohima

Odisha

Sambalpur

Cuttack

Balasore

Berhampur

Bhubaneswar

Dhenkanal

Rourkela

Puducherry

Puducherry

Punjab

Amritsar

Bhatinda

Jalandhar

Patiala

Ludhiana

Pathankot

Sangrur

Rajasthan

Jaipur

Udaipur

Ajmer

Alwar

Bikaner

Jodhpur

Sikar

Kota

Telangana

Hyderabad

Karim Nagar

Warangal

Tamil Nadu

Madurai

Chennai

Coimbatore

Trichy

Salem

Tirunelveli

Vellore

Uttar Pradesh

Varanasi

Agra

Jhansi

Lucknow

Aligarh

Allahabad

Bareilly

Gorakhpur

Kanpur

Moradabad

Muzaffarnagar

Uttarakhand

Dehradun

Haldwani

Roorkee

West Bengal

Siliguri

Asansol

Bankura

Burdwan

Kolkata

Durgapur

Hooghly

Kalyani
CAT Admit Card 2020
The admit card of CAT 2020 will mention the exact address of the test centre. Candidates are advised to check all the details that are mentioned on the CAT admit card 2020 such as the date and time of the exam, guidelines to be followed on the day of the exam and what are the documents that need to be carried on the day of the exam.
Quick Links:
Frequently Asked Question (FAQs) - CAT Exam Centres 2020 : City Wise Exam Centre List
Question: How will I be allotted the CAT exam centre 2020?
Answer:
The exam conducting body will allot the test centre of CAT 2020 to the candidate on the basis of the preference made by the candidate in his or her application form.
Question: How many test centres of CAT can I fill while filling the application form?
Answer:
Based on the preference, candidates can choose five test centres while they register for CAT 2020?
Question: What all I need to carry to the CAT exam centre 2020?
Answer:
On the day of the exam, candidates must carry with them the admit card along with a valid identity proof.
Question: Do I have the option to get my exam centre changed?
Answer:
No, you do not have the option to get your exam centre changed once you have chosen while filling the CAT application form.
Question: Are there any exam centres of CAT which are outside India. If yes, then which one are they?
Answer:
The Common Admission Test is held only in India and not outside the country. CAT 2020 to be held on November 22.
Questions related to CAT
Showing 8653 out of 8653 Questions