Why students should start early preparation for CAT 2019? - Expert Column by Director of T.I.M.E
Why students should start early preparation for CAT 2019? - The Common Admission Test (CAT) is conducted by one of the six patriarchs among the Indian Institutes of Management and it is the first step of one's admission into the top business schools in the country. CAT and other management tests like XAT, SNAP, CMAT, NMAT by GMAC etc are deselection processes used to filter students for the next steps of the admission processes of particular colleges - Writing Ability Tests, Group Exercises and Personal Interviews. Hence, all those who are aspiring to make their way to the IIMs, they should start their preparation for CAT at an early stage so that they can ace the exam with ease. Prajnan Ray, Director of T.I.M.E Kolkata provides vital tips as to why the students should start early as they prepare for CAT exam.
Latest: IIM Kozhikode has activated the tab for objection to CAT Answer Key 2019. Candidates can raise objection till December 6, 2019.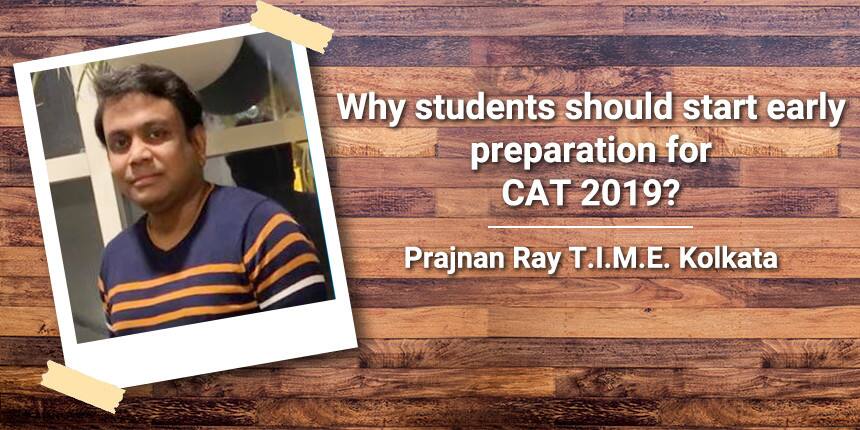 What does a good CAT score tell about the exam taker?
The popular perception is that one's good CAT score shows that one is intelligent, logical, has a great aptitude or is proficient in verbal ability, quantitative aptitude or logical reasoning (the subject areas of CAT.) However, a single 180-minute assessment is not the right yardstick for attributing these qualities to anyone and it would require a good number of periodic assessments, very similar to what is undertaken by schools, colleges and even b-schools.
The desired CAT 2019 score tells three things about the test taker to a particular college.
The first one is that one possesses or has developed the minimal aptitude, knowledge of the subject areas and logical thinking required by a prospective student of the college.

Secondly one can consign all problems, issues and prejudices to the attic and focus on the task at hand with undivided attention for the stipulated number of hours (a quality, one would need to display every time one is assigned a task at the college or at one's workplace,).

Thirdly, one has practised more than the aspirants not selected by the college, or in other words, is more sincere in one's efforts towards studying in the college.
Consequently, one's study plan needs to factor in all these. Firstly, one needs to develop one's basic knowledge in the subject areas and practise regularly and sufficiently to uplift oneself to the desired levels of aptitude, knowledge of the subject areas and logical thinking of the college.
Secondly, one needs to forget one's worries temporarily each and every time one is taking a test and therefore, nothing is more crucial to a good score in CAT than taking a good number of mock tests. And finally, analysing the mock test performances and never repeating mistakes is tantamount to practising more than others. Also, one's primary task during a test like CAT is to hunt for the easy questions and answer them and not kill time trying to answer the difficult ones - the latter is as important as (if, not more important than) the former. However, one cannot predetermine the difficulty of a question unless one has encountered similar questions during his preparative study. The variety of questions practised, therefore, takes centre-stage in bracing oneself for the difficulties in CAT.
Why students should start early preparation for CAT 2020?
All these and various other factors point towards one direction - that one has to start one's CAT preparation early. For example, to equip oneself with the basics of Verbal Ability or General Awareness (a part of some of the tests and WATs, GDs and PIs of all colleges,) one has to develop one's vocabulary, grammar and basic knowledge of world affairs, which cannot be realised in a month or two. If one starts late, one will need to squeeze each of the preparative steps smaller and cram long hours of study into one's daily schedule, which in a way defeats the purpose of regular practice and meticulous analyses. And finally, one has the flexibility to tweak his strategies time and again when one has time on one's hands.
Questions related to CAT
Showing 8941 out of 8941 Questions