MBA Admission Process 2023 In Top B-School, Check All Details
MBA Admission Process 2023- Master's in Business Administration is a two-year degree course that provides an abundance of job opportunities to candidates across the World. MBA admission 2023 will be done on the basis of the MBA entrance exam, GDPI, class 10 and 12 merits, work experience, etc. For taking admission in an MBA course candidates must have a Bachelor's degree in science, commerce, humanities, etc. MBA admission process 2023 requires long-term planning which starts with finding out the best MBA colleges, examining the entrance process, and getting selected.

The MBA course across India was introduced to suffice the requirements of quality managerial positions at the top level in business organizations. Generally, fresh graduates apply for full-time regular MBA courses, however, a lot many options are available in India and globally to pursue an MBA programme. In this article of MBA Admission Process 2023, candidates will get to know about the application process, MBA course eligibility, best colleges, entrance exams, and much more.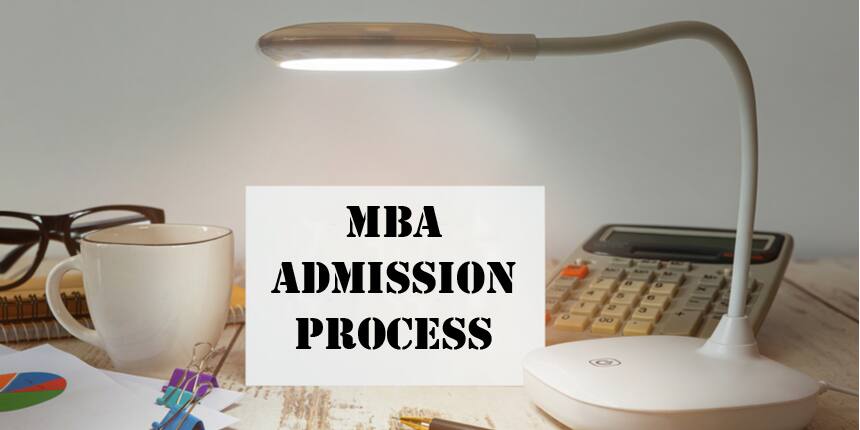 MBA Admission Process 2023: Overview
MBA course graduates are offered key managerial roles in Government sectors as well as private sectors. Most of the colleges offer MBA within a time duration of two years which is further divided into four semesters. If you are planning to get the most trendy degree, then first you must look for the best MBA course colleges in India.
Apart from following a regular admission process of MBA 2023 for a full-time programme, candidates with work experience can also apply for an Executive MBA course to enhance their current working profile. In India, the MBA Admission process 2023 for part-time MBA or distance MBA will not be similar to the regular full-time MBA course.
Read more-
Steps for Admission Process of MBA Course
In India, there are a number of colleges or universities that offer affordable MBA courses at reasonable fees. Thus, candidates who wish to pursue an MBA course from India have a number of options with them. But the question is, how to get into a college or university? MBA admission process 2023 follows a common process. Candidates before taking admission must follow the following steps-
Choose a B-School

Check the MBA Entrance

Check Eligibility Criteria

Appear for the MBA Course Selection

Take Admission
Descriptive step-by-step MBA Admission Process 2023 is given below and can be referred by candidates who wish to pursue an MBA course this year or in the future.
Also Check; CAT Sample Paper
1. Choose a B-School
In India, a number of colleges are available that offer MBA courses in various specializations. Candidates who wish to take admission will first have to select a B-School of their choice. This may seem easy but most of the toppers have admitted selecting a B-School as one of the most difficult steps in the MBA admission process. Selecting a B-School may depend on certain factors like-
Location of the B-School- Some candidates prefer to take admission in nearby schools to their home. While some let go of the location factor and consider other factors before taking admission. Candidates prefer to take admission in B-Schools that are geographically accessible. Location factors may not affect the institute if reputed in most cases.

Reputation- No doubt that before taking admissions in any B-School, candidates look out how reputed the institute is. This has been the most dominant factor in deciding the B-School. While it is said that the older the B-School, the higher its reputation. However, this can not be generalized. It is also possible that a recently established institute also has a better reputation as compared to the old ones.

Specializations offered- It may happen that the other two factors are fulfilled, but what will a candidate do of it if the institute in which he is willing to take admission does not offer the MBA course of his/her choice. MBA courses can be divided into two groups i.e. general programmes of management (that aim to offer composite education in the managerial field, more commonly known as regular MBA courses), while the other is a specialized MBA course that aims to offer an MBA degree in any particular segment.

Selection procedure- Some of the B-Schools follow a rigorous selection procedure which becomes difficult to crack for candidates to average ability. There are a plethora of MBA colleges and each has its own selection procedure. However, if we monitor closely, the base setup of the selection procedure is similar for most of them.

Fee structure- The fee factor is vital. Top B-Schools charge a great amount from candidates. While some offer MBA courses at a lower cost. In today's time when everything is digital, candidates can easily finance their education as it is much simpler and easier than in the past.

Return on investment i.e. placements record etc.,- Once everything is sorted. The big question comes. How are the placements? What will a candidate do about the reputation of the institute if the institute is unable to provide him with a good placement?
FMS Udaipur MBA Admission 2023
Faculty of Management Studies (FMS), Mohanlal Sukhadia University, Udaipur invites the application process for MBA admissions 2023. FMS Udaipur offers MBA admission into various specializations such as MBA-FSM, MBA (E-Business, Rural Management, Social Works, Mass Communication).
To know more about FMS Udaipur MBA admission - Click here
Top B-Schools of India
IIMs is the first name that strikes in the head when one thinks of the top B-Schools. Every year over two lakhs candidates attempt to enter into IIMs through a common admission test, out of which only a few hundred make their place. Apparently, there are 20 IIMs that provide quality education to candidates in the field of management. Apart from IIMs, some of the top B-Schools are-
2. Check the MBA Entrance
Once the candidates decide which B-School they need to take admission in, the next step would be to check the entrance procedure in that particular B-School. MBA colleges like IIMs, SPJIMR Mumbai, NMIMS Mumbai, IMI New Delhi, FMS Delhi, MDI Gurgaon, etc., admit candidates through common entrance exams like CAT/ MAT/ XAT/ CMAT.
In India, MBA entrance exams can be divided into three parts-
| | |
| --- | --- |
| S. No. | Level of Test |
| 1. | National Level Entrance Exam |
| 2. | State Level Entrance Exam |
| 3. | University Level Entrance Exam |
Detailed entrance exams for two years MBA course given below can be checked by candidates once they decide which B-School they are planning to take admission into-
National Level Entrance Exam - Top B-Schools accept common entrance exams which are considered top exams and are conducted for candidates at the National level. Scores of such entrance exams are accepted by all participating colleges/institutes. Major national level MBA entrance exams which are considered by all B-Schools are CAT, MAT, XAT, ATMA, CMAT, IIFT, etc.

State Level Entrance Exam - If candidates opt for state colleges then they have to appear in the state-level entrance exam. Some states conduct their own entrance exams for MBA courses. Some of the commonly known State-level entrance exams include OJEE MBA, TANCET, MAH MBA CET, AP ICET, etc.

University Level Entrance Exam - Some of the colleges or institutes also provide admissions to candidates on the basis of their own tests. Such University level tests are CUSAT CAT, NMAT by GMAC, IRMASAT, Symbiosis National Aptitude Test, IPU CET, etc.,
To check the chances of selection in B-Schools across the country, candidates can use the college predictors.
3. Check Eligibility Criteria
Once the B-School and entrance exams are selected, an important element of the MBA admission process 2023 for candidates is to check their own eligibility for getting into the institute. Candidates can either opt for a regular full-time MBA or distance MBA or part-time MBA course. The basic eligibility criteria of all the B-Schools remain the same for MBA degrees except a few of them that provide some specialized courses.
Below-mentioned is the basic eligibility criteria requirements that all candidates are required to check in order to pursue an MBA degree from the B-Schools:
All candidates should have a Bachelor's Degree in any discipline be it science, humanities, commerce, technology, etc., from any recognized Institution or University which is recognized Nationally

A minimum of 50 percent is a must for all candidates in their Bachelor's. SC/ST/EWS candidates are given some leverage in this

Those candidates who are in their final year of graduation can also apply for an MBA course in any B-School. They are required to have their final graduation certificate within a time duration as prescribed
4. Appear for the MBA Course Selection
Fill the application form, appear for the test after checking eligibility criteria and then on the declaration of result, appear for the selection procedure. Common MBA admission process 2023 for most B-Schools will be-
WAT/GD- After clearing MBA entrance exams i.e. Common admission test or any other exam, candidates need to appear for a written ability test or group discussion. In this round, basic business-related topics are asked to assess a candidate's knowledge.

PI- Personal interview round aims to judge the interpersonal skills of the candidate.
Note- It is not mandatory that all B-Schools follow this common process. Some institutes may just rely on entrance tests and personal rounds to admit candidates in the MBA course. However, top B-Schools like IIM's, XLRI, FMS Delhi, Symbiosis International Deemed University, Bharti Vidyapeeth Deemed University, Narsee Monjee, etc., follow a set prescribed MBA admission process 2023.
The candidate should know how to crack the GD-PI round to get admission. Most of the B-schools in India will conduct their selection rounds from March to April.
5. Payment of MBA Course Fees
All B-Schools prepare a final list of shortlisted candidates who have qualified for the next rounds. The merit list is generally prepared on the basis of entrance exam scores, the academic profile of the candidate, work experience if any, gender diversity, etc., On final selection, candidates need to appear for the counselling round in which fee payment insures a fixed seat in the B-School. MBA course fees may vary from college to college. The highest could be from Rs. 16 Lacs to as low as Rs. 10,000 in some colleges.
Frequently Asked Question (FAQs) - MBA Admission Process 2023 In Top B-School, Check All Details
Question: What is the process of MBA admission?
Answer:
MBA admission is based on score secured by candidates in Entrance exam, Group Discussion (GD) and Personal Interview (PI).
Question: What is the eligibility for MBA admission?
Answer:
Candidates should have completed their graduation in any discipline and should have a valid scorecard of CAT, XAT, MAT, ATMA, CMAT etc.
Question: Can I get admission into MBA programme without entrance exam?
Answer:
Yes, there are certain B-schools offers direct admission into MBA programme. Click here to know the name of B-schools which offers direct MBA admission.
Question: Which MBA specializations is best?
Answer:
MBA in finance is one of the most sought and highly opted by MBA aspirants.
Question: Can I get job after completing distance MBA?
Answer:
After completion of distance MBA candidates can get job into Finance, Insurance, Marketing, Accounting, Human Resources, Risk Management etc.
Question: Can MBA be done after 12th?
Answer:
No. MBA is a post graduate course for which candidates need a graduation degree with minimum 50% marks.
Executive MBA Updates and Articles
Why New Age Startups are Looking for B-school Students - In or...
12 May 2021