IIFT 2018 Topper Interview: Proper time management is the key to success in this exam, says 99.7 percentiler Harrshit M Kansal
Harrshit M Kansal, an MBA aspirant from Delhi topped IIFT entrance exam for 2018 with 99.7 percentile. Not only did he manage to get shortlisted by this prestigious institute, he also appeared for CAT, XAT and NMAT by GMAC and secured high percentile. According to him, starting preparation early and devising proper time management techniques worked in his favour.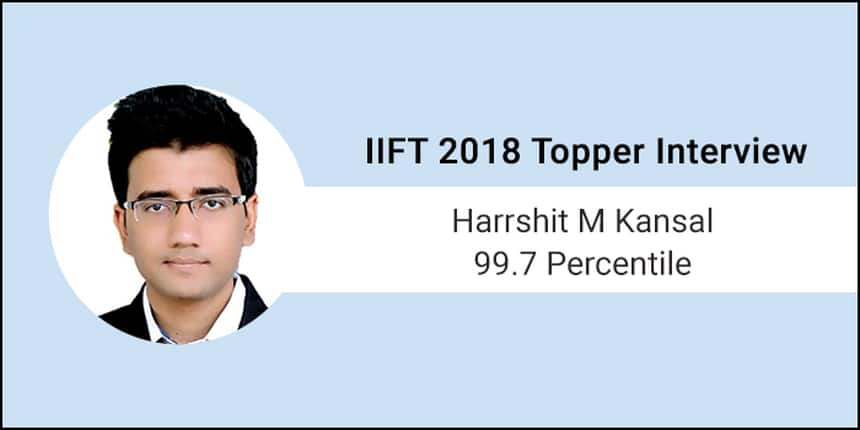 A final year engineering student at BITS, Pilani, Harrshit already started preparing for the IIFT selection procedure including GD, PI and WAT rounds.  Sharing about his preparation strategy with Careers360 said it included reading business newspapers to solving sample papers of IIFT. In this interview with Careers360, Harrshit shares his preparation strategy for IIFT and his future plans.
Excerpts from the interview.
Careers360: Congratulations on cracking IIFT 2018 entrance. Please share your overall and sectional scores and percentile.
Harrshit: Thank you so much for reaching out to me. My overall score in IIFT entrance exam is 45.24 marks and percentile is 99.6. My sectional scores are: VA-10/20, RC- 9.34/16, QA- 10/20, GK- 2.15/9, LR- 12/20 and DI- 1.75/15.
Careers360: Which other MBA entrances have you taken? What are your percentiles for those?
Harrshit: Besides IIFT, I have appeared in CAT, XAT and NMAT exams. My CAT 2017 percentile is 98.87, NMAT percentile is 99 (Score: 224/360 in the first attempt) while XAT results are yet to be declared.
Careers360: Which B-schools have you received interview calls from?
Harrshit: Till now, I have received interview calls from IIFT, SPJIMR Mumbai (Profile based), IIMs and NMIMS Mumbai. I am now strongly expecting calls from XLRI (BM), FMS Delhi and MDI Gurgaon.
Careers360: Why do you want to join IIFT Delhi? What are your other dream B-schools apart from IIFT?
Harrshit: IIFT is the mecca of international business and is placed among the topmost business schools, having a legacy of more than half a century. International trade shall get more and more prominence in times to come due to rapidly increasing globalisation in today's world.
Besides IIFT, I am also looking to do well in the further admission rounds of all other B-schools that I have received a call from.
Careers360: Please share your preparation journey. How did you strike a balance between your academic/professional life and preparation for an entrance exam?
Harrshit: I had started preparing for the MBA entrance exams from the second-half of my pre-final year of graduation. Initially, I used to take out some time for preparation along with my first target of achieving 9 CGPA at BITS, Pilani and later with my semester-long internship at PwC. I struck a good balance between the various activities by properly planning and prioritising them. I generally used to keep my weekends and other holidays for appearing in and analysing the mock tests.
Careers360: How did you maintain balance in preparation between IIFT and other entrances?
Harrshit: Most of the preparation that I had done was meant to be common and useful for all MBA entrances. It was only during the last two weeks or so before any particular exam that I specifically focussed on it. For IIFT exam, I developed a special strategy as it has four to six sections, including that of General knowledge.
Careers360: What was your section-wise strategy for the exam? Did you follow any specific preparation strategy for IIFT?
Harrshit: IIFT has six sections to be completed in 120 minutes. So, proper time management is the key to success in this exam. For the section on General Knowledge, I regularly stayed in touch with the current affairs and latest happenings. To develop my strategy, I took past papers of IIFT in a proctored environment. Through this, I was able to determine the optimal allocation of time to various sections of the exam. For the first 90 minutes of the exam, I had allocated a sectional time limit for each section. In the last 30 minutes, I worked on maximising my total score.
Careers360: Mention section-wise books and study materials you referred during your preparation.
Harrshit: I regularly read 'The Economic Times' in order to keep myself updated with the current affairs and general knowledge. I also worked on verbal ability and reading comprehension through eclectic reading. Besides this, I had bought a book containing mock tests and IIFT question papers of the last 10 years.
Careers360: Were you a part of any coaching institute? Do you think coaching is necessary for aspirants to bag the top rank?
Harrshit: Yes, I had enrolled in the test series of T.I.M.E. and CL. I think coaching provides one with a proper direction, guidance and motivation. Further, one gets to compete with others and discover one's strengths and weaknesses. But I do not subscribe to the view that regular coaching is a prerequisite for achieving success in the exam. Many of the aspirants may not be able to take out time for separate coaching classes. In that case, I recommend that they should join at least one test series to be able to practise well for the exam.
Careers360: How was your IIFT exam day experience? How many questions did you attempt from each section?
Harrshit: I reached the centre well in time for the exam. The exam had a surprise in store for the candidates. The number of sections in the exam was increased from 4 in the previous years to 6 this time. So, my foremost target was to ensure that I do sufficiently well in each section to clear the sectional cut-offs and then go for maximising the total score. Among the various sections, I found DI to be the toughest as it involved lengthy and time-consuming calculations. The GK section was also tougher than that of the previous years. VA, RC & QA were easy to moderately tough while LR was easy. The numbers of questions that I attempted in different sections were: VA-14/20, RC- 12/16, QA- 14/20, GK- 11/18, LR- 16/20 and DI- 5/20.
Careers360: How did you manage time during exam day? Was the duration sufficient for you?
Harrshit: IIFT tests one on all the fronts- speed, accuracy and equitable distribution of time. I had largely followed my previously developed strategy for attempting the exam while incorporating some changes as per the new exam format. I think I was able to manage my time well. But, this is one exam where there's always scope for higher score provided one maintains a higher speed along with accuracy.
Careers360: Have you started preparing for the next round of selection procedure?
Harrshit: Yes, after taking a break of a few days, I have started preparing for the further rounds.
Careers360: Please share your preparation strategy for Group Discussion, Writing Ability Test and Personal Interview? Any other element in the selection process you want to share?
Harrshit: My preparation strategy for GD, WAT and PI will revolve around introspection and discovery of my true personality. Further, I'll peruse and develop insights into the current affairs and important developments in India and around the world. If possible, I'll also try to take part in some mock interviews and further hone my writing skills.
There is also a CV to be filled by the shortlisted candidates before they appear for the further rounds of selection. It is an important document and must be filled carefully.
Careers360: Apart from the preparation schedule, what activities did you involve yourself for recreation purpose? What are your hobbies?
Harrshit: I regularly try to take out some time from my schedule to rejuvenate myself. I have a keen interest in travelling. So, I go on some jaunts with my family whenever I can take out some time. Besides this, I love outdoor cycling, playing badminton and spending quality time with family or friends.
Careers360: What is your suggestion for IIFT aspirants who will write the test next year?
Harrshit: The IIFT exam usually takes place at a time close to that of CAT. So, my advice to the future aspirants is that they should not let the CAT exam affect their preparation for IIFT. It is a totally independent exam. Regardless of how CAT exam goes, one must keep oneself very much determined, get accustomed to the format and give it one's best shot.
Questions related to IIFT
Showing 198 out of 198 Questions