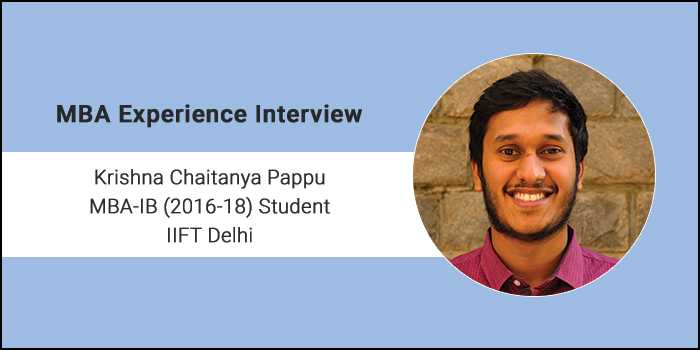 For every MBA student, the two years spent in his B-School are amongst the most memorable ones. As the academic session will commence in top B-schools in India soon, it is important to know that MBA is not only confined to lectures and assignments, it iss much more than that. In this special series by Careers360 called 'My MBA Experience', the alumni of top B-schools share their campus life, their academic learning and their professional experiences. They will also reflect on their B-school days have shaped their professional lives.
MBA/PGDM Admissions Open 2019
SOIL School of Business Design
Krishna Chaitanya Pappu, a final year MBA in International Business at the Indian Institute of Foreign Trade in New Delhi shares her MBA experience and life at this premier B-School. A B.Tech in Computer Science and Systems Engineering from Andhra University, Krishna is enthusiastic about Consulting, Supply Chain Management and Finance Domains. Prior to joining IIFT Delhi, he worked as Senior Systems Engineer at Infosys Limited for four years. He has bagged placement offer at Olam International.
In this interview with Careers360, Krishna talks about exciting times at IIFT campus, classrooms, hostel and even placements. He suggests all the freshers to engage themselves in activities, courses and clubs within and off their B-school campus. He believes that students must make the best use of their time and prepare themselves for stressful professional lives ahead.
Excerpts from the interview:
Careers360: How is the campus life at IIFT? What is the best thing about your campus, something that differentiates it from the others?
Krishna: It takes a bit getting used to, but the campus is abuzz 24*7. The days are usually packed with classes and sessions, the nights too are packed with activities of all sorts. It is up to each individual how they choose to balance their time. There are days when I sleep in till 11am or wake up at 5am to get ahead with my day. I think this is one of the learning experiences, when you are working a high-pressure job that requires you round-the-clock, these days are what train you for that.
Careers360: Is there any integration or campus visits between Delhi and Kolkata campus students?
Krishna: Yes, there is integration between the campuses, especially during the placement process and Student Exchange Programme. I personally have met quite a few batchmates from the Kolkata campus and have made a few good friends along the way.
Careers360: There are various clubs and committees at IIFT. Are you a part of any such club or committee? Share some of the activities and experience.
Krishna: I currently am the Senior Club Coordinator of the Africa Business Cell. Along with this cell there are nine other clubs, cells and committee's that are constantly involved in engaging the students in various opportunities of learning. Either a competition is organised, a good article is circulated, or sessions by Alums or industry leaders are organised by our club.
Careers360: Tell us something about IIFT's cultural fests, business and sports competitions.
Krishna: "Quo Vadis" is the cultural fest of IIFT that takes place around January or the third trimester. It is a three-day festival with a lot of fun events including stand-up Comedy gigs from the likes of Biswa Kalyan Rath and Abish Mathew. A musical performance from Guru Randhawa took place this year. The entire campus lights up during these three days.
Apart from this, there are multiple events that take place throughout the year like TEDx which happens sometime in October. IIFT recently incorporated a sports fest during February. These events are open to the public and outside colleges. There are many more internal activities that cause a lot of buzz from late evening to well past midnight. It really is a whole different world in IIFT campus.
Careers360: What do you do when you are not studying or attending the classes?
Krishna: There are plenty of moments when you find yourself free on campus and it is best to try and make good use of it. Often I find myself wasting time. It is more in hindsight that I realise I could have used the time better doing something else. It's quite typical for any student. However, I did make use of some of the time by taking up certifications outside of college, primarily to bulk up my CV for placements and have something to speak about in the interviews.
Careers360: There are always normal hangouts and few special hangouts like boys' secret corridors or the secret corner. What are some such special spots at IIFT?
Krishna: The campus is quite small, and it is rare to find a spot that gives a few moments of personal time. Room-mates and constant barrage of people are always running around the campus meeting some deadline or the other. There are a lot of nice places designated for different purposes. For example, the classrooms at night become study halls, each one dedicated to a different cause. The parking lot opens as a badminton, football or volleyball court. We make good use of the space provided to us and the entire campus is open to explore.
Careers360: Tell us something about the hostel life? What makes it special from other hostels?
Krishna: Personally, I've only lived in hostel for my MBA. This hostel, however is quite different. It is connected directly to the academic block and keeps you quite near the action at all times. This helps when you've spent the night working till late on an assignment or just whiling it away watching something. Getting to class is easier the next morning when you wake up late.
Careers360: The placement process at your institute has been concluded. Which company and profile have you been placed?
Krishna: I am placed in Olam International, in their Future Leader's Programme. I will be taking up the position of an Associate.
Careers360: How was your placement experience?
Krishna: The placement experience varies from year to year. As far as I saw, the summer placements were a bit hard on me as more companies tend to look for freshers. Finals on the other hand was more about the experienced personnel. Overall, I had a good experience and I am happy to say the wait was worth it.
Careers360: What was the interview experience? What were the questions you were asked and how did you tackle them?
Krishna: The interview experience was pretty much as expected. It took long, and they left no stone unturned. There were two interviews by two separate panels and each interview had a different purpose. In the first interview I was asked all questions related to my past, present and future. My entire CV was scrutinised, and all the points included needed a background. I guess this was to get the best picture of who I am and whether I was a cultural fit. The second interview was more technical and was slightly more stressful. The purpose was to see if I knew my basics and if I was able to recall them and work in a stressful environment.
Careers360: The batch of 2018-20 will join soon while you will be graduating and leaving the campus. What would be your message for your juniors?
Krishna: The two years at IIFT is not only an academic onslaught of knowledge. It is an experience of how the business world would be. The kind of people you meet and the kind of environment you're in, all add to the experience. During the first couple of months, I was mostly closed off to this experience. I suggest that students be open to the whole idea because sooner or later this is how you will have to function.
Also Read
Questions related to IIFT