IIFT 2017 Topper Interview: Systematic self-study takes you through, says 99.99 percentiler Siddharth Tripathi
There is certainly no substitute for practice, says Siddharth Tripathi, the topper of IIFT 2017. Siddharth, who scored 99.99 percentile in one of the most competitive management entrance exams, believes that the two things that made him the topper was systematic self-study and regular practice. He also appeared for CAT and XAT and scored 99.37 and 99.40 respectively. He received admission offers from new IIMs and other B-schools but his interest in Finance domain is what landed him at IIFT, Delhi.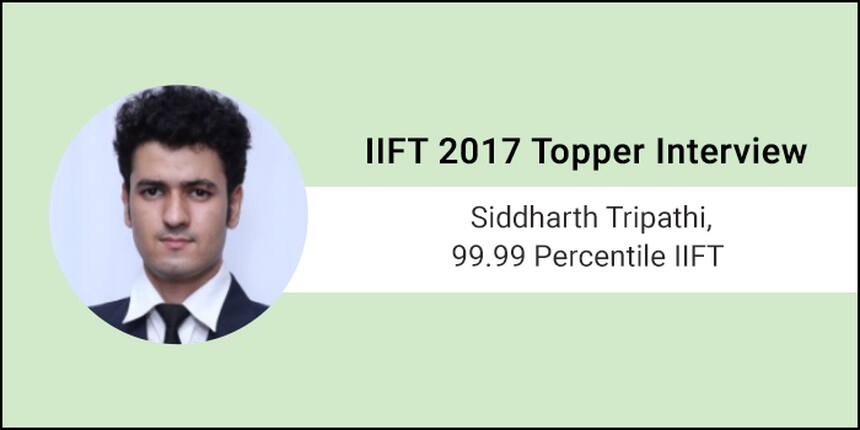 In this interview with Careers360, he tells us how he strategised his preparation for the management entrance exams and how is life at IIFT. Read on to know more.
Read the full interview here:
Careers360: Congratulations on your admission to IIFT Delhi. What was your score in IIFT 2017?
Siddharth: Thank you so much. My overall Score in IIFT entrance exam was 70.58 (99.99 percentile). My Sectional Scores were - 23.25/31 in VA/RC, 16.67 in Quantitative Analysis, 25.67/36.5 in LRDI and 4.99/12.50 in GK.
Careers360: Did you appear for any other entrance exam? If yes, please share the score.
Siddharth: Apart from IIFT, I appeared for CAT and XAT. I scored 99.37 percentile in CAT and 99.40 percentile in XAT.
Careers360: Did you have admission offers from other B-schools? Why did you choose IIFT over other B-schools?
Siddharth: Apart from IIFT, I got admission offers from NITIE Mumbai and new IIMs. But, I chose IIFT because it is a very reputed B-school for Finance and I was interested in Finance. IIFT also offers a unique MBA degree in International Business which is a recognised course across the world.
Careers360: Please share your preparation journey. How did you strike a balance between your academic/professional life and preparation for an entrance exam?
Siddharth: I started preparing a year before the exam. I joined a classroom programme but the thing that got me through was systematic self study. I prepared regularly and gave all the mock tests without exception. The most challenging time was maintaining my preparations with my Summer Internship which was a little hectic but I cut down on my leisure time and followed a strict schedule. I managed Academics mostly by studying a week before examinations.
Careers360: What was your section-wise strategy for the exam? Did you follow any specific preparation strategy for IIFT?
Siddharth: GK - I followed a lot of blogs on the internet like Washington Post and used services like inshorts to stay updated about all the happenings of the world. Apart from this, I also read newspapers regularly.
LR- I practiced a lot of questions of different variety and gave many sectional tests until I figured out a proper test taking strategy. Puzzle solving also helps in this section.
English Comprehension - There is no substitute for inculcating a reading habit when it comes to RC. I had a decent reading habit so RC came naturally to me. One should be able to identify each type of questions before attempting.
Quantitative Analysis - Being good in Math helped me a little but one must also focus on memorising shortcuts and quick calculation tricks if they want to speed up their calculations and make a decent attempt in the paper. As I've previously said, there is no substitute for practice.
Careers360: Mention section-wise books and study materials you referred during your preparation.
Siddharth: I referred mostly to CL's material. I solved a lot of sectionals and full length papers on their online portal. I read The Guardian and Hindu regularly too.
Careers360: Were you a part of any coaching institute? Do you think coaching is necessary for aspirants to bag the top rank?
Siddharth: I was a part of CL Kanpur. I think the course is not very challenging per se but it requires a great amount of practice and joining a good coaching center inculcates a lot of regularity.
Careers360: What is the significance of mock tests in your success? When did you start taking mocks and what was the frequency?
Siddharth: Mock Tests are a make or break factor when it comes to MBA preparation. There is a lot of pressure and to maintain speed and accuracy along with that pressure requires you to subject yourself to a lot of simulations that are similar to the actual test. Mocks open up your gray areas so you can work towards improving them. Mock tests should be followed up with thorough analysis.
Careers360: What was your section-wise time management strategy on the exam day?
Siddharth: I tried to do at least two out of 3 sections every day. I read every day and practiced RC 3-4 times a week. I tried to do LR-DI daily and I practiced Quantitative 3-4 times a week. Towards the end of my preparation, I started doing everything daily and also increased my study hours.
Careers360: Apart from the assignments and class projects, what other non-academic activities you are involved in? Share your experiences.
Siddharth: I loved quizzing, blogging and watching films. I was lucky that I did not have to compromise a lot on my interests because of my preparations
Careers360: How has your journey been at IIFT so far?
Siddharth: It has been very exciting. I made some great friends and got to learn a lot. The first trimester was very hectic and I got to learn a lot about myself during that time.
Careers360: Any suggestion that you would like to share with aspirants?
Siddharth: Be regular with your preparations and don't let small obstacles deter you from approaching towards the bigger battle. Also, stay relaxed and positive to crack IIFT 2018.
Also Read
Questions related to IIFT
Showing 202 out of 202 Questions