MAH CET MBA Exam Day Guidelines 2021
MAH CET MBA Exam Day Guidelines 2021 - Even after complete preparation, a slight strike in the mind related to the MAH CET MBA exam day can actually beset a candidate's psychology. Sometimes candidates may overplay one's hand and fall in the pit. Hence, brewing despondency for the exam day is not good. Candidates must keep calm and should be aware in advance as to what MAH CET MBA exam day guidelines 2021 are. In order to assist the tenderfoot test takers, in this article of MAH CET MBA 2021 exam day guidelines, Careers360 brings to you the basic instructions that are to be followed on the exam day. MAH MBA CET is a State level entrance exam which is conducted once in a year for the purpose of providing admissions to candidates in Maharashtra State colleges. The exam day guidelines of MAH CET MBA 2021 can be referred to as major tips to be followed on exam day. Read carefully the complete article to know more.
Quick Link - Check NIRF Management Ranking 2020 in Maharashtra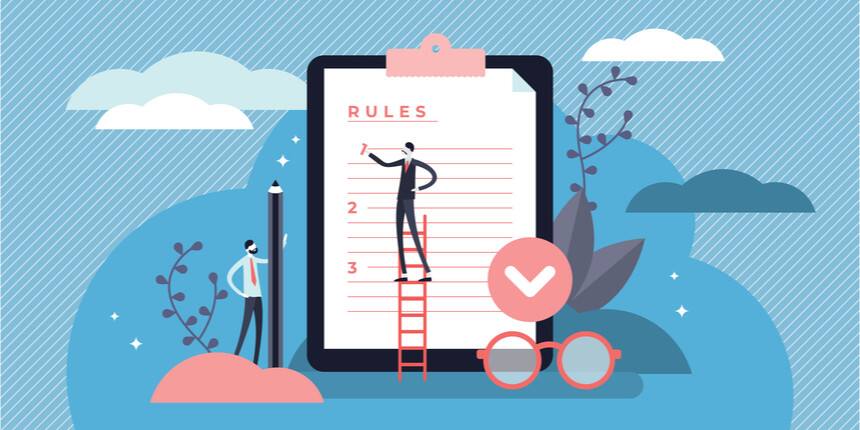 MAH CET MBA Exam Day Guidelines 2021
Thinking of the negative consequences will only deteriorate one's performance. Hence, it is suggested that instead of panicking and ruining the paper, candidates should stay composed. Candidate's appearing in MAH MBA CET 2021 should be aware of the given below quick facts in order to set one's neck in the exam. As per the exam dates of MAH CET MBA 2021, exam will be conducted in the second / third week of March 2021.
MAH MBA CET 2020 - Quick Facts
| | |
| --- | --- |
| Particulars | Details |
| Formal Name of the Exam | Maharashtra Common Entrance Test |
| Common Name | MAH CET MBA/MAH MBA CET |
| Conducting Body | State Common Entrance Test Cell, Maharashtra |
| Exam Type | State Level Post Graduate Entrance Test |
| Validity of Scorecard | One Year |
Exam Day Guidelines of MAH CET MBA 2021
Given below are some of the major MAH CET MBA 2021 exam day guidelines which are to be followed by candidates -
Carry Admit Card
On the exam day, one of the most important documents which is to be carried by all candidates is the MAH CET MBA admit card 2021. Note that, without the hard copy of the admit card, no candidate will be allowed to get inside the exam centre. Admit cards of MAH CET MBA 2021 will be released by authorities a few days before the exam day. Eligible candidates will be able to download the MAH CET MBA 2021 admit card by using their login credentials. Thus, one of the most major MAH CET MBA exam day guidelines 2021 which all candidates should allow is have a hard copy of admit card to avoid last minute setback situations
Have Photo ID Proof
Nowadays it is a common trend for authorities to ask for a valid photo ID proof of candidates who will appear in the exam. Moreover, in order to ensure safety with regard to identification of candidates, authorities may make it obligatory for candidates to carry a valid photo ID proof on the day of MAH CET MBA 2021. Any of the given can be used as a photo ID proofs -
Bank Passbook with Photograph

Passport/ Voter's ID Card/ PAN Card/ Driving License

Photo ID proof issued by a Gazetted officer

University/ College Valid Identity Card

Aadhar card/ Employee ID/ Bar Council Identity Card
Follow Time
Being on time is of the major exam day guidelines of MAH CET MBA 2021. The reporting time will be provided in the MAH CET MBA 2021 admit card of the candidates. They are advised to abide by the reporting time or reach even before the time mentioned for smooth processing of the further steps. Candidates reaching the MAH CET MBA exam centre 2021 beyond the time mentioned will not be allowed to enter inside and give the exam.
Follow Social Distancing
Upon reaching, all candidates should be careful and follow social distancing rules of the government for their as well as other's safety. Candidates disobeying this exam day guidelines of MAH CET MBA 2021 might get their candidature cancelled
Wear Masks and Carry Sanitizer
Followed by social distancing MAH CET MBA 2021 exam day guidelines, candidates should also be wearing masks and have sanitizers with them. The mask can be removed at the time of verification of documents and identification
Check Seating Arrangements In Advance
Once the candidate reaches the exam centre of MAH CET MBA 2021, the first thing they should do is check their seating arrangement. Details of the seating arrangement will be either mentioned on the notice board or inside the exam centre. Candidates should check and sit only on the seats allotted to them
Obey The Invigilators
One of the exam day guidelines of MAH CET MBA 2021 is to follow the instructions of the invigilators. Issues related to finding allotted seat, IT infrastructure or logging in issues, any hamper during the exam, rough sheet works etcetera should be immediately brought to the notice of the invigilator
Rough Work On Scratch Sheet Only
Once the candidates are inside the exam hall, invigilator will provide some plain blank sheets. All kinds of rough work is to be done by candidates on that sheet. After the completion of exam duration as per the MAH CET MBA exam pattern 2021, the rough sheets are to be returned. Candidates taking away or hiding the rough sheets will have to face the consequences
Do Not Peek Other Candidates' Computer
While in the exam hall, all candidates are supposed to only worry for themselves. Candidates found peeking into someone else's computer screen / talking to fellow candidates might be held guilty of cheating. Hence as a MAH CET MBA 2021 exam day guidelines, candidates should focus only on their work and keep their nose of the out other candidates' business
Questions related to MAH MBA CET
Showing 13 out of 13 Questions