Last Minute Tips to Crack MAH CET Exam 2021
Last Minute Tips to Crack MAH CET Exam 2021 - Hassle in the last minutes is likely to happen even after good preparation, especially when the exam is one of the most widely taken State level exam i.e. MAH CET MBA 2021. Candidates who will appear in MAH CET MBA 2021 in the third week of March 2021 need to focus on major topics and should devise a strategic D-Day plan in order to score well. Candidates should not let their agitation overpower their performance. Hence, in order to help candidates, Careers360 in this article of last minute tips to crack MAH CET exam 2021 bring the rush hour tips to help candidates in narrowing down their preparation to some specific key points. MAH MBA CET is a state level entrance exam and is considered to be a popular MBA entrance exam amongst candidates in Maharashtra state. Candidates qualifying MAH CET MBA 2021 will be able to take admission in top B-Schools as per NIRF Management Ranking 2020 in Maharashtra.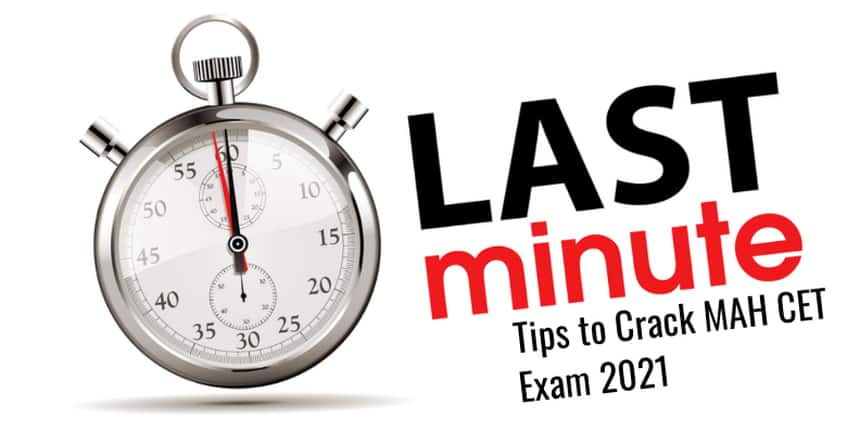 Strategies To Be Followed Before a Week of MAH CET MBA 2021
Attempt Mock Test - In order to gauge the preparation level, candidates should attempt one mock test on a daily basis in the remaining seven days before the D-Day. This will help in improving confidence as well as accuracy. MAH CET Mock Test 2021 will also give an idea as to how the question paper will be.
Review and Rectify Mistakes - One of the last minute tips to crack MAH CET exam 2021 is that while solving MAH CET sample papers 2021 or question papers, candidates should identify the areas of improvements, review them and try to rectify. However, any kind of new topics should be avoided at the last moment.
Quick Links -
MAH CET MBA Preparation Checklist: Dos & Don'ts
MAH CET MBA-MMS 2020 Toppers - Check Here
MAH CET Exam 2021: Last Minute Tips
For any entrance exam, be it MAH CET or any other MBA entrance exams in India, candidates must make sure to follow the two aspects i.e. practical approach on exam day and methodology of taking the exam. Both play an equal role and help candidates in performing better during the MAH CET MBA 2021 exam.
Aspects to be Followed for MAH CET Exam 2021
| | |
| --- | --- |
| Practical Aspects | Exam Taking Methodology |
| Follow Social Distancing | Pre-decide Average Answer Time |
| Carry Admit Card of MAH CET 2021 | Read Questions Thoroughly |
| Check Location Beforehand | Attempt All Four Sections |
Let us look at both the aspects one by one -
Practical Aspects
Follow Social Distancing - In wake of COVID 19 precautionary measures to be followed, all candidates are requested to follow social distancing. This is a basic practical aspect for the safety of candidates themselves as well as fellow test takers. Along with this candidates should bring their own sanitizers and masks

Carry Admit Card of MAH CET 2021 - Candidates should arrange in advance a hard copy of MAH CET 2021 admit card for the purpose of verification and identification. As per one of the guidelines to be followed, all candidates should bring a colored hard copy of MAH CET MBA admit card 2021. Candidates coming to MAH CET MBA 2021 exam centres without the admit card will not be allowed to enter and give the exam

Check Location Beforehand - Details pertaining to the venue of exam centre, reporting time and related details will be mentioned in the admit card of MAH CET. Hence one of the last minute tips to crack MAH CET exam 2021 would be to check the exam centre beforehand in order to avoid any fuzz on the day of exam. Any kind of duplicacy may create a panic situation and affect marks in MAH CET MBA exam 2021
Exam Taking Methodology
Pre-decide Average Answer Time - One of the major last minute tips to crack MAH CET exam 2021 would be to decide in advance the average duration of time to be spent on a question. As per the MAH CET exam pattern 2021, candidates will have only 150 minutes to solve a total of 200 questions (divided into 4 sections). Hence, wasting more than 2 minutes on each question would be a tough decision

Read Questions Thoroughly - Not panicking is one of the major last minute tips to crack MAH CET exam 2021 with good scores. Sometimes candidates tend to reach questions abruptly and end up marking wrong answers. Thus, candidates are advised to reach the questions carefully and then make a choice between the given answers

Attempt All Four Sections - MAH CET MBA 2021 question paper will have a total of four sections. Candidates going MAH CET MBA 2021 are requested to attempt all four sections in order to increase their overall scoring. Try making a balance between all four sections while answering in such a way that time for revision of marked answers is always available
Questions related to MAH MBA CET
Showing 13 out of 13 Questions