How to Prepare for MAH CET MBA
How to Prepare for MAH CET MBA 2023 - Candidates need to pull their socks up and start their MAH CET MBA preparation to ensure sufficient time to crack this exam. Stakes will be high for the candidates planning to appear for the MAH CET MBA exam 2023. Candidates need to prepare consistently and have a proper exam strategy.

One common question that pops up in candidates' minds is how to prepare for MAH CER MBA 2023. Aspirants need to understand the MAH CET exam pattern and syllabus before starting the preparation for a management entrance test. Careers360 brings here the preparation strategy for the MAH CET exam 2023.
Latest Updates for MAH MBA CET
Stay up-to date with MAH MBA CET News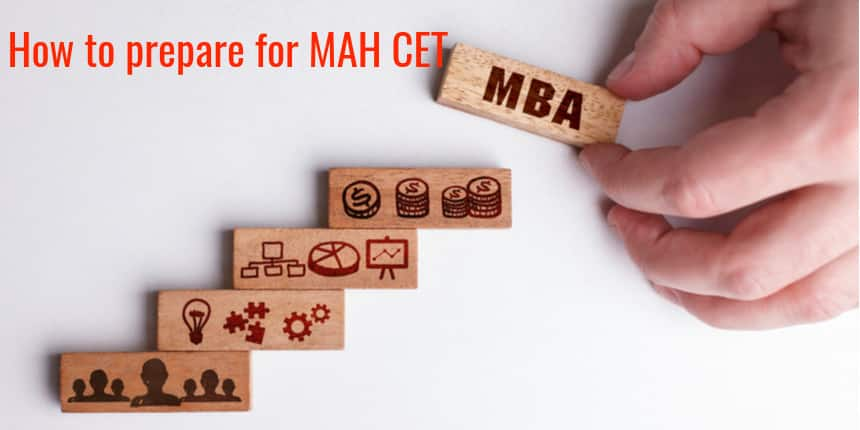 MAH CET 2023 Exam Pattern
State Common Entrance Test Cell prescribes the exam pattern of MAH CET 2023. The question paper will be divided into four sections with a total of 200 questions, as per the exam pattern of MAH CET 2023. The total time duration allotted to candidates will be 150 minutes. Candidates can refer to the below table.
Exam Pattern of MAH CET 2023:
Particulars

Details

Mode of Exam

Online

Total Sections

Four

Quantitative Aptitude

Verbal Ability and Reading Comprehension

Logical Reasoning

Abstract Reasoning

Marking Scheme

One mark for each correct answer

Duration

2 hours 30 minutes i.e. 150 minutes
Syllabus of MAH CET MBA
According to the previous year paper, the MAH CET MBA 2023 syllabus will be divided into four major sections. The medium of instruction will be English for MAH CET MBA 2023. Before questioning how to prepare for MAH CET MBA 2023 candidates must look at the syllabus and try to divide it into sections for better preparation.
Syllabus Division with Marking Scheme:
Sections

Number of Questions

Maximum marks

Duration

Logical Reasoning

75

75

150 minutes

Quantitative Aptitude

50

50

Abstract Reasoning

25

25

Verbal Ability/ Reading Comprehension

50

50

Total marks

200
MAH CET MBA 2023: Section-wise Strategy
Without waiting for the last moment, all candidates who will be filling the form or will fill MAH CET (MBA CET) application form 2023 must start their preparation as early as possible. Beginners can follow a section-wise preparation strategy according to which they should start to prepare according to each section of the MAH CET syllabus.
How to Prepare Quantitative Ability Section for MAH CET MBA:
This section will contain fifty questions of one mark each. The questions will access the candidate on speed and accuracy with the numbers, quantitative reasoning, data interpretation based on text, tables, graphs ability to do numerical calculations, etc. To score well in this section, candidates must focus on the following points:
Build and try to enhance your basics of mathematics.

Practice simple maths questions related to numerical calculations.

Understand basic topics like arithmetic, ratio proportion, data sufficiency, profit and loss, number system, geometry, and probability. Previously these topics were key questions in Practice as much as you can and go for mock tests.
| | |
| --- | --- |
| Books | Author |
| The Pearson Guide to Quantitative Aptitude | Dinesh Khattar |
| Quantitative Aptitude for competitive examination | Abhijit Guha |
How to Prepare for Logical Reasoning Section -
Considered to be a confusing section in the exam, Logical reasoning needs a lot of understanding on part of the candidates. A total of 75 questions will be asked in this section. Logical reasoning aims to judge a candidate's ability to think accurately while not losing speed.
Candidates should practice this section as much as they can.

Check the previous year question papers and try to re-attempt those questions.

Try to study basic topics like Linear and Circular Arrangements, Symbol based Series Completion, Directions, coding-decoding, Venn diagrams, seating arrangements, blood relations, syllogisms, etc.
| | |
| --- | --- |
| Books | Author |
| Analytical Reasoning & Logical Reasoning | Peeyush Bhardwaj |
| A Modern Approach to Logical Reasoning | R S Aggarwal |
How to Prepare for Verbal Ability & Reading Comprehension Section -
Candidates are advised to read more to crack this section and score good marks.

Reading Blog posts, newspapers, journals, feature articles, etc., will help in enhancing the candidate's verbal ability.

Practice gaining knowledge about inferences, vocabulary, and para jumbles.

Revise basic grammar rules to remove confusion from the mind.

Solve and practice comprehension to reduce time duration.
| | |
| --- | --- |
| Books | Author |
| A modern approach to verbal & non-verbal reasoning | R S Aggarwal |
| Proficiency in Reading Comprehension | Ajay Singh |
Abstract Reasoning -
Very much similar to logical reasoning questions, this section contains only 25 questions. The questions asked in this section will be with an abstract base and candidates will have to answer after analyzing the question.
Candidates will be required to analyze information and solve complex problems.

Try to practice relationships.

Practice solving questions of abstract reasoning with the end. Approach a confusing sequence from the end and then try to solve it.
| | |
| --- | --- |
| Books | Author/Publisher |
| Abstract Reasoning Test | Richard McMunn |
| Maharashtra MBA CET Guide by RPH Editorial Board | Priyanka Prakashan |
Apart from following the sectional division preparation strategy, candidates must focus on managing their time well. A vital role is played by the time when candidates have to answer 200 questions with accuracy within a duration of 150 minutes. Candidates can follow the below-mentioned guidelines on how to prepare for MAH CET MBA 2023.
Top MBA Entrance Exams
Other Tips on How to Prepare for MAH CET MBA 2023
Once the candidates are aware of the exam pattern and syllabus, they must alter their preparation strategy to other basic aspects as well. MAH CET MBA 2023 is expected to be conducted in the second week of March, 2023. With a long duration left for MAH CET MBA 2023, candidates must practice the general guidelines given below.
| | |
| --- | --- |
| S. No. | Particulars |
| 1. | Time Management |
| 2. | Review and Rectify Your Mistakes |
| 3. | Practice Maximum Mock Tests |
| 4. | Work on Areas of Improvement |
| 5. | Focus on Strong Areas |
There is no sectional timing in MAH CET MBA 2023. So above all, candidates must trust their preparation and be given the exam with full confidence.
Top Colleges in India offering MBA
Questions related to MAH MBA CET
Showing 78 out of 78 Questions