MAH CET MBA 2022 Preparation Tips
MAH CET 2022 Preparation Tips - Those who know the way to get into a premier B-school in India then they must be familiar with the MAH Common Entrance Test. MAH CET MBA entrance test is the only one that matches the difficulty and popularity level of the CAT exam. While preparing for MAH CET MBA one needs to set a different strategy and preparation tips for MAH CET 2022, they have to know the detailed syllabus of MAH CET, as well as its examination pattern as well as candidates, should know MAH CET MBA 2022 preparation tips.
Latest Updates for MAH MBA CET
Stay up-to date with MAH MBA CET News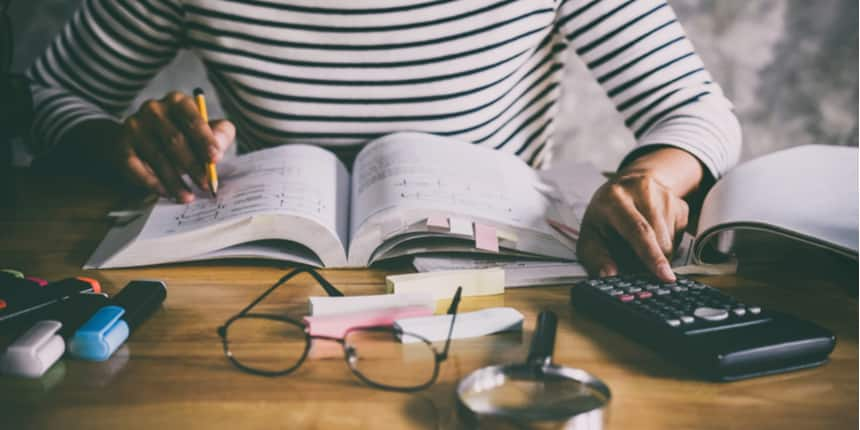 MAH CET Preparation Tips & Strategy 2022
As per previous year toppers, the difficulty level of MAH CET is similar to national level MBA entrances. Only hard work and determination give you fruitful results. If you are looking for MAH CET 2022 preparation tips to ace the entrance exam on your first attempt then this article belongs to you, read the full article by Careers360 to know all the tips and strategies pertaining to MAH CET 2022 preparation.
Go through the prescribed syllabus
Though it is a state-level entrance exam and many candidates take it lightly and do not take it seriously. But the truth is MAH CET entrance test also needs intense preparation.
Going through and understanding the syllabus of MAH CET 2022 is the very first step that has to be followed to start its preparations. Candidates must go through the syllabus provided on the official site, it would help them to make a study plan accordingly. By doing this candidates will get aware of all the topics and they can easily categorize the easy and difficult ones for them.
Understand the exam pattern and marking scheme of the paper
After thoroughly understanding the syllabus, it is advised that you must understand the exam pattern and the marking scheme of the paper as well. It would let you know how you have to deal with the different sections of the paper. To know the exact exam structure it is a must to know the examination pattern.
Get good study material
Before starting preparation for any competitive exam, it is important to consider the sources you are referring to for study. It is suggested that aspirants should go for such books and study materials that cover the entire syllabus for exams and are capable enough to clear their basic concepts.
Learn short tricks and formulae
Students will be provided with a duration of 2 hours and 30 minutes to attend the MAH CET 2022 and in order to save time, they should focus on learning short tricks and formulae to score high in sections like Quantitative Aptitude. Learning shortcuts would not only help you to save a hefty amount of time but also lead you to have an edge over others.
Prepare a study plan
To cover the syllabus of MAH CET 2022, one needs to have a good study plan. A study routine or a study plan should be designed in such a way that will utilize your whole day effectively and efficiently. A good timetable encourages time-bounded preparation.
Solve previous years question papers
To strengthen the basics and to understand the difficulty level of the questions based on the same concept, it is necessary for the aspirants to solve previous year's question papers as it would help them to understand the question pattern prescribed in previous year papers.
Take regular mock tests
A mock test is nothing but a trial exam that students must take before appearing for the final exam they are preparing for. It has to be taken on a regular basis to make an analysis of progress. Taking mock tests is the most relevant and important part of the preparation that has to be practiced in order to ace any type of competitive exam as it helps one to eradicate the fear and anxiety about the exam. Mock tests place the students in such a situation, where they can feel the atmosphere that resembles the actual examination hall.
Thus, it is very much important to be confident about the exam they are preparing for and mock tests play a vital role in providing you with such a level of confidence.
Seek guidance from mentors
During exam preparation, one may seek the guidance of mentors to devote their time in the right direction. Thus, it is also suggested that if you are not confident about preparing for the exam on your own, in that case, you may take help from the mentors who will help you throughout the whole preparation.
Preparation should vary according to the demand of different sections
MAH CET 2022 will be comprised of sections namely- Abstract and Logical Reasoning, Quantitative Aptitude, and Verbal Ability & Reading Comprehension. Each section here requires a different type of preparation.
For instance- Questions asked in the Quantitative Aptitude section are totally based on the concept that requires a lot of practice to get it right whereas the Logical and Abstract reasoning section requires high-order thinking skills and is there to test your decision-making power.
Similarly, to score well under the Verbal Ability section one requires to have a good command of topics like- Verb, Adjectives, Error-findings, Antonyms, Synonyms, etc., whereas, to ace the Reading Comprehension section one must develop the habit to read the lines.
Thus, it is important for the students to prepare for different sections of the paper as per their demands.
Top MBA Entrance Exams
Questions related to MAH MBA CET
Showing 20 out of 20 Questions