CAT 2015 Highlights – 10 Interesting facts
CAT 2015 concluded on Sunday, November 29, 2015 across 650 exam centers in 136 cities of India. This year, CAT takers experienced many firsts. This article by Careers360 brings to you CAT 2015 highlights with 10 interesting facts about CAT 2015.
Recent Posts: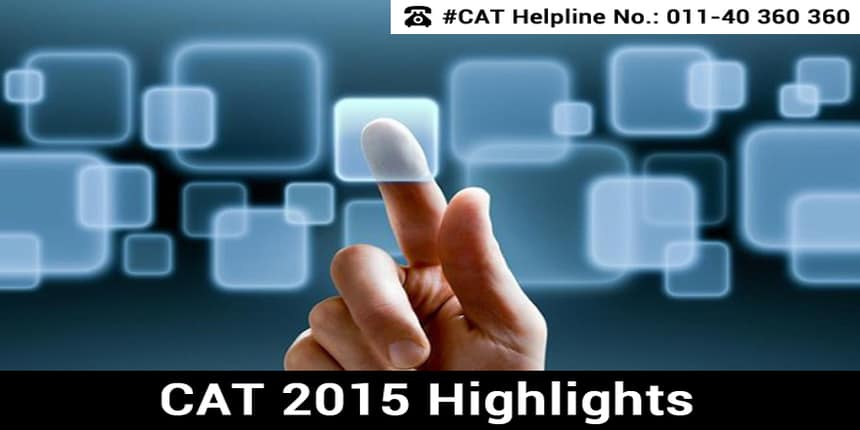 [How to ensure a positive outcome in your GD/PI. Click here and enroll to get Tips/Tricks and Smart Techniques to deal with situations smartly] 
Single Day Window – This is the first time since 2009 that the computer based CAT has been conducted in a single day window. From 2009 to 2013, the exam was held in a 20 day window in 2 slots each. The multiple-day window often led to controversies on equating and normalization process. CAT 2014 saw a shorter window of 2 days and 4 slots but this year the exam was concluded in a single day window in forenoon and afternoon slots.
No technical glitches – There has been no report of technical glitches this year bringing much relief to the test takers as well as the conducting body, IIM Ahmedabad. Tata Consultancy Services (TCS) has been conducting CAT since 2014 and in both the years, the test has been conducted in a glitch free manner.  CAT has a rampant history of facing technical snags since the test's mode was changed to computer based since 2009. Prometric was the online testing partner for IIMs till 2013 and in there was hardly any glitch free delivery in the 5 year term.
Candidates provided with calculator for the first time – For the first time in the history of CAT, IIMs allowed test takers to use on-screen calculator for basic computations. The on-screen calculator not only allowed the candidates to do basic calculations but also enabled some higher math calculation as well like logs, square roots, trigonometry etc. According to the test takers, the calculators came to their respite in the DI section and in the non-MCQ questions of Quant but for the well prepared students and for those who were not much habituated using the on-screen calculator, the tool was not of much use for them.
Non-MCQs came as new puzzle – There were a total of 33 non-MCQ questions in the exam from each of the sections. The highest number of non-MCQs was in the Quantitative Ability section, which was 15, followed by the Verbal Ability & Reading Comprehension section (10). The Data Interpretation & Logical Reasoning section had the lowest number of non-MCQs, 8. Although this type of questions confused the students as they could not apply the elimination method. But the positive fact is that there was no negative marking scheme involved with these questions. According to the CAT 2015 Convenor Prof. Tathagata Bandyopadhyay, the non-MCQs would help eliminate the trend of random guessing resulting into candidates losing marks.
Surprise in VARC section – This was the first section to appear on screen with 34 questions. The section was divided into 2 areas, Reading Comprehension and Verbal Ability. There were 5 RC passages with 2 passages with 3 questions and other 3 passages with 6 questions respectively. Till last year, there used to be 4 questions with an RC passage, which was different this year. The VA area had 10 questions, all were non-MCQs. Surprisingly there were no questions on Grammar, Vocabulary or FIJ. Only 3 topics were covered, Para Jumble, Summary and Odd Sentence Out. However, the exact same pattern was followed in the official CAT 2015 Mock Test. Candidates who had gone through the mock test carefully would not have found the question types to be surprising.
Sectional time limit may lower cutoff – According to the experts, the overall difficulty level was higher this year compared to last year. Moreover, this year the sections were time bound for 60 minutes. As Arks Srinivas, CEO, VistaMind Education explains, "By giving 60 minutes to each of the sub areas of the CAT papers viz., Verbal & RC, DI & LR and QA, the IIMs have ensured that the student spends this time only that area. This also means that the cutoffs in each of the sections may be lower than in an exam where there is no time limit given for each section."
DI&LR toughest section - As per the expert analysis, the overall difficulty level was tougher than last year and DI & LR was the toughest section. In terms of the areas, the LR questions were tougher than that of DI. The non-MCQ questions were in the LR part only which made it more difficult.
Test conducted across 650 centers in 136 cities – Owing to the single day window, the authorities had increased the number of cities and exam centers for conducting CAT 2015. This year, the exam has been held across 650 centers located in 136 cities of India. The number of test centers has increased to more than double from last year, which was 307 centers. The number of cities where CAT 2014 was held is 99.
CAT becomes more accommodative towards female candidates– While applying for CAT 2015, applicants had to provide the preference of 4 cities in descending order. The authorities, however, ensured that the female and Differently Abled candidates were allotted center in the most preferred city. It was also observed that the number of female candidates was more in the urban locations. Careers360 reported at 3 test centers located in Sarita Vihar, New Delhi and Greater Noida where the candidates were visibly dominated by female test takers (about more than 90%).
Record number of applicants – This year, the number of applicants was 2,18,664, which was the highest number since 2010. The number of female candidates and non-engineering candidates has also increased by 2% and 9% respectively. CAT 2015 had also received applications by 80 transgender candidates.
Also Read
How CAT 2015 Pattern change and difficulty level will reflect in your results?
CAT 2015 Analysis: Moderate to Tough difficulty level; Sectional time limit may result in lower CAT Cutoff
CAT 2015 Analysis Slot 2 - Alike Slot 1 Paper with tough DI & LR
CAT 2015 Slot 1 Analysis- Moderate exam with tough DI & LR 
CAT 2015 conducted on November 29: Live Report from Test Centers
CAT 2015 Expected Cutoff by Experts
Stay tuned to bschools.careers.com for more news and updates on CAT 2015.
Questions related to CAT
Showing 8932 out of 8932 Questions