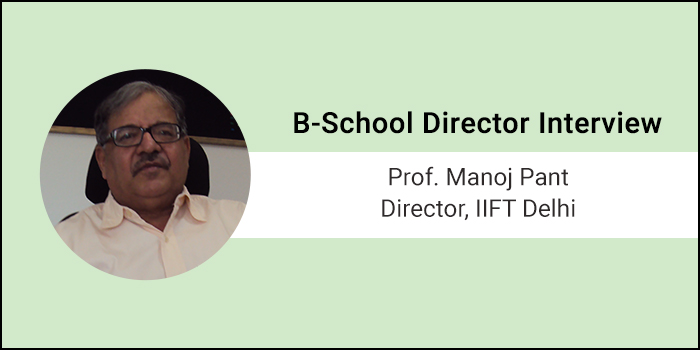 IIFT Delhi Director Interview: Beyond infrastructure and lush green campus, what sets a B-School or any other institution apart from other institutions? It is the faculty that makes a difference and that's what Indian Institute of Foreign Trade (IIFT) has kept its focus on. Known for its flagship programme MBA-Foreign Trade, IIFT is currently focusing on strengthening its Research part and Training programmes under the leadership of newly appointed Director, Prof. Manoj Pant. The professor of Economics who used to teach the subject earlier at Jawaharlal Nehru University (JNU) and Delhi University (DU), is introducing M.A in Economics programme from this year which would be research and teaching oriented. The renowned B-School and now a Deemed to be University is likely to see noticeable changes in terms of research and training in the coming years, indicates the seven-month Directorship of Prof. Pant.
Careers360 presents the IIFT Director Interview, where Prof. Pant shares his plans for the institute, what sets IIFT apart from other B-schools along with challenges and opportunities in management education. Prof. Pant is a PhD in Economics from Southern Methodist University, Texas, USA and a visiting faculty at IIM Lucknow and IIT Delhi. He has authored almost half-a-dozen books on Foreign Direct Investment in India and Indian Economy.
Compare Colleges
College Comparison based on Courses, Placement, Rank, Fee
Compare Now
The editorial team of Careers360 interacted with the Director of IIFT and talked about his experience as the Director, his vision for the institute, and what roles a B-school must perform to provide quality education.
Excerpts from the IIFT Director Interview:
Careers360: You joined IIFT only last year in August as the Director. How has been your tenure to date? Any challenges?
Prof. Pant: It's been only six-seven months since I joined IIFT. No challenges at all as the faculty is really good here and everything is systematically setup already. As long as the faculty is good, I don't have to worry about anything as good faculty make an institution, not the infrastructure or tall buildings.
Careers360: Have you introduced any changes in the admission criteria or course structure/programmes?
Prof. Pant: There is no change or say there is no need to make changes in the admission criteria or programmes as we regularly review our programmes and take feedbacks from industry experts time to time. The change we are planning to make is conducting the exam online and we may start doing the same from the next academic year.
Careers360: How many students appeared for IIFT entrance exam this year? Is there any plan for increasing the intake?
Prof. Pant: Around 62,000 candidates applied for the exam and around 57,000 candidates appeared for the test. We're coming up with one more campus in New Delhi (Maidan Gadhi). Considering that, we may increase the intake a bit but we won't lower our benchmark, neither we'll change our focus i.e. trade and finance. This year also, we have taken more candidates than our pre-defined limit.
Careers360: There is a challenge about the faculty-crunch at B-schools. Would you like to say something about it?
Prof. Pant: Actually, the number of faculty in B-schools itself is low. As far as IIFT is concerned, there is absolutely no faculty crunch. We don't rely too much on the guest faculty. We are very particular about hiring faculty. We have a dedicated faculty selection committee that makes sure that the faculty hired at IIFT have a good research background. We have recently hired 16-19 new faculty members. Some of them have already joined and some of them will be joining from this academic year.
Careers360: What do you think are the roles of a B-school?
Prof. Pant: I believe that there are three roles that every B-school must focus on or perform in order to provide quality education – Teaching, Training and Research. And these three things can be executed only if you have good faculty and that's why IIFT hires faculty with deep research and training background.
Careers360: How is IIFT different from other B-schools of the similar league?
Prof. Pant: A lot of things separates us from other management schools. First, our focus is different from other management institutions i.e. trade and finance which separates us from other B-schools. Second, we work for the Government projects which require research and training. Our Centre of Research and National Trade works directly under Ministry of Commerce. Third, we are Deemed to be University. Not many B-schools have got that status.
Careers360: How do you see the recently released NIRF rankings? How important are rankings?
Prof. Pant: NIRF shouldn't be ranking Universities and management institutes together. There should be separate ranking for both. A university offers various programmes but a B-school offers only management courses. The two can't be compared in the same category. It's like comparing Apples and Oranges.
Students who wish to choose among the top B-schools such as IIMs, FMS, IIFT etc. might want to have a look at the rankings.
Careers360: IIFT Delhi and Kolkata campuses are completely functional. What's the status of Kakinada campus?
Prof. Pant: IIFT's Kakinada (Andhra Pradesh) campus' foundation stone has been laid and it will start operating completely in three to four years.  We'll start with some training programmes and then we'll take it further. We're also coming up with a new campus in Maidan Gadhi (New Delhi).
Careers360: Do you promote your students to be employers or employee?
Prof. Pant: We definitely look for leader, not followers. Candidates need to be academically good but leadership qualities are something that we primarily look for. It's up to a student whether s/he wants to be an employee or employer but s/he has to be a team player in both the cases.
Careers360: Please share your vision for IIFT?
Prof. Pant: We are strengthening the research part and focusing on doing more Management Training Programs. IIFT is a member of AACSB (Association to Advance Collegiate School of Business) now. We'll also try to encourage students to go for PhD through our new M.A. in Economics programme which is completely oriented towards research and teaching. However, the basics of the programme will remain the same – Trade & Finance.
Careers360: According to a report, only seven percent MBAs are employed in the country? Please share your take on this.
Prof. Pant: It's about the kind of education that management schools provide. Many B-schools open and close every year. They do not come under any scrutiny. I think the regulatory process needs to be strengthened. There should be a rule that every institute has to fulfil certain parameters set by NAAC or UGC in order to function. It can improve the quality of education and eventually, employment. I believe that every institute should invest in intellectual capital (faculty) more than anything else to improve this situation.
Careers360: What according to you are the difference in pedagogy in India and abroad?
Prof. Pant: The focus of the management programmes must be Analytical, not descriptive and that's what I believe is the difference between global and Indian MBA. We need to make our programmes intensive enough and politics should be included on functionality level.
Careers360: Message to the next batch of students who are planning to join IIFT or preparing for the exam?
Prof. Pant: Carry a fair amount of common sense and general knowledge if you wish to get into IIFT. That's it!
Admissions Open Now

Amity University MBA 2019
Apply

GITAM Hyderabad Business school
Apply

Bennett University BBA Admissions 2019
Apply
View All Application Forms
More like Indian Institute of Foreign Trade, Delhi
Questions related to Indian Institute of Foreign Trade, Delhi