CAT 2018 receives above 2.41 lakh applications; over 4 per cent increase from last year
The CAT 2018 application process, which concluded on September 26, has received the highest number of applications since the year 2009, which is above 2,41,000. Confirming the number, Prof. Sumanta Basu, Convenor, CAT 2018 said, "After the conclusion of the application window, the total number of successful applications (may not be unique) is more than 2.41 Lakhs." Last year, the total number of applications was 2,31,000, out of which 1,99,632 had appeared for CAT.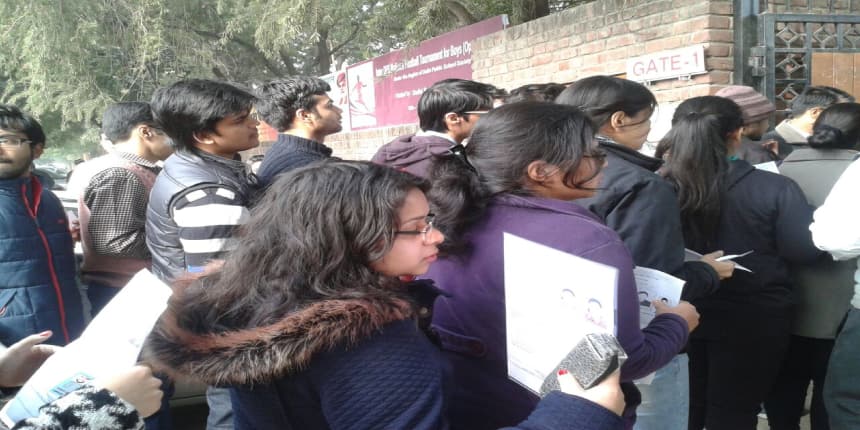 Lack of application correction window and extended application deadline may lead to the rise in numbers
Unlike the previous years, IIM Calcutta did not enable the application correction window. On the other hand, the last date of application was extended by a week. While the original last date to submit the application form and fee was September 19, 5 pm, which was later extended till September 26, 5 pm, and was further extended till 11.59 pm. 
Candidates who have already paid the application fee of CAT 2018 can change their picture, in case it is improper or blurred. The timeline to re-upload the photograph is September 27, 10 am onwards to September 30 till 5 pm. Talking about the reason for not enabling the application correction window, Prof. Sumanta Basu said, "The correction is restricted only to change the photograph. As the application workflow allows candidates to submit the application in multiple attempts, there was no separate Edit Window option provided for the candidates after submission. In case a candidate wants to modify any information after submitting, (s)he has to apply as a new candidate."
Lack of application form editing option compelled several candidates to apply again by using a new email address and mobile number which ultimately resulted in increased application number, which may not indicate a very positive trend. Stating the probable reasons for candidates having to re-apply, Ankur Jain, Chief Knowledge Expert, T.I.M.E. says, "Many candidates fill in wrong details in the marks columns of Xth, XIIth and Graduation. Many universities use their own formula for computation of percentages and while CAT allows that to be taken into account, it creates confusion in the marks of Xth and XIIth. CAT does not take into consideration the Board's computation and uses ALL the scores on the mark sheet to arrive at the score. Many students use the same criteria for BOTH school and college. CAT should make instructions more clear and/or allow editing of scores of Xth and XIIth. Many students fill the form incorrectly on their own, discover their mistakes later and they are forced to fill a second form simply because they cannot edit their scores."
A high application number may not indicate an increase in test takers 
As indicated by Prof. Basu, the number of applications is not unique and there are multiple applications by same candidates. As is the case every year, a large number of candidates skip the test every year. Hence, unless the CAT authorities reveal the actual number of applicants, it can't be said that the trend is positive or the numbers are soaring. The table below brings the year on year data of the number of CAT applicants vis a vis the actual number of test takers. 
CAT Application Trends
| | | |
| --- | --- | --- |
| Year | Number of Application | Number of Test Takers |
| 2017 | 2,31,000 | 1,99,632 |
| 2016 | 2,32,434 | 1,95,000 |
| 2015 | 2,18,664 | 1,79,602 |
| 2014 | 1,96,988 | 1,67,829 |
| 2013 | 1,94,516 | 1,73,714 |
| 2012 | 2,14,000 | 1,95,000 |
| 2011 | 2,05,000 | 1,86,000 |
| 2010 | 2,04,000 | 1,85,000 |
| 2009 | 2,41,000 | 2,30,000 |
| 2008 | 2,90,000 | 2,76,000 |
| 2007 | 2,50,000 | 2,30,000 |
Commenting on the trend of candidates skipping CAT, Arks Srinivas, National Head, MBA Prep, Career Launcher says, "It is normally around 10 per cent to 12 per cent of the students who skip the test and that is very normal. However, the intention to do MBA is clear even in these students and they come back next year or the year later. Mostly the students drop out of writing the exam, as more often than not, students skip the test as they are not prepared for the same and don't want to see a low score for themselves."
Last year, the total number of registrations received for CAT 2017 was 2,80,000, of which 2,31,000 candidates had paid the application fee. According to Prof. Neeraj Dwivedi, CAT 2017 Convenor of IIM Lucknow, around 20,000 applications were added during the extended application window.
Compared to last year, there is around four per cent increase in the number of CAT 2018 application, which in itself is not a massive increase. However, experts believe that a positive trend is underway. As Srinivas says, "While the number is not a huge increase from the last year applications of 2.31 lakh, it is clearly a trend wherein people are considering MBA as a real option. Many more students actually write the other exams including GMAT and hence I believe it is good for the industry." He also adds, "The economy is growing and India is poised to become the fastest growing economy, hence doing an MBA is absolutely the right thing to do now. Hence, each and every one of them who has applied to CAT should give their best in the next few weeks to ensure that they get into the coveted IIMs and other top B-schools and make a lucrative management career for themselves."
Resonating the thought, Jain mentions, "This number is marginally higher than the last year's number and indicates a growing body of people who are interested in the field of MBA. MBA remains one of the hottest careers both in India and abroad and these numbers indicate the sustained and growing interest in the field of management education."
CAT 2018 will be held on November 25, 2018, in forenoon and afternoon slots in 147 cities across 650 test centres. 
Also Read
CAT 2018 application correction restricted only to change the photograph, says CAT Convenor Prof. Sumanta Basu
Questions related to CAT
Showing 9065 out of 9065 Questions