My first hand experience of CAT 2018
My first hand experience of CAT 2018 - Just like the other CAT aspirants, my journey of CAT began at 5 AM on November 25, 2018. I was not quite sure if I had actually slept, or had time passed by in the 'blink of an eye' in the last four hours when I had finally hit the bed at 1 AM. 
Unlike every other winter morning when I drag myself out of bed, I was astonished to find myself glide out of bed that morning. Not wanting to rush and make haste at the last moment, especially on my first date with CAT, I got dressed and downed a glass of milk to keep myself going for the next couple of hours. I did not want anything to come in the way of my focus, even if it was as paltry as my grumbling stomach. To add to it, I wore my lucky colour blue for goodluck (yes, I needed all the luck I could manage to get at that point of time).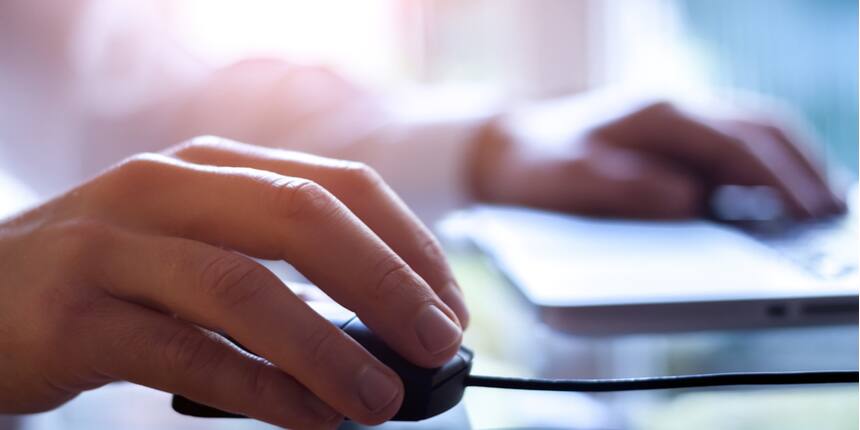 As a final check before shutting the door on my cosy bed, I made a mental note of all the things that I needed to carry and leave behind. CAT admit card, Photo ID, phone and wallet (of course), a tiny water bottle and a tiny bundle of notes on Geometry and Mensuration were all safely tucked inside my bag.
6 AM and a few minutes later I boarded my cab and set forth for my CAT test centre. Wanting to make the best use of the long commute, I opened the one and only notes I had carried along with me. However, restlessness was getting the better of me, and I couldn't focus anymore. Submittingly, I shut the notes and my eyes and started humming to the tunes of John Denver. 
A long commute of 32 kilometres and an hour and a half later, I finally reached my CAT exam centre, iOn Digital Zone 2. Although located in a distant part of the capital, the centre was not hard to locate as people and cars had already started crawling in from all directions like swarms of ants. The parents who had accompanied their wards, seemed equally apprehensive. Again reminding myself not to lose focus, I quickly scanned the place to deposit my bag. What I found was a tea shop doing the business of a locker for those who did not have anyone to handover their bags to. The gentleman at the tea shop charged a nominal amount of Rs.20 to safeguard our bag and other valuables deposited in his custody.
I moved on to check the seating arrangement slots which was printed on a small A4 sheet pasted on a wall next to the entry. I was allotted Lab B2 which was on the ground floor itself. The queues for male and female candidates were kept separate for frisking purpose, and I hurriedly joined the queue for female candidates before it got any longer. Recalling an article on the dos and don'ts of CAT that I had read the night before, I checked if I had any of the accessories on me such as my ear rings, finger rings and hair clips. The frisking went by smoothly and we were asked to take off our shoes in a corner. The ones who had socks on with slippers were allowed in with their footwear, and luckily did not have to step on the chilly floor. 
As I entered the exam hall, I quickly located the nearest biometric booth to complete the formalities as I recalled them from the workflow issued in the CAT dos and dont's. The invigilators were also extremely helpful and polite as they directed us to the biometric booths and then to our seats. I turned my screen on from sleep mode, and found that we still had 45 minutes left before the commencement of the exam. So I decided to relax and went over everything I had studied in the last one year. I felt reassured even as I looked at nervous faces around me. 
Soon, it was time to enter the password and read the instructions on the screen. We were just 15 minutes away from starting the much awaited CAT 2018. The invigilators did their rounds of verifying our IDs and CAT admit cards and distributed the scribble pads and pens. Finally as the clocked ticked 9 AM, I held my breath to face the very first question of CAT 2018. 
As expected, the first section of CAT 2018 was VARC. This was something I was pretty confident in and my head was completely clear. It started with Reading comprehension, and I quickly went through the passages and answered the questions that followed. 
The pattern was as expected and there were no surprises awaiting us. All the 34 questions of VARC were on the easier side. There were seven non-MCQs mainly from verbal ability wherein we were asked to key in the order of sequence of the sentences to form a coherent paragraph. The four RC passages consisted of a total of 25 questions. The topics which the RCs were based on were quite interesting too. I found one RC and one summary question very fascinating in particular. The first one was around the topic of measure of happiness in an economy and the other was based on the formation of artificial embryo twinning respectively. I quickly reviewed all the flagged questions in the last two minutes I had managed to save, and the exam proceeded towards the DILR section.
DILR was not my forte, neither was it my weakness. Out of the 32 questions asked, eight of them were TITA questions which had no negative marking. The questions seemed to range from moderate to difficult. I could manage to attempt only about 15 MCQs which I was confident about, and relied on the non-MCQs to boost my score. One question in DILR which I found to be particularly tricky, was the very first one on denomination of notes. However, the one on square matrix which was to be filled with numerals so that no two adjacent cells have the same numerals seemed like an interesting puzzle. I was not left with much time to revise, and instead concentrated on getting my responses right in the very first attempt. Two hours into CAT, I was faced with my least favourite section of all - Quantitative Aptitude. 
It was really like I was re-taking my mock tests. Only that this one was a tad more difficult than expected. In the first glance, I could knock off 14 questions. In the last half an hour or so, I could knock off another 10. While number systems was a breeze, (thanks to the hold I have on functions and ratios), geometry and mensuration gave me a difficult time. The number of non-MCQs in this section had increased to 12. I tried to attempt all of them, some with guesswork but started running short of time for the others, thanks to a few sitters. 
Finally, it was all over. We handed over our scratch sheets for rough work and pens to the invigilators and walked out. I had mixed feelings at first as I exited the exam hall to wear my shoes and collect my bag. Once I heard my fellow test-takers about their experience, I calmed down slightly. It seemed like the QA section gave the majority of them a tough time. Somewhere down the bottom of my heart I rejoiced when I heard a few of them share that they had attempted similar number of questions as I had. Overall, my performance in the VARC section gave me a tiny ray of hope of securing a decent percentile. 
After discussing how my exam went with my mentors and parents, I quickly started browsing the web for an analysis of slot 1 of CAT exam once I got back home. Though uncertainty still prevails until the CAT answer key is released, I am hoping for a good percentile considering the number of attempts I made. The overall experience of my very first attempt was a pleasant show. My only advice to future candidates would be to take care of all the avoidable problems, especially so that they do not have to run around or get into unnecessary trouble before the examination. Staying calm and relaxed would be an icing on the cake, because stress will not get you anywhere! 
Questions related to CAT
Showing 9108 out of 9108 Questions