IIFT 2017 Topper Interview: Coaching gives competitive advantage but not necessary, says 99.98 percentiler Abhas Vijayavargiya
Abhas Vijayavargiya, the topper of the IIFT, believes no question in the MBA entrance exams is undoable. It is the ability to do a particular question in the given time and that comes with a regular practice. Abhay, who topped the exam with 99.98 percentile, is currently pursuing an MBA in International Business from the prestigious management school- IIFT. While preparing for various management entrance exams, he put together a regular study plan that allowed him to practice each section on a regular basis. Abhay completed B.Tech in Electrical and Communication Engineering and carries a professional experience of 18 months.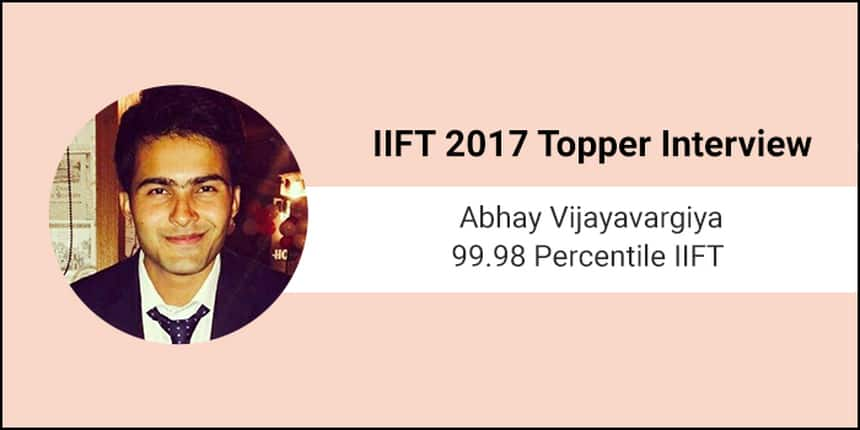 In this interview with Careers360, Abhay tells us about his preparation days and how smartly he balanced his professional and academic life while preparing for the exams. Read on to know more.
Read the full interview here:
Careers360: Congratulations on your admission to IIFT. What was your overall and sectional score in IIFT 2017? Did you appear for any other entrance exam? If yes, please share the score.
Abhas: Thank you so much for the wishes. My overall score in IIFT 2017 was 62.69 and the sectional score was - English Comprehension – 23, Quantitative Analysis – 10.35, Logical Reasoning – 21.35 and General Awareness- 7.99.
Apart from IIFT, I also appeared in CAT and SNAP. My respective percentiles were 97.79 and 98.70.
Careers360: Did you have admission offers from other B-schools? Why did you choose IIFT over other B-schools?
Abhas: Apart from IIFT, I had admission offers from new IIMs. I decided to join IIFT because of the brand value the college has earned over the past 54 years.
Careers360: Please share your preparation journey. How did you strike a balance between your academic/professional life and preparation for an entrance exam?
Abhas: I started preparing for MBA Entrance exams in June 2017. So, I had good 5 months to prepare for these exams. I used to study around 7-8 hours a day on weekends and at least 2-3 hours a day on working/weekdays. This gave me a constant study plan and helped me to practice each section on a regular basis.
Careers360: What was your section wise strategy for General Knowledge, Logical Reasoning, English Comprehension and Quantitative Analysis? Did you follow any specific preparation strategy for IIFT?
Abhas: For GK, I believe reading newspapers suffices. For any other subject, one can take some course material and follow it. There is no question in the MBA Entrance exams which is undoable, but it is the ability to do a particular question in the given time is what is required and that can be achieved by regular practice.
Careers360: Mention section-wise books and study materials you referred during your preparation.
Abhas: Not as such. I joined a crash course and just followed the material provided by them.
Careers360: Were you a part of any coaching institute? Do you think coaching is necessary for aspirants to bag the top rank?
Abhas: Yes, I was. But, I don't think that it is necessary. Yes, it gives you a competitive advantage as you keep getting constant feedback on your performance. But, you can prepare for these exams on your own.
Careers360: What is the significance of mock tests in your success? When did you start taking mocks and what was the frequency?
Abhas: Mock tests play a pretty much significant role. It gives you practice of the real exam that you're going to face. I started taking mocks from the last week of July and by the end of October, I was giving 2-3 full length mocks every week.
Careers360: What was your section-wise time management strategy on the exam day?
Abhas: I started with VARC and gave around 25 minutes to it. Then, I moved to Quant section and gave around 45 minutes to it. After that, 10 minutes for GK section and towards the end, I moved to LRDI section to complete my exam.
Careers360: Apart from the regular classes, projects and assignments, what other non-academic activities you are involved in? Share your experiences about them.
Abhas: IIFT is a journey in itself. Each one of us is involved in some or the other non-academic activity. I am a Junior Executive Member of the Cultural Committee of IIFT. It's a fun job where I get to organize events and also my job includes talking to a lot of dignitaries for organizing our events. So, it's really happening.
Careers360: How has your journey been at IIFT so far?
Abhas: It's been great. I have loved each and every moment of it. From being Mr. Fresher to organising Marathon to Singing my heart out every single night, this has been a happy journey so far and I am totally enjoying it.
Careers360: Any suggestion that you would like to share with aspirants?
Abhas: I would say don't get pressurised. Be relaxed and plan whatever you do. The result will definitely be yours. All the best to each IIFT 2018 aspirant!
Also Read
Questions related to IIFT
Showing 199 out of 199 Questions