CAT 2018 Preparation Tips from Toppers
CAT 2018 Preparation Tips From Toppers – Aspirants are gearing up for the upcoming Common Admission Test exam which is scheduled for November 25, 2018, and will be conducted by IIM Calcutta. By now, all candidates should have started taking at least two mock tests per week. This is the best time to know how the top scorers have aced the most competitive management entrance exam, CAT; as to hear something straight from the horse's mouth provide the best impact compared to other resources or means! Thinking of aspirants, Careers360 brings forth CAT 2018 Preparation Tips from Toppers.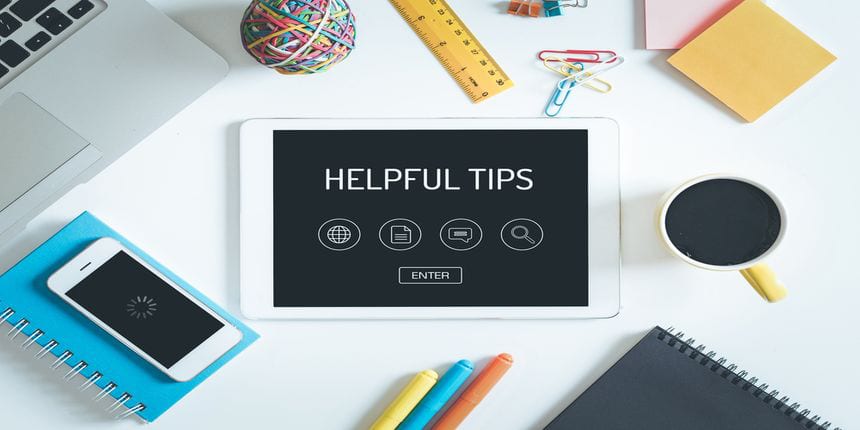 Book centric readiness does not suffice CAT preparation as the theoretical knowledge alone cannot render the comprehensive preparedness. Mock tests along with critical analysis of the same clubbed with timed tests is a mandate for one to two months before the actual exam. Furthermore, it is good to know how the CAT toppers across the passing years prepared for the examination. In this article, CAT 2018 aspiring test takers can read about the toppers and collect CAT 2018 Preparation Tips from Toppers.
It is imperative for every aspirant to be well-versed with the CAT exam pattern 2018. Without that, all preparation results in futility. The table given below provides the detailed exam pattern along with the marking scheme-
CAT Exam Pattern 2018
| | | | | | |
| --- | --- | --- | --- | --- | --- |
| Name of Section | No.of MCQs | No.of Non- MCQs | Questions | Total Marks | Time allotted (minutes) |
| Verbal Ability & Reading Comprehension (VARC) | 24 | 10 | 34 | 102 | 60 |
| Data Interpretation & Logical Reasoning (DI & LR) | 24 | 8 | 32 | 96 | 60 |
| Quantitative Ability (QA) | 27 | 7 | 34 | 102 | 60 |
| Total | 75 | 25 | 100 | 300 | 180 |
CAT 2018 Marking Scheme – It is vital for the candidates to be aware of marking scheme of the CAT exam. Each correct answer will be awarded three marks and one mark would be deducted for every incorrect answer. However, this marking scheme is applicable only for Multiple Choice questions. For the non-MCQs, there is no negative marking attached.
As per official norms, IIM Calcutta does not prescribe any specific syllabus for CAT 2018, however, the same can be derived from previous years' analysis from experts. The major topics of CAT pertaining to all the three sections include Reading Comprehension, Grammar, Vocabulary, Fill in the blank (Verbal and Reading Comprehension); Arithmetic, Number Systems, Algebra, Geometry, Mensuration, Higher Mathematics (Quantitative Ability); and Graphs, Charts, Caselets, Series, Arrangement etc. (Data Interpretation & Logical Reasoning).
CAT 2018 Preparation Tips from Toppers
Be thorough with Concepts
Abhisekh Mukherjee, currently a management student at MDI, Gurgaon, secured 97.04 in CAT 2017. He firmly believes in investing time on concepts. He says, "I invested the initial three months in revising my English and Mathematics concepts before taking up the mocks and it is crucial indeed."
Concepts on English and Mathematics will yield both confidence and a good score! All aspirants should keep a keen eye on the basic concepts and keep revising on a regular basis.
Know your Strengths and Weaknesses
Arvind Menon, after securing 100 percentile in CAT 2017, says,"I had a very strong basis of the concepts used in Quant and DI & LR, along with a lot of practice in working fast from my JEE preparation, although that was a long time ago. Even then, my strength was my judgment of whether a question was worth my time, and that helped immensely."
CAT 2016 topper Anandu S. Mukundan, secured 99.74 percentile and he says, "I appeared for CAT only and fully dedicated myself to preparing for the exam by identifying my strengths and weaknesses and customised my preparation strategy accordingly."
Preparation strategy -
Yash Patel, after bagging 99.94 percentile in CAT 2017, is presently pursuing management programme at IIM Calcutta. While revealing his preparation strategy to future aspirants, he says, "I solved all the RC questions that appeared in previous year CATs. Initially I focused mainly on the accuracy, however, with more practice, I started practicing RCs by keeping a timer (The timer didn't affect me much, but for few people, there is a psychological fear that comes when they see the timer going from 60 minutes to 0 minutes. So this kind of practice is must for those people else that fear might not let them solve the easiest questions as well). I took two full-length mocks on every weekend from September 2017."
Sectional strategy
"For the Quantitative Ability (QA) section, my strategy was to brush up all the concepts in the first three months of my preparation and simultaneously solve easy to moderate difficulty level questions. Solving such questions helped to increase my speed without affecting the accuracy (prime importance) as those were easy to attempt and helped build confidence while reinforcing the concepts studied.
For gaining competence in VARC, I primarily focused on reading Reading Comprehension and Grammar and not on vocabulary building. Precisely, while practising questions from relevant topics like para-jumbles, sentence completion etc, I revised my vocabulary…" says, Rohan Tripathi of IIM Calcutta who obtained an illustrious CAT 2017 percentile (99.97).
To ace the DI & LR section, Atrija Gaur (96.63), says, " I solved all LR based sets first (capitalising on my strength) and then solved 1-2 sets of DI. This ensured that I had minimum room for negative marking and greater accuracy. Using this strategy, I ended up devoting equal time to both DI and LR in the paper…"
Mock Test
If asked for Preparation Tips, all toppers keep reiterating the aspect of 'mock test'. Mock test is the only way to pave one's success path. An IIM Bangalore student, Soumyajit Ghosh, who obtained 94.3 percentile in CAT 2017 firmly suggests, "Give sufficient mocks and analyse the output and be regular with newspaper reading as it helps to crack both CAT and WAT-PI process."
PGDM student at IIM Shillong and a CAT 2016 topper (99.64), Subhrajyoti Saha comments, "Mock tests helped me maximise my scores and the high CAT percentile is an outcome of regular practice and multiple mock tests."
Mocks are the single most important aspect of the preparation as far as CAT is concerned," claims CAT 2017 topper Rohan Joshi who secured 99.63 in a single attempt.
Analysis is a mandate
Yash Patel from IIM Calcutta says, "Reviewing the test is the most important thing to be done and while reviewing, it is vital to find out the best approach to solve the problem even though the answer is correct...So I would stress again on this, reviewing the test is one of the most important aspects.
CAT 2017 CAT topper Ankit Gupta (99.91 percentile) from IIM Calcutta says, "After taking every mock, it is imperative to analyse it. Otherwise, there's no learning from it. I checked the solution of each and every question; correct, incorrect, and unanswered ones. Afterwards, I wrote down my learnings in shorthand in my notebook and kept revising this on a daily basis. At the end, I had a compendium of learnings which spanned over more than 5000 questions and since I was revising it daily, it was fresh in my mind. This helped a lot."
Accuracy and Time Management
One out of the two female CAT 2017 toppers who scored 100 percentile, Chhavi Gupta is presently a management student at IIM Ahmedabad. While discussing accuracy and time management strategy, she says, "Selection of the questions was the first thing I indulged in and devoted five to seven minutes for doing the same. I had answered 24 questions in RC and spent 42-45 minutes as my accuracy level was very high. In general, the accuracy in VA questions was low, so for rest of the VA questions (Jumbled sentences and Fill in the Blanks), I spent nearly 15-20 minutes. For DI & LR- I gave five to seven minutes to plan and select the order of the sets. As I could not comprehend the first two sets, just skipped and solved rest of the sets. Finally, for the QA section, I gave 30 minutes each to the two sets of 17 questions. I religiously followed my preparation pattern and did not change my strategy on the test day. It is important to let go of a question if it is costing more time."
Self-study or Coaching
This is one of the most asked questions, however, the irony is that there is no specific answer as each candidate has a different opinion regarding the mode of preparation. Hitesh Lohani, who secured 99.91 percentile in CAT 2017 and pursuing management course in FMS, Delhi opines, "I joined a coaching for CAT 2016 and for CAT 2017 I opted for self-study. Having done both, I believe both are good in their own ways and which is better depends from person to person. If a person has very weak basics and/or is not from a mathematics background or doesn't have much idea where to start from, then coaching would be the way to go. Taking coaching would not only clear your basics but also provide a structure to your preparation. But for repeaters or those who are comfortable with aptitude papers, practise is the key for them to improve accuracy and self-study would do."
Books to refer -
Apart from books, topper of CAT 2017 and currently a student of IIM Calcutta, Aseem Garg strongly recommends 'The Hindu' and 'Livemint' for editorial columns and articles.
Hitesh Lohani recommends 'GMAT Official Guide' and 'Manhattan Verbal.' He adds 'IMS RC100' as well along with the rest.
Some of the books which are highly recommended by CAT toppers are as the following-
QA
Arun Sharma's 'How to prepare for Quantitative Ability for CAT', published by Tata McGraw Hill.

Quantitative Aptitude for the CAT by Nishit Sinha published by Pearson.
VARC
How to Prepare for the Verbal Ability and Reading Comprehension for the CAT by Arun Sharma and Meenakshi Upadhyay (Tata McGraw-Hill) is a workbook with practice questions and tips based on previous CAT papers.

Norman Lewis' Word Power Made Easy.
DI & LR
How to Prepare for Logical Reasoning for the CAT by Arun Sharma (Tata McGraw-Hill) is a workbook with practice questions and tips based on previous CAT papers.

Nishit Sinha's The Pearson Guide to Logical Reasoning and Data Interpretation (Pearson) covers a wide range of topics explained in an easy-to-understand manner.
Spend some leisure hours
Most of the toppers indulged in spending some leisure hours in between CAT preparation. It is much needed to de-stress oneself; get rejuvenated and start again! Apart from the daily preparation schedule, one can devote some time in brainstorming sessions as well. CAT 2014 Topper (96.39 percentile), Balkesh Narang, pursued PGP at IIM Udaipur. He states, "I have always been involved in some brainstorming activities like playing chess, minesweeper, Sudoku etc during my preparation tenure."
Also Read,
How to prepare for CAT 2018
Best Books for CAT Preparation
Questions related to CAT
Showing 9092 out of 9092 Questions