What After CAT 2021 Result?
What After CAT 2021 Result?- Candidates who are planning to appear for CAT 2021 should have knowledge of what after the CAT result 2021? Every MBA-interested candidate wants to get admission in IIMs but they are confused as to what to do after the CAT 2021 results are announced. The CAT result will be declared in the second week of January 2022.
Stay up-to date with CAT News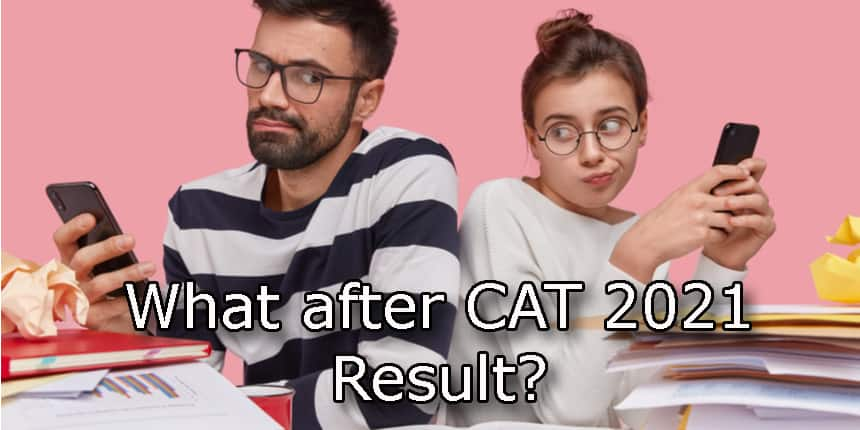 After the CAT Exam, the only thought that will occur in the mind of candidates will be "What after CAT 2021 result?" The anxiety of candidates is obvious as candidates are willing to know how the further selection process of IIMs is conducted.
Ongoing MBA Admission 2021
CAT Result 2021 - Overview
In this article of what after CAT 2021 result, Careers360 will help you understand what are the basic steps required from your side once the result of CAT 2021 is declared by IIM Ahmedabad. As per the CAT exam dates, the Common Admission Test i.e. CAT 2021 will be conducted in online mode tentatively on November 28, 2021, in 3 slots.
After the announcement of the CAT result, the candidates will be called for further rounds of WAT, GD-PI rounds, on the basis of the percentile obtained by them.
CAT Exam Dates 2021
The application process for CAT 2021 will begin in the first week of August 2021. Given below dates are tentative and will be updated accordingly.
| | |
| --- | --- |
| Events | Dates (Tentative) |
| Commencement of Application Process of CAT 2021 | August 4, 2021 |
| End of CAT 2021 application process | September 15, 2021 |
| Admit card release date | October 27, 2021 |
| CAT exam date 2021 | November 28, 2021 |
| CAT result date | Second week of January 2022 |
Quick Links;
CAT Normalization Process
CAT Score Vs Percentile
Steps To Follow - What After CAT 2021 Result?
Once the result is out, the first thing candidates should do is check their CAT 2021 result carefully and find out if any detail is missing. Next, students should know what after CAT results. Deciding the next step may become challenging for candidates who will fail as well as candidates who will excel in CAT 2021. Those who fail, either switch to take up any job or decide to re-attempt the CAT exam.
Those who excel after performing well in the exam start their preparation for further rounds of admission. The selection process of IIMs for CAT 2021 will include Written Ability Test, Group Discussion, and Personal Interview rounds. Nowadays, all B-Schools other than IIMs also conduct WAT, GD-PI rounds to provide admission to candidates.
Major Steps After CAT 2021 Result is Declared:
Analyze CAT 2021 Score and Search for Institutes

Apply for Admission in B-School - Check Application Deadlines of Colleges

Prepare Requisite Documents

Specialization Selection

Prepare for WAT-GD-PI (Gear Up for Next Level of Evaluation)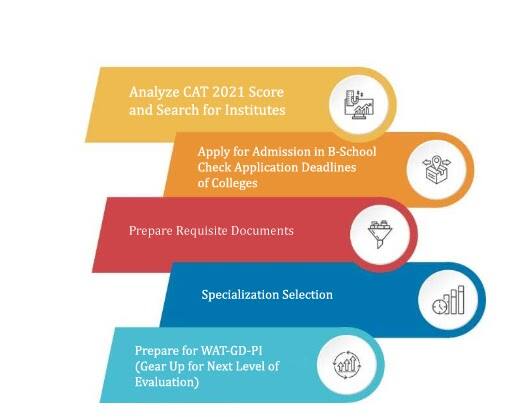 Quick Links -
How to prepare for GD-PI & WAT rounds of top B-Schools?
How to crack GD-PI WAT rounds of top B-Schools?
Analyze CAT 2021 Score and Search for Institutes
Test takers will be able to check their CAT 2021 results in online mode on the official website. After receiving their scorecards and checking details on them, candidates must begin their college screening process. They should focus on shortlisting the institutes that they wish to apply to. Any percentage between 90-70 will also help them grab a seat at any Top MBA College in India Accepting CAT.
IIMs Cutoff for CAT 2020:
Top Colleges In India Accepting CAT Score (90-70 Percentile) Other Than IIMs:
Apply for Admission in B-School: Check Application Deadlines of Colleges
Soon after the declaration of the CAT 2021 result, not much time will be available for the candidates to sort out the colleges, fill and submit application forms of colleges before the application process deadline. To assess their performance, candidates can also use CAT Percentile Predictor 2021.
So, candidates are suggested to track the best B-Schools and check out their admission process beforehand to avoid last-minute delays. Getting a call from IIMs will be a dream come true, but what if not? Hence, it is better to have options rather than wasting the whole year. The next step for candidates would be to look at other major B-Schools apart from IIMs.
Admission Criteria of Top B-Schools:
Quick Links -
Which B-Schools will you get based on your percentile?
What if my CAT percentile is between 80 and 90? Do I have any chance at top B-Schools?
Top B-Schools Accepting CAT Scores and Cutoffs
Prepare Requisite Documents
In the counselling round of CAT 2021, apart from the CAT result, various other documents will be required by institutes like a certificate of graduation, mark sheets of class 10 and class 12, work experience letter (if any). Hence, it becomes necessary for candidates to prepare a list of pre-required documents and make them available beforehand. Moreover, certificates are to be attested.
Quick Links -
MBA Admission Process
MBA Admission Without Entrance Exam
Specialization Selection
While selecting the institute, it is necessary that candidates also select their preferred choice. Most of the candidates first define the college and then select the specialization. While some select colleges on the basis of specialization they wish to choose. Both approaches are correct. Candidates just need to be clear with what they actually want.
Prepare for WAT-GD-PI (Gear Up for Next Level of Evaluation)
As specified above, after clearing the CAT entrance test, candidates will have to appear for a further selection round. Admission criteria of IIMs and other B-schools include Writing Ability Test (WAT), Group Discussion (GD), Personal Interview (PI). Some of the institutes may also use Essay Writing as a part of the selection.
Nowadays, prior work experienced candidates are given more preference and have additional points for that as well. Hence, candidates should focus on preparing themselves for these rounds and learn to master the preferred skill set. Note that only on the basis of the overall performance i.e. CAT score, WAT, GD-PI, Past Academic Records, work experience, the candidates will be offered admission.
Quick Links -
Top MBA Personal Interview Questions for Admission
Things you must not do during GD & PI round
Focus Areas for Your GD Preparation
Current Group Discussion Topics
Questions related to CAT
Showing 9973 out of 9973 Questions