IIFT 2019 Topper Interview: Priyadarshini Adhikari - "Confidence and consistency will help you sail through"
IIFT 2019 Topper Interview - It is said that if one is determined and have their eyes on the goal, then there is no power which will deter you from accomplishing your goal. IIFT 2019 Topper, Priyadarshini Adhikari who scored 99.769 in the IIFT entrance exam highlights the importance of maintaining consistency during the course of preparation. Moreover, being a working professional, she managed her time well and cracked the exam. One of the primary reasons cited by IIFT 2019 topper Priyadarshini Adhikari, for aiming to study at Indian Institute of Foreign Trade was the plethora of opportunities which it would open not only in terms of career but also the kind of people that she would get to meet. For future aspirants, IIFT 2019 topper Priyadarshini Adhikari cites the importance of increasing one's efficiency after taking the mock tests and identifying the weak and strong areas and then accordingly drawing a plan. Read the full interview of IIFT topper interview Priyadarshani Adhikari to know the nuances, preparation tips so that you too can be among the top scorers.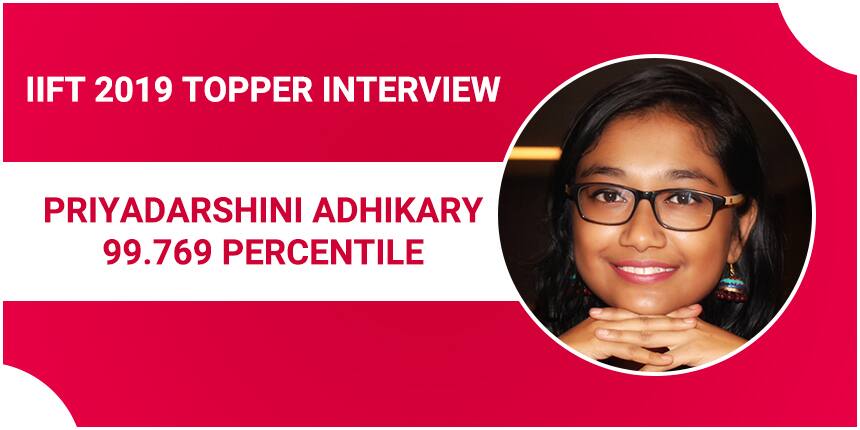 Careers360: Congratulations on cracking IIFT 2019 entrance. Please share your overall and sectional scores and percentile?
Priyadarshini Adhikary: Thank you. It's great to be here. I had an overall percentile of 99.769 with an overall score of 42.17 which were distributed over the 6 sections with 4.34 in DI, 7.67 in LR, 9 in VA, 13 in RC, 6.34 in QA and 1.82 in GK.
Careers360: Why IIFT Delhi? Any other dream college for which you were preparing for?
Priyadarshini Adhikary: There are quite a few things about IIFT Delhi which set it apart from the other colleges, and those, I believe, are my reasons behind the why. First of all, it is the only top B-School which focuses on Foreign Trade, and that is something that I have always been interested in. Secondly, the curriculum is very well oriented towards International Business, and the international exposure you can get from here is impressive. Also, being located in Delhi, which is the capital of the country, opens up a lot of opportunities, not only in terms of networking and placements, but also in terms of the quality of people you meet. I was also preparing for CAT since I was also aiming at the top 6 IIMs.
Careers360: Can you share your preparation journey?
Priyadarshini Adhikary: My preparation for CAT and IIFT began early in June 2018. I was, at that time, working with an IT company as a Content Marketer, and had also appeared for the SBI job recruitment examinations. At first, I looked up previous years' papers and various websites to prepare for myself, a list of what all to prepare for these exams since they didn't have any prescribed syllabus. Once I had prepared that, I searched for good reference books and started the preparation. I started first with DI-LR because that is where I felt least confident, going through the examples in the books and solving the exercises. After 3 weeks, I was done with what I felt the most probable syllabus in the section was and so I revisited the question papers and solved this section from last 3 years' papers. Since I felt confident about whatever I had finished, I began with GK, QA and VA-RC. Everyday I would work out Quant problems in the morning and try VA-RC in the night. On weekends, I would try to fit in a revision of everything I had prepared so far, and also attempt and analyse mock tests. Another thing I had to take care of was calculations, since I was used to working with the calculator but IIFT exam didn't allow it. I had practiced a lot of short cut techniques for carrying out very big calculations in just a few seconds. My preparation started getting really heated up around mid-October with just a month left for CAT and another week for IIFT. In this phase, I did not pick up anything new. Instead I attempted as many mock tests as possible in order to maximize speed and efficiency, and to come up with the right strategy. And finally, I stopped my preparation one day before CAT.
Careers360: We have gone through your profile on LinkedIn and other social media. We came to know that you were a working professional also, so how did you manage between your studies and work?
Priyadarshini Adhikary: I have never seen it as having to manage between studies and work, because I loved both my job and the preparation. That entire time was actually quite exciting for me, and it was probably the best time period of my life until joining IIFT Delhi. But as for the schedule, I used to utilize the early morning, until 10AM and the early night, until 12AM to study, and work took up time from 10:30AM to 8PM-ish. One thing I was strict about is focusing on whatever I was doing, that is, I would not worry about work during study hours, or about studies while working.
Careers360: Did you take any coaching classes? If yes, please mention.
Priyadarshini Adhikary: Yes, I had joined TIME late in June. The class tests and online mock tests are what helped me the most in my preparation.
Careers360: Question: What was your section-wise strategy for the exam? Did you follow any specific preparation strategy for IIFT?
Priyadarshini Adhikary: In general, my focus was on efficiency. After trying out various strategies over numerous mock tests, I had figured out that in English I was best at RC. And even within RC, I would get the best results when I attempted the long ones and the short ones later. And overall in English, my strategy was to proceed from RC to Summaries and then the Sentence Completion and correction. Similarly, in QA, I found out that my best way to attempt the section was to do arithmetic first, then geometry and algebra.
In DI-LR as well, I had worked out a strategy. For IIFT, I had a different strategy than what I had for CAT because the exam patterns are completely different. For CAT, I was okay with spending a little more time on a question if I knew that I could get it right. However, for IIFT, you need to be very fast and I had pre-decided the order of sections in which I would attempt the sections, and the time I would spend on each question depending in the section. Since IIFT requires a minimum cut-off to be scored in each section, I had set my mind that first I would attempt 6 questions correctly from each section, and then attempt the sections which I could do best. Having said that, I think one needs to be flexible too since one cannot predict the question paper and sticking to your strategy may not serve well if it is very different from one's expectations.
Careers360: Which other MBA entrances exams you have given? What were your percentiles in those?
Priyadarshini Adhikary: I had also appeared for CAT and my percentile there was 99.29.
Careers360: Question: IIFT has a different exam pattern from other entrance examinations, how did you maintain a balance between IIFT and other entrance examination?
Priyadarshini Adhikary: Practice, practice and practice. That was the way I could devise separate strategies and prevent myself from using the CAT strategy in IIFT or vice versa.
Careers360: Any other B-school from which you have received interview calls from?
Priyadarshini Adhikary: Apart from IIFT, I had interview calls from all IIMs except IIM Ahmedabad and IIM Bangalore. Also, converted all the calls except IIMs Kolkata and Shillong. But I had a clear cut preference for Foreign Trade, so here I am.
Careers360: Can you mention some books and study materials section-wise you have referred during your preparation or you would like to recommend for the candidates?
Priyadarshini Adhikary: I used to refer to Quantum CAT for QA, Tata McGraw Hill's DI-LR and VA-RC books by Arun Sharma and Meenakshi Upadhyay. Each of these is a very good book, and I would recommend them to anyone preparing for any B-School entrance.
Careers360: How was your IIFT exam day experience? How many questions did you attempt from each section?
Priyadarshini Adhikary: Irrespective of how much you practice, you always feel a certain degree of panic when you get the paper in your hands, and that was the same with me. I was nervous as well as confident, and it was a completely different kind of feeling than appearing for other exams. Once I had opened the seal of the question paper, I quickly glanced through all the questions in 2-3 minutes and decided that my pre-decided strategy would work fine. The next moment, I started solving the paper. I attempted 13 questions in RC, 9 in VA, and 6-9 questions on an average from the rest.
Careers360: How did you manage time during exam day? Was the duration sufficient for you?
Priyadarshini Adhikary: I followed my strategy and that helped me manage the time. I just took care to not spend more than 2 minutes on any question, no matter what, and to take up only those questions that I was confident with since during the exam there was no time to spend on hit and trial. I could have attempted a few more questions if I had a few more minutes, but otherwise I was happy with my performance.
Careers360: How did you prepare for the next round of selection procedure? Any other element in the selection process you want to share?
Priyadarshini Adhikary: For the next round, I read up on current affairs, tried to understand some of the major global economic events, and practiced to improve my conversation skills. I also revised the basics from my undergrad studies and practiced essay writing for WAT. Just doing these things regularly, even if not for a 3-4 hours, is enough for the second round.
Careers360: Apart from the preparation schedule, what activities did you involve yourself for recreation purposes? What are your hobbies?
Priyadarshini Adhikary: I used to follow my hobbies, that is, reading books, watching anime and photography. Something else that I used to do was talk to the people around, constantly keep in touch with my distant but best friends, and maintain a harmonious environment at home because when you have to stay focused all throughout the day every day, to stay mentally healthy you need the support of your loved ones and of those around you.
Careers360: Any message or suggestion for IIFT aspirants who will write the test next year?
Priyadarshini Adhikary: The most important factors in your preparation are confidence and consistency. Make these your best friends, and you are sure to succeed. Also remember, it is always better to attempt fewer questions with more accuracy than more questions with less accuracy. Ensure that you have formulated a strategy for the exam, but be flexible to change it as when required.
Careers360: This year for the first time, the exam will be conducted by NTA. What is your take on that as the paper will be conducted in Computer Based Mode with a different pattern?
Priyadarshini Adhikary: A big change is happening in one go, but I believe that an online examination is definitely an upgrade since people are much more used to attempting these now than taking offline exams. Also, it gets rid of the hassle of having to fill the OMR, giving a few more minutes to actually attempt questions. If there are sectional times, that makes it easier to manage the time during the examination, so strategizing may also be easier. Therefore, the cut-offs are likely to increase a little, provided the level of difficulty remains similar. All in all, I believe this is a good change.
Questions related to IIFT
Showing 198 out of 198 Questions