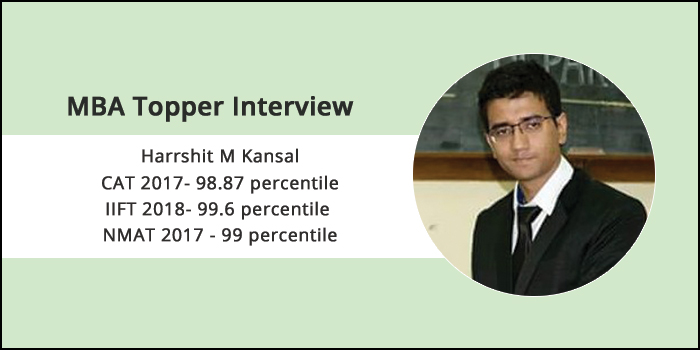 Conquering not one, but three prestigious management exams in a year is sporadic, but quite achievable. However, one needs to know what it takes to achieve such a feat. The story of topper, Harrshit M Kansal, reveals exactly what it takes to crack exams like IIFT, CAT and NMAT with impressive scores.
Harrshit completed his graduation from  BITS, Pilani where he not only did he immerse himself into achieving 9 CGPA but also indulged in various extra curricular activities which aided his stellar profile. He started preparing for the MBA entrance exams from the second-half of his pre-final year of graduation and enrolled in the test series of T.I.M.E. and CL. He also shares his preparation strategy for each of the specific MBA exams. After acing the entrances, he was shortlisted for further rounds by IIFT Delhi, MDI Gurgaon, IIMs, NMIMS Mumbai, NITIE Mumbai, SJMSOM Mumbai and IMT Ghaziabad.
Currently, a first year MBA student of his dream B-school, IIFT Delhi, he attributes his success to prudent time management and his family who encouraged him at every juncture. In this interview with Careers360, Harrshit shares his preparation strategy for MBA exams like IIFT, CAT and NMAT and the road ahead.
Careers360: Please share your brief profile.
Harrshit: First of all, I wish to thank you for providing me a chance to share my journey. I am from Delhi. I have graduated as an engineer from BITS, Pilani this year. Before graduating, I completed a full semester internship at PricewaterhouseCoopers (PwC), Gurgaon, where I was also awarded a pre-placement offer. I have also served as the General Secretary of my department at BITS.
Careers360: Which MBA entrance exams did you appear for and what were your scores and percentiles in them?
Harrshit: I appeared in multiple MBA entrance exams such as CAT, IIFT and NMAT exams. My IIFT percentile was 99.6, CAT percentile was 98.87 while NMAT percentile was 99 (Score: 224/360 in the first attempt).
Careers360: Which B-schools shortlisted you for the GD/WAT-PI rounds and also mention the institutes which extended final admission offers.
Harrshit: I was shortlisted for further rounds by IIFT Delhi, MDI Gurgaon, IIMs, NMIMS Mumbai, NITIE Mumbai, SJMSOM Mumbai and IMT Ghaziabad. I was extended final admission offers by IIFT, MDI, multiple IIMs and IMT. I could not appear in the further rounds of NITIE, SJMSOM and NMIMS since they were to be conducted in Mumbai where I could not go because of my final semester studies.
Careers360: Which B-School did you join and why?
Harrshit: I have joined IIFT, Delhi since it is the mecca of international business and is placed among the topmost business schools, having a legacy of more than half a century. I believe that International trade shall get more and more prominence in times to come due to rapidly increasing globalisation in today's world.
Careers360: Why did you decide to pursue MBA? What are the career aspirations you would like to follow after two years?
Harrshit: I believe that gaining both techno-managerial skills is a very fruitful combination which can make one a well-rounded individual. I had got inspired to pursue an MBA during undergraduate studies where I got an exposure to the world of management through various internships and courses. I got an opportunity to study courses like supply chain management, operations management, lean management, project appraisal etc. I found myself very passionate about those.
So, I believed that an MBA would complement my past academic career very well.
My career aspirations in the short-term are to perform well in the MBA (IB) course at IIFT for the next two years by discovering, learning and honing new skills. I also wish to acquire and share knowledge and hence, add value to my class. I aspire to join a corporate as a competent professional with ample knowledge of international business. So, an MBA gels with my plan of a corporate career in the long run.
Careers360: When and how did you start preparing for CAT and other entrances? Did you follow separate strategy for different exams or a common plan sufficed?
Harrshit: I had started preparing for the MBA entrance exams from the second-half of my pre-final year of graduation. I brushed upon the basics of the various topics and then moved on to appear in mock exams.
Most of the preparation that I had done was meant to be common and useful for all MBA entrances. It was only during the last two weeks or so before any particular exam that I specifically focused on it. For instance, for the IIFT exam, I developed a special strategy as it has four to six sections, including that of General knowledge.
Careers360:  Did you join coaching or went for self study? How beneficial was it and what would be your advise to aspirants planning to prepare on their own?
Harrshit: Yes, I had enrolled in the test series of T.I.M.E. and CL. I think coaching provides one with a proper direction, guidance and motivation. Further, one gets to compete with others and discover one's strengths and weaknesses. But I do not subscribe to the view that regular coaching is a prerequisite for achieving success in the exam. Many of the aspirants may not be able to take out time for separate coaching classes. In that case, I recommend that they should join at least one test series to be able to practise well for the exam.
Careers360: What were your strong and weak areas and how did you tackle your weaknesses?
Harrshit: I had a balanced approach towards all the areas during my preparation of MBA exams. Initially, I had discovered that my quantitative ability was stronger than other areas. So, I devoted relatively more time to other areas. Also, for GK specifically, I made sure that it was not left out, since this section was present in IIFT exam. So, I regularly stayed in touch with the latest happenings. I regularly read 'The Economic Times' in order to keep myself updated with the current affairs and general knowledge. For verbal ability and reading comprehension, I practiced eclectic reading.
Careers360: Please mention your section wise preparation strategy.
Harrshit: I strongly believe that proper time management is the key to success in any MBA entrance exam. I followed slightly different strategies for each exam. CAT comprised of 3 sections of an hour each. So, I prepared for it by appearing in many mock tests and analyzing them. IIFT had six sections to be completed in 120 minutes. The difference was that IIFT exam included a section on General Knowledge. For it, I regularly stayed in touch with the current affairs and latest happenings. To develop my strategy, I took past papers of IIFT in a proctored environment. Through this, I was able to determine the optimal allocation of time to various sections of the exam.
Careers360: How did you balance your MBA entrance preparation along with your studies or job? Please share your study schedule.
Harrshit: I had started preparing for the MBA entrance exams from the second-half of my pre-final year of graduation. Initially, I used to take out some time for preparation along with my first target of achieving 9 CGPA at BITS, Pilani and later with my semester-long internship at PwC. I struck a good balance between the various activities by properly planning and prioritising them. I generally used to keep my weekends and other holidays for appearing in and analysing the mock tests.
Careers360: When did you start taking mock tests? How did you get them analysed and the strategy you followed post-analysis?
Harrshit: I had started taking mock tests regularly from May 2017. I used to treat each mock as the actual CAT exam and made sure that I did my best in each of them. After appearing in mocks, I used to go through the results and in-depth analysis provided by the coaching institutes. I used to mark the important questions for later revision. Also, I analysed my strategy after each exam to know if it worked well and made suitable changes, if needed.
Careers360: What was the frequency of mocks? How did your preparation strategy change from 4 months to CAT till the last month?
Harrshit: Initially, I was appearing in around 1-2 mocks every week. Later on, when a few months were left before CAT, I started appearing in 3 mocks per week on an average. I made sure that the analysis of the mocks in which I appeared was done in the same week only. In the last 3 weeks before CAT, I again decreased the frequency of mocks and spent more time in revising all previously studied concepts and the marked questions from old mock tests.
Careers360: What was your exam day strategy? How did you manage time?
Harrshit: For all the exams, I made sure that I reached the centers well in time for the exams. Before the exams, I used to stay calm and feel confident about my preparation. During CAT exam, I mostly followed the strategy that I had developed from the mocks. There were moments in the exam though, where I had to deviate from my initial strategy and I did not hesitate to do that.
The IIFT exam had a surprise in store for the candidates. The number of sections in the exam was increased from 4 in the previous years to 6 this time. So, my foremost target was to ensure that I do sufficiently well in each section to clear the sectional cut-offs and then go for maximising the total score. Among the various sections, I found DI to be the toughest as it involved lengthy and time-consuming calculations. The GK section was also tougher than that of the previous years. VA, RC & QA were easy to moderately tough while LR was easy. For the first 90 minutes of the exam, I had allocated a sectional time limit for each section. In the last 30 minutes, I worked on maximising my total score.