MBA after MBBS: Top Institutes, Eligibility Jobs, Scope, Salary
MBA after MBBS: Bachelor of Medicine and Bachelor of Surgery, more popularly known as MBBS is a five and half year degree course. Of these 5.5 years, the last half-year is typically an internship that a budding doctor does at a hospital. With a combination of physiology, biochemistry, pathology, pharmacology, microbiology, and anatomy, MBSS is a study of the human body and its appropriate properties and attributes. The MBBS graduate is the first-level physician we go to whenever we perceive an ailment within ourselves.
Latest Updates for CAT
4 days ago:

IIM Bangalore is CAT 2022 exam today. Check CAT exam live updates here.

5 days ago:

CAT 2022 exam tomorrow; know do's and don'ts to avoid any mistake for exam day. Click here.

23 Nov 2022:

IIM Bangalore will conduct CAT 2022 this Sunday i.e. November 27- Check details here.
Stay up-to date with CAT News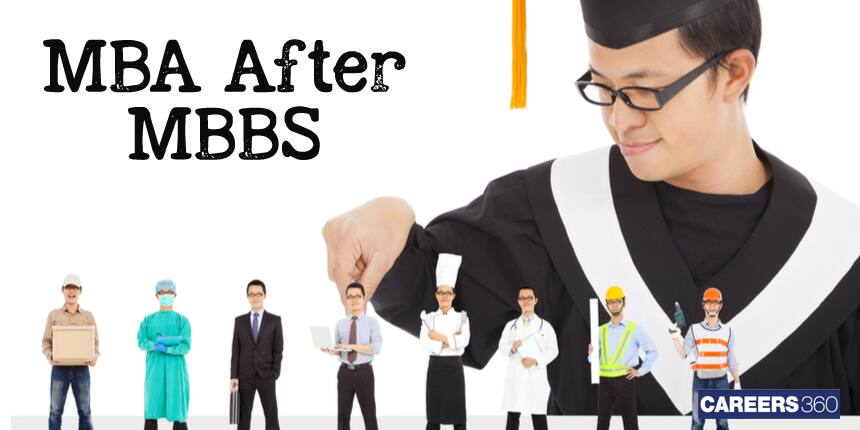 More than 500 colleges offer MBBS in India. To get into an MBBS college, the aspiring student is expected to write and get the required cutoff marks in the test conducted nationwide viz., NEET (National Eligibility cum Entrance Test). To qualify for admission into any of these colleges, one must receive at least a 50 percentile (rank) in NEET. However, to get into the top Medical schools such as the All India Institute of Medical Sciences (AIIMS) and other top Medical schools, one has to get a percentile of more than 99! The graduates become who we call doctors!
MBA Admission Open Now:
Scope After MBBS
For a developing country like India, and with the ongoing pandemic, the requirement for doctors has just grown. In the last three decades, with the population growing manifold, the need for doctors has increased. WHO suggested that the ratio of doctor to population be 1:1000. Although India has managed to reach the given ratio, diversity of doctors profession-wise and demography-wise is much needed.
When it comes to opportunities, as clearly mentioned above, there are plenty. Doctors are needed at every nook and corner of India to ensure the health quality is maintained and sustained. As per a recent report during the onset of COVID-19, India needs 6,00,000 doctors more to just balance the requirement during such pandemic times. Also, almost 52% of allopathy doctors are still operating from cities due to the lack of facilities in rural areas.
The scope of MBBS is present throughout the Indian peninsula. The in-demand doctors are as follows:-
Orthopedics

Internal Medicine

Pediatrics

ENT

Pathology

Anesthesia

Ophthalmology

Surgeons

Geriatricians

Diabetologist

Cardiologists

Oncologists
In recent times, the need for doctors such as dentists, dermatologists, and even Trichologists has been growing. To put it in simple words, doctors of every specialization are in demand.
Also check;
CAT After MBBS
One might think that after 5.5 years of study in medicine, why would anyone abandon this stream of study and take up management? A doctor might even think that she is ineligible to sit for post-graduate exams such as CAT. To answer such queries, if a doctor wants to grow in the management side of healthcare, she definitely has the opportunity to do so by taking up a post-graduation in Management. And yes, doctors are eligible to sit for a competitive exam such as CAT. And many students write the CAT exam to get into the coveted IIMs and pursue management education.
The eligibility criteria for MBA is simple for MBBS students:-
Depending on the MBA college that one is applying to, one must have either 50% aggregate marks in total or a good pass in all subjects.

The student must be a graduate from colleges under the recognition of the Medical Council of India (MCI) or the University Grants Commission (UGC).

Get through CAT with an acceptable percentile score.
What does a doctor gain after MBA? This question can be answered by the following benefits:-
Provide an edge for the graduate during other post-graduate courses after MBBS.

Explore entrepreneurial options such as hospital management, private practice options turned as a business

Some may even reach out to the rural needy as a doctor and an investor for facilities.

By stepping into the business world, a doctor may be able to develop marketing skills and learn to spread awareness about the dire need for doctors in remote areas in India.

Grow as a doctor and as a corporate asset in India.

May not have to face the brunt of tough competition for post-graduate courses after MBBS.
Browse Top MBA Colleges Accepting CAT Score: Location-Wise
Preparation for an aptitude test such as CAT should not take long for a doctor. In addition, cracking the exam to get into the top IIMs is also possible!
Other MBA Entrance Exams that you can apply for
IIM after MBBS
There are 20 Indian Institutes of Management (IIMs) in India currently. Each of which trains their students to be the best in their respective fields. By inculcating the knowledge of business, finance, marketing, operations, and much more, the student comes out as an independent and already established professional.
The alumni network of the IIMs can help one establish the budding doctor-manager to also be an entrepreneur. The doctor can put to use the skills learned during their MBA course in the IIMs to establish credibility and a firm establishment. Completing an MBA from the IIMs only increases career prospects and or even career growth.
Doctors can increase their outreach towards needy patients by using their marketing, operations, and business skills. This increases their career growth in the field in which they excel and practice. The doctor can also shift their career entirely from their specialization as well if they are unable to find suitable jobs. Having an MBA degree will open doors which not only improve their existing career but will improve aspects of parallel careers alongside their medical practice.
Know more about;
When MBBS bug bit an MBA
Dr. Peeyosh Maharana, a graduate of Gandhi Medical College and IIM Udaipur is a perfect example of an MBA after MBBS. He has achieved his dream of involving himself in the health sector of the Indian economy. With his specialization as a doctor and as an entrepreneur, he successfully is making his contributions towards the health of the Indian population.
Salary after MBBS
For a fresh graduate, a doctor may receive around Rs 20,000 - Rs 40,000 per month during the preliminary years of medical practice. Once the doctor gains more hands-on experience, they may end up receiving handsome pay between Rs 9 lakhs - Rs 11 lakhs per annum. As the practical experience of a doctor increases, so does her demand and her salary.
With an MBA, not only does the experience grow, but the salary also does manifold. In the hospital management hierarchy of work, an MBBS graduate with an MBA degree can earn between Rs 70,000 - Rs 2.5 lakhs per month! To add to that, the doctor can start her own hospital or a private healthcare firm as well.
Being a doctor need not limit one to only medical practice. With an MBA, a doctor can explore management and business options along with their practice.
Other Top MBA Entrance Exams
Questions related to CAT
Showing 10885 out of 10885 Questions