CAT Preparation 2021 in COVID-19 Times - How to Focus on Studies and Strategy
CAT 2021 Preparation in COVID-19 Times- The impact of covid-19 has been universal and in several instances, devastating world has been taken. Though the lockdown has been lifted up but still countries and governments are encouraging social distancing to minimize the impact of COVID 19. If you are preparing for the crucial CAT entrance then you must have felt the ripples of the effect too such as no access to classroom.
Stay up-to date with CAT News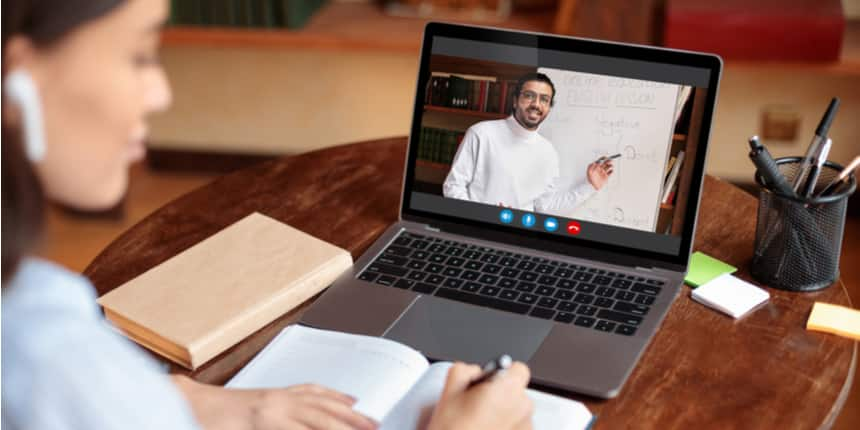 One of the biggest advantages CAT candidates have during the period of lockdown is that can solely focus on their CAT preparations without juggling between several responsibilities like traveling to college or coaching classes, etc. Hence it is an opportunity to open the doors to some of the best management institutes in India through self-study. Now let us look at some of the CAT exam preparation tips which one can follow in these covid times.
Related Links-
How to stay focused at home?
This is the foremost aspect while CAT exam preparation at home that how can you stay focused. The more focused and dedicated you are, the more effective your study time will be. If you're finding it hard to focus, take a short break to stretch, breathe or enjoy some refreshments. Start by focusing on individual sections. Self-help is the key here. The practice is the only way to perfection as far as Data Interpretation and Logical Reasoning is concerned. Figure out ways to do mental calculations as you prepare for the Quantitative Aptitude section.
Also check- How to prepare for CAT DI & LR
No Physical Coaching? Get the benefit out of it
Yes you are going to be deprived of physical coaching, which is something your predecessors had the benefit of. But now you can pick your CAT study material and make it count for you. Yes, it's a challenging task but researching the material is also a smooth way of getting acquainted with it. Incorporate video lectures that you can easily find today, into your study material.
Study Groups are vital
For CAT aspirants it normally means spending time in the college library, campus, or home, studying together. But now you can take advantage of social media platforms of management educational institutions to widen your scope of study buddies. It's the perfect platform to brainstorm, understand simple ways to solve certain problems, discuss schedules and issues you are facing. Look at it as a strong support group.
Access to unlimited free CAT Mock tests
If you are preparing for the CAT for the first time then CAT mock tests will acquaint you with the CAT exam structure and type of questions to expect. You might have familiarized yourself with the structure with the previous attempt but still, need to assess your preparations before the big days. That's where online mock tests come into the picture, which can be taken in the early stages of your preparations to modify them accordingly.
Enhance Your Reading Skills
With Reading comprehension and verbal ability forming an integral part of CAT 2021, it is essential to enhance one's reading skills. Start reading with a novel which will help you to comprehend as well as improve your vocabulary. Try to fix a time and complete it within that particular duration. In the beginning it might take some time but once you start enjoying it, your reading as well as comprehension speed will increase.
Also check-
How to prepare for CAT VARC (Verbal and Reading Comprehension)
Avoid being social media metho
One of the challenging tasks in the era of technological penetration in our lives is to keep ourselves away from social media. One can also increase his or her focus by keeping themselves away from the internet and social media. Unwarranted distraction due to increased addiction to the internet and remaining online most of the time will adversely affect one's preparation. The challenge here is to self-discipline yourself and use the internet in a way which will prove advantageous for your preparation and not hamper it.
Also read- How to prepare for CAT 2021 along with other entrance exams
Be Flexible With Your Planning
Though it is always advisable that one draws a clear cut plan as they prepare for CAT 2021. However, during this period of CAT preparation 2021, one can be a little bit flexible depending on the way you are able to complete topics in each section. Hence, in wake of the uncertainty that is hounding us due to Coronavirus, it is advisable to keep small targets and change your planning and strategy accordingly. Do not try to tamper too much with your planning but do not be very rigid.
Related Link- Sectional Time Management Tips for CAT 2021
Stay Calm and Destress yourself
This is a difficult and challenging time which we all are facing. Normally one would face the challenge of just wondering how they would perform in the exam and whether they would be able to crack it or not. In the present scenario, the COVID 19 is affecting us psychologically and disrupting our peace of mind. It is important that we remain composed during this time and just focus on the preparation without letting anything else distract us. Try to destress yourself by listening to music or watch your favorite movie.
Check here- CAT 2021: Errors to avoid on the exam day
Health is Wealth
In the end, remain healthy as you will be able to deliver only if you are physically or mentally sound. Remain hydrated as much as possible while you are in isolation, eat food that will increase your immunity. If you are mentally and physically strong then you can focus well on the CAT preparation.
Also read-
Why take mock tests before CAT 2021
CAT preparation tips for beginners
Questions related to CAT
Showing 9970 out of 9970 Questions