CAT 2017 Topper Interview: Coaching helped me to a great extent, says 99.93 percentiler Shishir Aggarwal
Shishir Aggarwal, the topper of CAT 2017 with 99.93 percentile, is an all-rounder. Apart from being an avid badminton player and a professional online gamer, Shishir leads a team of 40 students which works for the upliftment of the people living in rural areas. A Civil Engineer student, Shishir hails from Kota, Rajasthan. He says that coaching is extremely crucial while preparing for exams like CAT but believes that hard-work is the ultimate key which is required to be successful.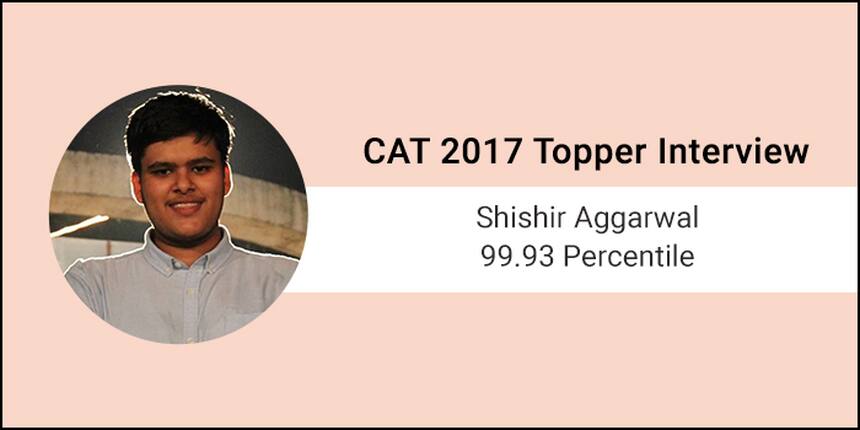 In this interview with Careers360, Shishir shares his journey from scoring low in mock tests to topping India's one of the most competitive management entrance exams CAT. Read the interview to know more about his CAT 2017 journey.
Recent Posts:
Read the full interview here:
Careers360: Congratulations on your CAT result. How did you react when you first saw your result?
Shishir: Thank you so much. I was expecting anything above 99 percentile but when I checked my result, it was 99.93 percentile. I got really excited after checking the result. I called my parents and they praised me for my hard work. My father even asked me when the admission calls are going to coming in.
Careers360: What was your overall and sectional score/percentile in CAT 2017?
Shishir: My overall score was 209.8 (99.93 percentile). I secured around 73.29 (98.67 percentile) in Verbal and Reading Comprehension (VARC), 46.55 (99.23 percentile) in Data Interpretation and Logical Reasoning (DI & LR) and 89.96 (99.9 percentile) in Quantitative Ability (QA).
Careers360: According to you, which sections were the easiest and the toughest?
Shishir: Usually, I feel that Verbal is tough but it was quite easy this year. DI & LR was the toughest section and QA was the easiest.
Careers360: Please share your exam day experience with us.
Shishir: On the day of the exam, I was confident about QA and DILR section but wasn't very sure about Verbal section. I just wanted to score decently well in VA part. When I started writing the exam, I found that the questions in the Verbal section and the RC passages were quite easy to answer. I answered most of the questions quickly and moved to the next sections. DILR was my strength but the section was really tough.
Careers360: What time-management strategy did you follow during the test?
Shishir: During preparation, I realised that my speed is pretty good with RC. As we can't switch sections in CAT, I started with RC in the VARC section and then moved to other parts of the exam.
Careers360: Did you take coaching for preparation? If yes, how helpful it was?
Shishir: Yes. I started taking coaching in August 2016 from Career Launcher. I must say that my mentors played a very big part in my success. I took my first mock test in March and I was able to score only 140 marks. I practised 40 mock tests before giving the final exam. And the last mock I practised, I scored 220. CL helped me taking my score from 140 to 209 in the final exam.
Careers360: Is it possible to succeed in CAT or other top management entrance exams with self-study? What do you think?
Shishir: Yes, it's possible. The only thing how much you practice and how much efforts you put in.
Careers360: For the first time IIMs released CAT question paper and CAT answer key. Did you find any wrong question/answer? Did you file an objection?
Shishir: I discussed the test papers with few of my friends who appeared for CAT with me and we found that some answers weren't the way we expected. However, I didn't file any objection.
Careers360: Which is your dream B-School and why?
Shishir: IIM Ahmedabad is my dream B-School. I started preparing for CAT to study in IIMA and luckily, I got a call from the institute.
Careers360: Congratulations Shishir. That's a wonderful news. We wish you all the best for the next phase of the admission process. So, have you started preparing for the next phase of the selection process – WAT/PI?
Shishir: I haven't actually started preparing for that yet. Right now, I am just reading the newspaper regularly. I am planning to start the preparation real soon.
Careers360: Please tell us about your hobbies? What do you do in free time?
Shishir: I play badminton but could not play it regularly during CAT preparation phase. I like to play Clash Royale. It's a popular mobile game. I was also selected as top 100 Indian players for this game. That's my favourite part-time interest.
Also Read
Questions related to CAT
Showing 8489 out of 8489 Questions