IIFT 2019 Topper Interview - "Do not panic if questions are difficult" Shivank Goyal, scored 99.94 Percentile
IIFT Topper Interview - If you are interested in pursuing a management degree in International Business, then Indian Institute of Foreign Trade is the place to be. It is one of the dream institutes for the management aspirants. However, making one's way to such an institute is not an easy task as one needs to first crack the entrance exam followed by group discussion and personal interview. Moreover, it is just not the freshly passed graduates who aspire to pursue MBA from IIFT, there are also working professionals who crack the exam. IIFT 2019 topper Shivank Goyal who bagged 99.94 percentile with 46.67 marks is one such diligent person who despite the job was able to emerge as the topper in IIFT entrance exam. Shivank Goyal IIFT 2019 topper highlights the importance of coaching, when to take the mock tests, what are the books which the budding managers should consult and how one should manage their time if they are working and want to qualify the test to one of the prestigious management institute. In an exclusive interaction with Careers360, IIFT 2019 topper Shivank Goyal provides vital tips for future aspirants.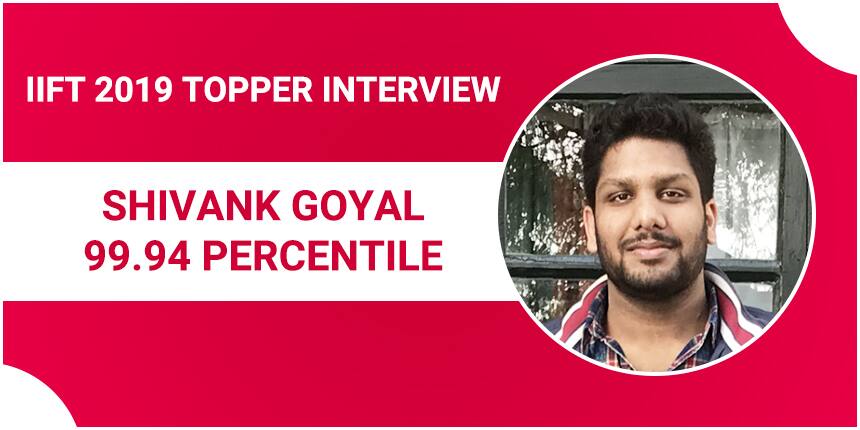 Careers360: Congratulations on your admission to IIFT Delhi. What was your score in IIFT?:
Shivank Goyal: I scored a 99.946 percentile with 46.67 marks in IIFT 2019
Careers360: Which MBA entrance exams did you appear for and what was your score or percentile in them?
Shivank Goyal: I had appeared for CAT 2018 and XAT 2019. I scored a 96.3 percentile and a 98.063 percentile in them respectively.
Careers360: Did you have admission offers from other B-schools? Why did you choose IIFT over other B-schools?
Shivank Goyal: I had offers from IIM Kashipur and XLRI-HR. I did not have inclination towards HR that is why I did not go with XLRI. It was my belief that IIFT would provide me with much more opportunities and exposure than IIM Kashipur being the only top b-school with an International Trade outlook. Therefore I went with IIFT.
Careers360: Please share your preparation journey. How did you strike a balance between your academic/professional life and preparation for an entrance exam?
Shivank Goyal: I was an Assistant Manager at Central Bank of India. My daily timings were from 9:30 am to 7 pm. I made it a point to solve quant or Logical Reasoning and Data Interpretation questions whenever I had free time in the branch. This included the lunch break. I was weak in quant section, therefore, I put most of my attention there. It is cumbersome to manage your preparation while working however after a few days you get the hang of it. I used to take mocks regularly. Mocks are really important while preparing for entrance exams. They fine-tune your strategy and expose you to new questions as well. My preparation strategy was to focus on the basics, maximize scores in the sections I am comfortable with, and try to give my best in quant. Just regular practice and taking mocks will give you confidence and better scores.
Careers360: What was your section-wise strategy for the exam? Did you follow any specific preparation strategy for IIFT?
Shivank Goyal: I started with the GK section. It is pretty easy to clear the cutoffs if you are aware of the current affairs. Then moved onto the verbal section. It is a section for me where I can score well in a small amount of time. Next Reading Comprehension. The passages were long but easy to comprehend. The questions were also easy-medium. Next, I moved onto Logical Reasoning, where I went over the section once to choose the sets to attempt. Next was Quant. It was on the easier side, which made it easy for me to identify sitters and not waste time on the hard questions. I attempted Data Interpretation at the last. This is a section where there are high uncertainty and calculations involved. Therefore, there is no point to waste time here. Pick and choose the 1-2 sitters from each set and move on. This was my overall strategy for the paper.
Careers360: Mention section-wise books and study materials you referred to during your preparation.
Shivank Goyal: I did not refer to section-wise books as such. I had video lectures of T.I.M.E and Byju's, so I revised a few concepts from them. Also in the last three months, I had joined the iQuanta facebook group on the advice of a few friends.
Careers360: Were you a part of any coaching institute? Do you think coaching is necessary for aspirants to bag the top rank?
Shivank Goyal: I was not a part of any coaching institute. During my under graduation, I had taken coaching from Career Launcher but nothing after that. Coaching can provide you a structure for your preparation but it is up to you to make the most out of it. If you treat it as just any other class, then there will be no value addition. Therefore, if you do join a coaching institute, do try to follow the instructions and solve the books. A coaching institute is not necessary to bag the top rank.
Careers360: What were your strong and weak areas and how did you tackle your weaknesses?
Shivank Goyal: My strong areas were Verbal and LRDI. I was weak in the quant section. I used to solve as many questions I could for quant. I had taken the IMS test series which helped me identify the areas in quant in which I was performing decently, therefore I focused on them so that I do not leave any chance of scoring in these areas. Also, I developed a basic understanding of all the topics in quant so that I do not leave sitters of other areas.
Careers360: How did you balance your MBA entrance preparation along with your studies or job? Please share your study schedule.
Shivank Goyal: So as mentioned above, I used to solve questions in my free time during office hours. I also devoted time to gain clarity on the concepts of quant in which I was weak. However, I mainly focused on taking mocks and analysing them. Do not take a mock if you have not analyzed the previous one. It will be a futile exercise. You might end up making the same mistakes. The idea of taking a mock is to find out where you are lacking and how to improve upon that area. Analyzing the mock is a critical part in this regard. Therefore, I used to schedule my mocks on weekends and analyze them on weekdays. The day I used to take the mock and the day I analyzed it, I did not revise any concepts. I used to revise concepts on other days. Also, I usually kept Sundays free.
Careers360: When did you start taking mock tests? How did you get them analysed and the strategy you followed post-analysis?
Shivank Goyal: I started taking mock tests as soon as they were available. I had purchased IMS SIMCAT series. After taking the mock tests, we had to wait for 2-3 days before the results were available. I made it a point to spend one day analysing the mocks. This helped me realise where I was going wrong, which questions I could have attempted and most importantly which ones I could have left. I took care of especially such type of question where I spent too much time and still did not score. These were speed-breakers for me and it was better to leave them. After
analysing the mock, I used to brush up my weak areas in quant so that I do not make basic mistakes in them and practiced a few LRDI questions.
Careers360: How has your journey been at IIFT so far?
Shivank Goyal: The journey at IIFT has been good. I have met amazing people here. The kind of environment a b-school provides you cannot be found anywhere. We compete with each other but care for each other as well. The friendships I have developed here are for life. We have had amazing guest lectures here and opportunities to network with some of the brightest minds in the industry is immense. One of the highlights has been the competitions. They form an important part of your b-school journey. These competitions allow you to apply classroom concepts to real-world problems that companies face or are facing right now. You get to have fun also. There are various parties that are organized by the cultural committee which allow us all the opportunity to unwind and enjoy ourselves. So, all in all, it has been good till now.
Careers360: Apart from the assignments and class projects, what other non-academic activities you are involved in? Share your experiences.
Shivank Goyal: There is something or the other going on around the campus all the time. We just wrapped up Big Fight 2019 and it was awesome. Big Fight is an intersectional sport and cultural competition among the three sections at IIFT. We play everything from Futsal to CS to having a MasterChef competition. It is a 5-day event. We now have the UWL(Ultimate Warriors' League) where 4 teams participate with a sports contingent of 30 people each. It is a sports-cum-management event where the owners of the teams need to get sponsorships etc. for their teams. It is a huge event every year with even the alumni investing in the teams. So you can get involved in the events being organized. Apart from this, there are several competitions in which you can participate. We also send our sports contingent to various sports events organized by other colleges. You will never run out of things to do at the college.
Careers360: What was your exam day strategy? How did you manage time?
Shivank Goyal: There was no special strategy as such. The main motive was to remain calm and solve the sitters first. I followed the section-wise approach mentioned above and it was a smooth ride for me during the exam. I did not spend too much time on questions that were on the medium-difficult side. I left these for the last. There were many sitters in the paper which made time management easy.
Careers360: Any suggestion that you would like to share with aspirants?
Shivank Goyal: My only suggestion is that do not panic if you are not able to solve 3-4 questions in a row. It happens and is completely normal. Just remain calm and continue solving the paper. If it is difficult for you, it is difficult for everybody.
Questions related to IIFT
Showing 194 out of 194 Questions