IIFT 2017 Topper Interview: It's all about rigorous practice, says 99.98 percentiler Deep Vashi
Deep Vashi, a Mechanical engineer, decided to pursue an MBA programme right in the beginning of his engineering course. He started preparing for management entrance exams much ahead of their dates. His channeled and streamlined preparation allowed him to top the IIFT exam with 99.98 percentile. Deep believes that coaching is a very necessary when it comes to preparing for the entrance exams but ultimately, it's all about the rigorous practice. He was offered admission from several B-schools across the country but he chose IIFT Delhi as he believes it's the best trade and international B-School in India along with the lucrative international job placement opportunites provided in the B-school.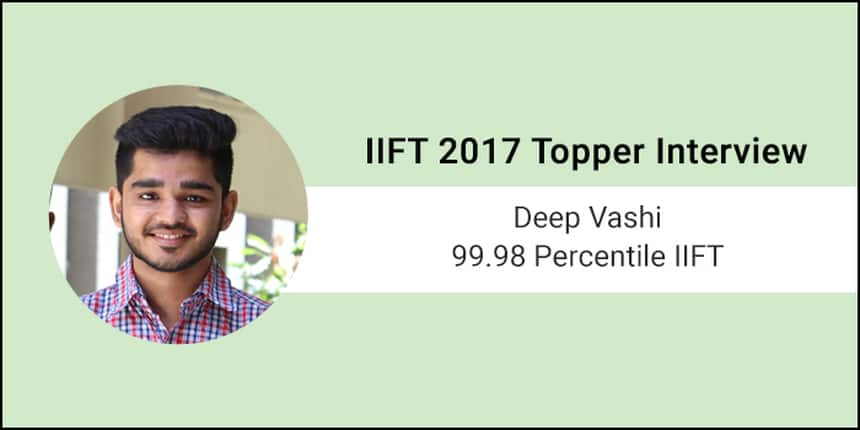 In this interview with Careers360, he tells us how he managed to strike a perfect balance between academics and preparation. He also tells us why it's important to be involved in sports during preparation. Read on to know more.
Read the full interview here:
Careers360: Congratulations on your admission to IIFT Delhi. What was your overall and sectional score in IIFT 2017? Did you appear for any other entrance exam? If yes, please share the score.
Deep: Thank you. My overall score was 66.51 which makes it 99.98 percentile. And, the sectional score was - 23.17 in Verbal, 15.34 in Quant, 24.51 in DI&LR and 3.49 in General Knowledge.
I also scored 99.98 percentile in SNAP, 229 marks in NMAT, 98.60 percentile in CAT and 98.36 percentile in XAT.
Careers360: Did you have admission offers from other B-schools? Why did you choose IIFT over other B-schools?
Deep: I got admission offers from SIBM Pune, SCMHRD, XLRI-HR, MDI, NMIMS, IIM Shillong and the new IIMs.
IIFT is one of the oldest B-Schools in the country and a Government Affiliation under the Ministry of Commerce has set it apart as the best Trade and International B-School in India.
Having the geographical advantage of Delhi and a small Batch size, IIFT ensures a strong peer group engagement. One more way in which the college has set itself apart is the high number of International placements and internship opportunities in Institutions and Trade giants like OECD, WTO, Olam and others.
Careers360: Please share your preparation journey. How did you strike a balance between your academic/professional life and preparation for an entrance exam?
Deep: I decided to pursue an MBA programme right in the beginning of my engineering life and that's why the preparation journey was quite channeled and streamlined for me. With time to time guidance from mentors Vipul Tyagi and Jaydev Jaswani, and the constant motivation from the coaching institute faculty, the journey was a comfortable cake walk.
Striking a balance is all about prioritising your goals. I had to give up some of my major hobbies during preparation. I used to make sure I complete all the assignments on that very day. With a supportive friend group, college assignments were never an issue. Taking out an hour for Football in the evening and a game or two of FIFA at night actually helped in relieving the stress and tension. Be it solving tournament questions for fun, I guess Football does help.
Careers360: What was your section wise strategy for General Knowledge, Logical Reasoning, English Comprehension and Quantitative Analysis? Did you follow any specific preparation strategy for IIFT?
Deep: For GK, we were given a handout regarding every important event in the past 2 years as well as regular sessions on events of International Significance. In the other sections combined, I used to get over with all the 30 questions in the first round of browsing through questions. For IIFT, I attempted a lot of paper-based mocks. Apart from this, it is all about rigorous practice in the end.
Careers360: Mention section-wise books and study materials you referred during your preparation.
Deep: For Verbal, I solved RC99 and GMAT3000RCs. For Quant, I solved Quantum CAT. For DI&LR, FaceToFace CAT helped a lot. However, the study material from the coaching was more than sufficient.
Careers360: Were you a part of any coaching institute? Do you think coaching is necessary for aspirants to bag the top rank?
Deep: Yes. I was a part of Endeavor Careers Pvt. Ltd. Coaching is definitely very important to bag the top rank in an entrance exam because:
1) The faculty constantly motivated me and ensured I was on the right track.
2) I always knew what to study and from which reference material.
3) Mock test series again a major help in preparation. It gives a real-time experience of the exam.
4) Studying with an ambitious group inspired me more and that is one of the major reasons to be at IIFT, Delhi.
Careers360: What is the significance of mock tests in your success? When did you start taking mocks and what was the frequency?
Deep: I started taking mocks 6 months prior to the exam dates to get the feel of the exam. Also, I started taking IIFT specific mocks one month prior to the exam dates. Mock tests are very important as they allow you to analyse your strengths and weaknesses and you can work on them accordingly.
Careers360: What was your section-wise time management strategy on the exam day?
Deep: I had a clear time management strategy. GK- 8 minutes, Quant - 30 minutes, Verbal – 25 minutes and 30 minutes DI&LR to clear sectional cutoffs and rest of the time to solve the easy and the scoring sections to increase overall marks.
Careers360: Apart from the regular classes, projects and assignments, what other non-academic activities you are involved in? Share your experiences.
Deep: I am actively involved in various sports and have been representing IIFT at various B-schools for the same. The opportunity to represent IIFT in Football and Badminton at colleges like MDI and IIM Ahmedabad has been an amazing experience. Apart from this, I try to stay engaged in college by being a part of some or the other Organizing Committee for the various events held by the Institution.
Careers360:How has your journey been at IIFT so far?
Deep: The journey at IIFT so far has exceeded all the expectations I had from a B-School.  Be it an amazing peer group that helps work in various Corporate Competitions and understand the functioning of various sectors or be it just pure fun; IIFT gives it all, an all-encompassing, immersive experience that combines the rigor of a B-School with the company of friends.
Careers360: Any suggestion that you would like to share with aspirants?
Deep: The more relaxed you are about approaching the entrance exams, the better your performance will be in the IIFT 2018.
It's okay to take a break and spend your free time howsoever you want after giving a mock test or studying a difficult chapter or a long day of classes. It helps you find the right balance!
Also Read
Questions related to IIFT
Showing 199 out of 199 Questions