How to crack GD-WAT-PI round of top B-schools? Expert Column by Director of Hitbullseye
How to crack GD-WAT-PI round of top B-Schools: A question that is reverberating in everybody's mind is "What Next?" COVID 19 has brought our lives to a stalemate where our future course of action is undecided and this pandemic has resulted in fear, anxiety and helplessness. But when all is said and done, things will come back to normal and for that we need to be hopeful and keep doing our best. Students to ease your worry, this article addresses a very pertinent question put forth by MBA aspirants i.e. "How to crack GD/WAT PI round of top B-schools". Director of Hitbullseye Hridesh Madan provides valuable tips to the candidates as to how to crack GD-WAT-PI round of top B-schools.
Latest: Candidates can download CAT 2020 admit card from October 28. Get details related to CAT Mock Test 2020.

Stay up-to date with CAT News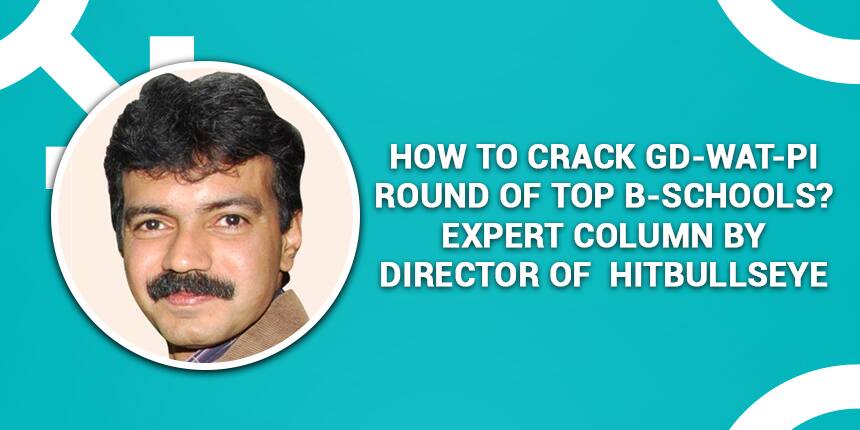 Importance of preparation at right time for GD, PI, WAT
Students preparing for MBA entrances should keep in mind that although Group Discussion, Personal Interview/ Written Ability Test (GDPI/WAT) is the second stage of selection but the preparation for this stage has to be done simultaneously. Students underestimate the importance of this process and take it lightly as they are of the opinion that GDPI/WAT preparation can be done in a few days. Many falter at this stage due to lack of preparation. As GDPI/WAT is an integral component of the selection process of reputed business schools, therefore it deems fit that we delve deeper into this area.
Quick Links -
Top MBA Personal Interview Questions for Admission
How to prepare for GD-PI & WAT rounds of top B-schools
Know how to crack Written Ability Test
It should be noted that many premier B-Schools have replaced the Group discussion with a Written Ability Test or Essay Writing Test. Some other business schools have added the Written Ability Test as another tool for screening candidates. The Written Ability Test has taken precedence over Group Discussion as it measures the candidate's potential in a better manner. Through the essay/ written article, the panelists are in a better position to assess the candidate's knowledge, personality traits, thought process and command over the language. The panelists at B-Schools look for three key parameters in an essay namely, "content", "organization" and "presentation". To present an essay in a balanced manner one has to acquire many skills such as clarity of thought, presentation of ideas, logical structure and understanding of various social, political or economic issues.
How to be successful in a group discussion?
Group discussion is another hurdle that many MBA aspirants have to clear in order to get admission in their dream management institution. Many students commit the mistake of gathering superficial knowledge of a particular topic which hinders their performance in the actual group discussion and personal interview round. To present one's view on general awareness topics requires skill and in-depth knowledge about the topic. To elaborate further there are three types of topics namely, factual, abstract and case-based. Factual Topics are topics based on static or dynamic knowledge of specific concepts. Abstract Topics assess your creative thinking by judging the way you perceive something. Case-based Topics seek a solution to a given problem in a realistic situation after taking into account all the conditions.
Key Personality Traits
There are some key personality traits that help an individual to score better in the Group Discussion and Personal Interview process. There should not be an iota of doubt that those students having good team management skills, leadership skills, effective communication skills, critical reasoning, to name a few, will perform better in the GDPI round. The shortlisted candidates for the interview round should keep in mind that their answers should depict honesty, sincerity and integrity while following the interview etiquette.
It is strongly recommended that students should start preparing for the GDPI/WAT process right away as due to the lockdown there is ample time for self-study. Reading extensively either through online or offline medium and then making notes of important debatable issues will come in handy at later stages of your CAT preparation journey. Students aiming to clear MBA entrances should make the most of this time and work upon their communication skills and enhance their understanding of general awareness topics. Seeking guidance and help from online coaching platforms such as hitbullseye should help you improve your interpersonal skills which will result in boosting your confidence manifold.
At present times, students should be able to relate to the proverb "Slow and steady wins the race", therefore initiate the process for self-improvement and let nothing come in your way of achieving your aim.
Questions related to CAT
Showing 9975 out of 9975 Questions