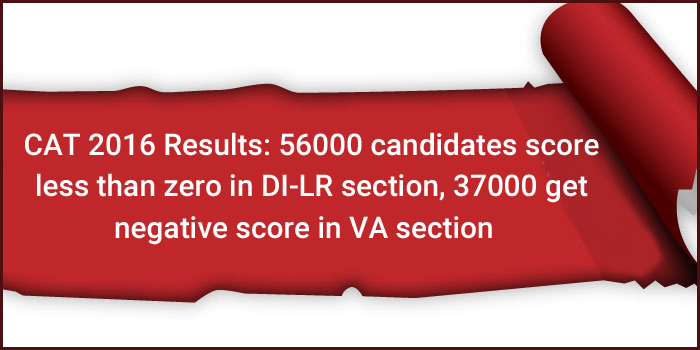 CAT 2016 Result declared by IIM Bangalore has revealed that about 56,000 candidates out of total 1.95 lakh test takers scored zero or negative marks in Data Interpretation and Logical Reasoning (LR) section. Further, more than 37,000 test takers could not score any positive marks in Quantitative Ability (QA) section. The number of candidates who got overall 'zero' or 'less than zero' marks in CAT 2016 stood nearly as high as 14,000.
CAT 2016: 56,000 candidates score zero or less in DI-LR
The revelation comes from the official CAT 2016 score card of a test taker who did not mark any answer for any of the questions asked in CAT 2016 paper. Careers360 has validated the above numbers by accessing the actual score card of the candidate issued by IIM Bangalore as the results were declared on January 9 (Image of the score card presented below).
The total number of test takers for CAT 2016 was around 1.95 lakh, CAT 2016 Convenor Prof. Rajendra K Bandi had officially confirmed after the CAT 2016 exam on December 4, 2016.
The actual score card below shows that the candidate secured 28.69 percentile in DI-LR section of CAT 2016 despite his claim that he left the answer sheet blank on the December 4 exam day. This also means that candidates who secured any lesser percentile have scored less than zero marks in the section. Thus, about 56,000 candidates with percentile less than 28.69 have scored zero or negative in the section.
We bring you the actual score card of the test taker who did not attempt any of the questions in CAT 2016. We have blurred a few fields of the score card to hide the identity of the test taker.
37,000 test takers score zero or less in QA; 14000 get overall zero or less
Further, the CAT 2016 result of the candidate also reveals that more than 37,000 candidates failed to secure any positive score in Quantitative Aptitude Section. With none of the questions attempted in the section, the candidate in this case secured 19.14 percentile. This means that more than 37,000 candidates who rank below him in percentile table scored negative in QA section.
The score card also shows that the number of candidates scoring zero or less in Verbal Ability and Reading Comprehension section stood over 9,000.  Also, the number of candidates who got overall less than zero marks in CAT 2016 is more than 14,000, which is about seven per cent of the total test takers.
Table: Number of candidates scoring 'Zero' or 'Less than Zero' in CAT 2016 Result
Based on CAT 2016 results, Careers360 brings here number of candidates scoring zero or negative marks (section-wise and overall)
Number of candidates scoring zero or less in CAT 2016
| | | |
| --- | --- | --- |
| CAT 2016 Sections | Percentile with blank sheet (without any attempt) | Number of Candidates scoring Zero (0) or Less Marks (approx.) |
| Data Interpretation & Logical Reasoning (DI-LR) | 28.69 | 56,000 |
| Quantitative Ability (QA) | 19.14 | 37,000 |
| Verbal Ability & Reading Comprehension (VA-RC) | 4.61 | 9,000 |
| Candidates scoring overall 'ZERO' or 'LESS than ZERO' | 7.26 | 14,000 |
*Total number of test takes was 1.95 lakh (Source: IIM Bangalore)
Though the score card also carries scaled scores of candidates, the section-wise scaled scores only indicate to the relative scores of candidates appearing in different slots of the test depending on difficulty levels of the slots. For example, the candidate who did not attempt any single question in the DI-LR section is given a scaled score of 2.42. This means that the slot in which the candidate appeared was slightly difficult than the other slot. This is why despite leaving the answer sheet blank, he could get a positive scaled score.
The interpretation of the score card that is presented above, however, is based on the percentile secured by the candidate.  
IIM Bangalore has conducted CAT 2016 on behalf of all the 20 Indian Institutes of Management (IIMs). Tata Consultancy Services was the testing partner for CAT 2016.
The CAT 2016 results were announced by IIM Bangalore on January 9, 2017.
The CAT is also the gateway for admissions to many top B-schools in India. On the basis of CAT results, B-schools shortlist candidates for further rounds of CAT selection process that include WAT and Personal Interview (PI).
CAT 2016 was held in the computer based mode on December 4, 2016. The national-level management entrance test was held in two slots- forenoon and afternoon. A total of 2,32,434 candidates had registered for the CAT 2016 exam and around 1.95 lakh candidates actually appeared for the test on December 4.
Some of the questions of CAT 2016 were leaked on social media platform Facebook while the test was still on for the second slot. Though IIMs admitted to the malpractice, they claimed that the particular incident had not compromised the integrity of the test.
Careers360 has already reported on this. Click here to know how the CAT questions were leaked during CAT test hours. Later, the candidate who allegedly shared questions on Facebook has said that his social media account was hacked and abused for leaking CAT questions.
Background: Where is transparency missing in CAT?
Candidates have repeatedly raised doubts over transparency related issues in CAT evaluation process.
It has been seven years since the Common Admission Test (CAT) was turned into a computer-based test with multiple testing slots. During this period, the scope of this national level MBA entrance exam has only widened with increased capacity of existing IIMs and addition of 12 new IIMs. Unfortunately, along this journey, doubts related to transparency of the testing system have mounted. Careers360 has reported in detail the different CAT transparency issues raised by the CAT takers and experts.
Read below:
CAT Normalisation: A formula kept secret by IIMs
IIMs! Can you justify non-disclosure clause for CAT?
IIMs! Don't use testing partner as shield to evade CAT answer sheet release
SC order strict on release of answer sheet; IIMs remain non-committal on CAT
Release CAT Answer Key and Question Paper for more transparency, demand non-IIMS
Open Letter: IIMs! Will you bring transparency in CAT?
CAT Pathfinder
Know your call chances for Admissions
Use Now