CMAT 2021: Last Week Tips to Ace the Test
CMAT 2021: Last Week Tips to Ace the Test- With a week left for the CMAT 2021 entrance exam, it is likely for candidates to be nervous. But this spontaneous and reckless thinking will not benefit anyone. Candidates are advised to give their brains a boost by not thinking negatively. Careers360, in this article of last week tips to ace the CMAT, brings to you the last week strategies to be followed by the candidates. Experts suggest that although, in the last week, nothing much in the preparation strategy can be changed by candidates. Yet, by going through the tips given in this article, one can get prepared and lessen the exam day worry to focus on final performance. CMAT is one of the national level entrance exams through which admission in postgraduate management courses can be taken and is conducted by the National Testing Agency.
Read More-
CMAT Mock Test 2021
CMAT 2021 Analysis and Expected Cutoff
Stay up-to date with CMAT News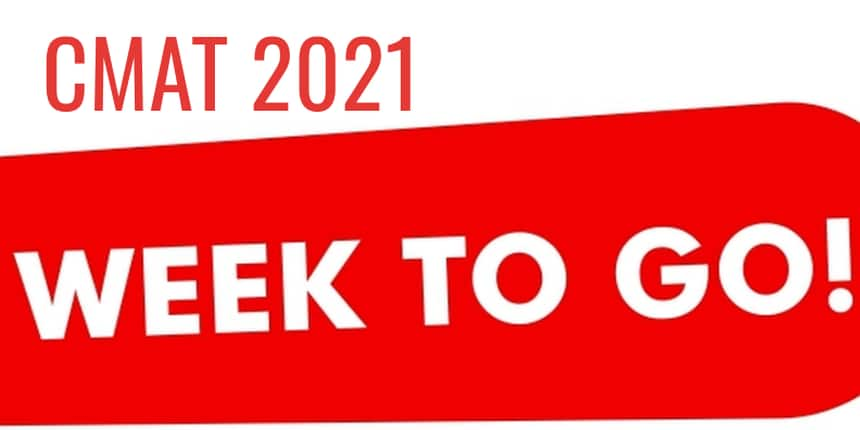 CMAT 2021: Last Week Tips to Ace the Test
Candidates should become attentive with regard to the major exam day strategies to be followed. As per the CMAT 2021 exam pattern candidates will have to answer 125 questions in 210 minutes, out of which 100 questions are necessary for everyone while other 25 questions are optional which will be held in next 30 minutes. Hence along with accuracy, speed in solving the questions in CMAT 2021 is of crucial importance. Candidates are advised to follow the given below major CMAT 2021: Last Week Tips to Ace the Test in the succeeding seven days in hand -
Quickly Go Through The Major Topics

Avoid Starting Any New Topic

Self Analyze Through Mock Test

Manage Time of the D Day

Prepare Flashcards
CMAT 2021 Time Management for the Last Week
| | |
| --- | --- |
| CMAT 2021: Last Week Tips to Ace the Test | How to Follow? |
| Quickly Go Through The Major Topics | From Day 1 to Day 4 |
| Avoid Starting Any New Topic | From Day 1 to exam day |
| Self Analyze Through Mock Test | Take 1 mock test daily |
| Manage Time of the D Day | Make average answer time |
| Prepare Flashcards | For the exam day |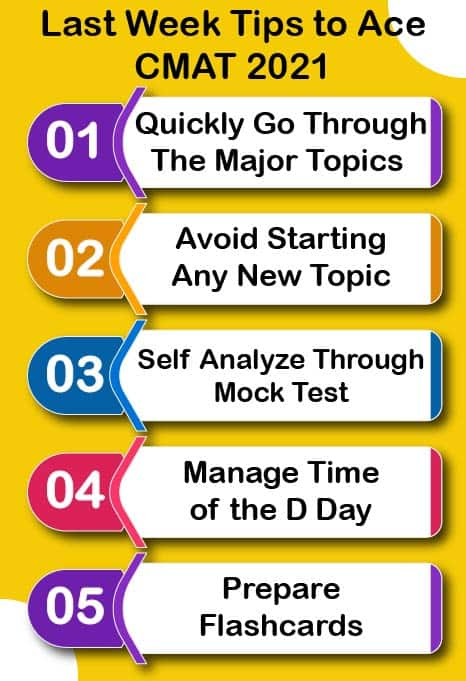 Let us look at each CMAT 2021: Last Week Tips to Ace the Test one by one -
Quickly Go Through The Major Topics
At the start of the last week, candidates should follow the art of leaving and focus only on those topics which are important. Quickly revise the major major topics of all four sections. Give 2 hours each to each section and revise only the priority topics. If candidates feel like revising the basics again, they can do that. Since there is negative marking, hence the choice of topics should be selected wisely.
Quick Links-
CMAT 2021 exam day guidelines and strategies to crack the test
What are the Best Books for Preparation of CMAT 2021
Avoid Starting Any New Topic
In the last week, only the major topics should be covered. Out of the CMAT syllabus 2021, if any topic is remaining candidates should not force themselves in completing that. Any topics left out should remain untouched in the last week of CMAT in order to ace the exam. The reason why this is brought up is to help candidates in securing good marks.
Self Analyze Through Mock Test
One of the best ways to gauge the level of preparation is through mock tests. After devoting two hours of study to each section, candidates should give one CMAT mock test on a daily basis in the last week. Keep in mind the time duration solve the CMAT question paper accordingly. Through mock tests, candidates will also be able to find out different types of questions.
Quick Link -
Manage Time of the D Day
It is advisable to plan the average time limit of each question to be solved on the exam day. As mentioned earlier, candidates will have to solve 100 questions (divided into four sections) within a time duration of 180 minutes. And 25 questions in additional 30 minutes which are optional. This is not even 3 minutes per question. Hence, candidates are advised to make a strategy in the last week of CMAT 2021 and plan the average time required to solve. If any question appears lengthy, leave it and move onto the next questions instead of losing time.
Quick Link -
Top B-schools Accepting CMAT Scores
Prepare Flashcards
On day 6, one of the CMAT 2021: Last Week Tips to Ace the Test is to take out all the flashcards prepared and quickly go through its content. Revise all the topics to ensure conformity on part of basic understanding. Candidates can also carry these flashcards with them on the exam day for quick revision before going inside the CMAT exam centre.
Above all, be confident about your preparation and do not get stressed out as this may let you lose marks. Apart from this candidates are requested to follow social distancing on the exam day.
Questions related to CMAT
Showing 3019 out of 3019 Questions