CAT Toppers 2020 (Announced) - Know Toppers Names, Score and Percentile
CAT Toppers 2020 - Indian Institute of Management, Indore has declared the CAT result 2020 on its official website. Most of us are curious to know who the CAT 2020 toppers are and how they had prepared for the CAT exam to come out in flying colours. Due to Covid 19 the number of candidates who appeared for the CAT exam were less as compared to last year. Approximately, 1.90 lakh candidates appeared for the CAT 2020 exam. CAT 2020 has at least 10 to 15 candidates who scored more than 99 plus percentile. All those who have scored more than 99 plus percentile are likely to get a call from the IIMs for the next round of the selection process. Read the full article on CAT 2020 toppers and check the valuable tips shared by them to crack the exam. The purpose to know CAT 2020 toppers is to learn from their experience as to how they prepared for the CAT exam and what they did differently so as to sail through the exam and come out in flying colours.
Latest CAT update: CAT 2020 result out on January 2. Also check CAT cutoff 2020.
Stay up-to date with CAT News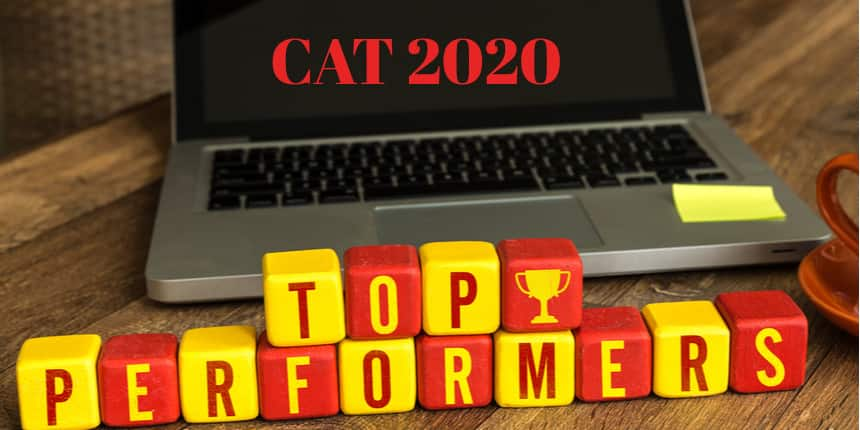 CAT 2020 Toppers
| | | |
| --- | --- | --- |
| Name of the Candidate | Percentile Scored | Interview link |
| Vishesh Garg | 99.99 | Click Here |
| Ashish Sen | 99.99 | Click Here |
| Shivam Chandak | 99.98 | Click Here |
| Aditya Devalla | 99.97 | Click Here |
| Abhilasha Balakrishnan | 99.86 | Click Here |
| Adit Sanjanawala | 99.85 | Click Here |
| Ravi Pranshu | 99.78 | Click Here |
| Shivam Kumar | 99.95 | Click here |
| Mohit Manwani | 96.8 | Click here |
| Shashank Kashyap | 99.52 | Click here |
| Vatsal Dedhia | 97.92 | Click here |
| Reshma George | 99 | |
| Saurav Kumar Singh | 98.45 | |
| Adit Sanjanwala | 99.85 | |
| Ekansh Agarwal | 99.98 | |
| Ramya | 99.99 | |
| Shivam Kumar | 99.95 | |
| Syed Abdus Sattar | 99.19 | |
| Armaan Chawla | 98.72 | |
| Manas Kumar Pradhan | 99.18 | |
| Rudra Roy | 98.46 | |
| Kshitiz Singhal | 99.99 | |
| Bhawna Pagaria | 99.80 | |


How Toppers Study for CAT?
1. Make A Proper Time Table - Making a time table will allow candidates to move as per schedule.
Always remember that planning before execution should be made compulsory

Another time management theory for CAT is the ABC System theory that states, to use time more effectively, a person needs to prioritize on the tasks that need to be undertaken
2. Start With The Unknown - Since you have a good 6 to 9 months of time duration in hand, you can always start with those CAT syllabus topics which are unknown or what you find difficult.
Use the technology and search those topics over the internet on google, bing etc.,

Make sure to find apparent and meticulous ways of solving questions using the time management tricks

If you are unable to understand or find any topic, make sure you contact a few of your friends who are on a similar track and are preparing for CAT or have attempted in previous years

To start ahead with the unknown, it is advisable to give one hour daily on each topic and simultaneously make notes of the same.
3. Don't get confused by using a number of books- There are hundreds of books in the market which claim to be the ultimate guide to crack CAT. But too many books with different concepts always create confusion for the aspirants. Therefore, Toppers recommend that you refer to only two good books on any subject or topic for CAT preparation. But ensure that these two reference books should be able give you all the necessary knowledge about the topics asked in the exam.
4. Keep Reverse Strategy - Do not try to work out your brain on what is unimportant. Solve the previous question papers of CAT using the reverse strategy especially for those questions which seem difficult to leave. Understand the questions, look out at the options. In reverse strategy, candidates first have to go through the options given and then try to put the question with options to find the most suitable answer.
5. Seek for Experts Guidance: CAT is the national level management entrance exam, which essentially means that it is not enough to beat yourself. In order to grap that exclusive seat at IIMs, you need to beat your competitors and therefore the preparation and performance have to be gauged in comparison to others. So talk to experts about your plan and preparation strategy and analyse if there is any way in which you can improve your performance. Mentors, online tutorials will help you find gaps in your strategy and fill them in time to ensure that you outperform others on the exam day.
CAT 2020 Cut Offs and IIM Admission
IIM CAT admission will include three stages: screening of candidates based on CAT 2020 score, WAT-GD/PI round for CAT and final selection . Under the IIM admission process, CAT 2020 qualifying candidates will be required to appear in the Written Ability Test (WAT) or Group Discussion (GD) and Personal Interview (PI) conducted individually by the institutes. The candidates must note that only those candidates who will meet the CAT 2020 cut off , will be called for WAT-GD/PI round .
Also Read-
GD PI WAT Tips
GD PI WAT Preparation Tips from Toppers and Experts

Questions related to CAT
Showing 10653 out of 10653 Questions