CAT 2016 Topper Interview: Strengthen basic concepts during preparation, says 99.01 Percentiler Kartikey Tiwari
Kartikey Tiwari, a trained Electrical Engineer, is now a student at IIM Kashipur after topping CAT with 99.01 Percentile. He credits his success to regular studies and strengthening basic concepts during preparation. Although, he worked really hard and expected to crack the exam but he never knew it'll lead to securing 99+ percentile in CAT, one of the most competitive MBA entrance tests. Overwhelmed after the results, Kartikey says giving dedicated hours everyday towards preparation and having access to study material from coaching institutes helped him achieve the top spot.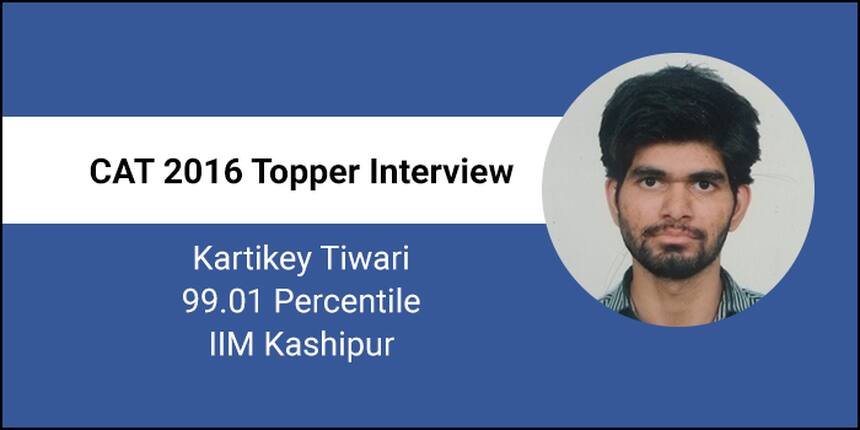 Kartikey's result is an example of hard-work and dedication for all the aspiring management students who would be appearing in CAT 2017. In this interview with Careers360, he talks about how he strategised his preparation for the exam.
Recent Posts:
Read the full interview below:
Careers360: Congratulations on your admissions to IIM Kashipur. What was your overall and sectional score in CAT 2016? Any other exam you had appeared for, please share the score for the same.
Kartikey: Thank you so much for the wishes. I'm overwhelmed with the result. Here it is: 99.01 percentile. I did not appear for any other exam apart from CAT.
Careers360: Talking of sections, which was the most challenging and easiest section in the test?
Kartikey: The most challenging section for me was Quantitative Aptitude (QA) and the easiest one for me was Verbal Ability (VA).
Careers360: Please share your preparation journey. How did you strike a balance between your academic life/professional and preparation for an entrance exam?
Kartikey: I was giving four hours to my preparation everyday and tried to strengthen the basic concepts. Taking out four hours from my schedule everyday wasn't too difficult. And, especially when you're targeting something like IIM. Time was not an issue for me as I was driven by my dream.
Careers360: Were you a part of any coaching institute? Do you think coaching is necessary for aspirants to bag the top rank?
Kartikey: I joined T.I.M.E. and it turned out to be very helpful for me as it helped correcting my basics. Also, guidance from experienced professionals are always worth it.
Careers360: Please share your specific section wise strategy for VARC, DI & LR and QA.
Kartikey: For VA & RC – I read newspapers like The Hindu and Business Standard. Also, use coaching material for practice. Practice a lot for RC section to get the feel of it.
LR & DI - Go for Coaching material and one can refer few books like Pearson but practice regularly.
Quant (QA) – Use coaching material and practice a lot.
Careers360: How did you tackle the challenging sections and topics?
Kartikey: If you're not able to understand anything, take coaching. Go to respective professor and ask questions. No matter how silly they are. Get your doubts cleared.
Careers360: What is the significance of mock test in your success? When did you start taking mock test and what was the   frequency?
Kartikey: Mock Tests are very important. It helps you formulate a strategy for the exam. Low scores should be a wakeup call here. Analyse the mocks thoroughly and focus on the areas you're weak in. Make a separate copy of your mistakes and try not to repeat them in future.
Careers360: How did you get the mock tests analyzed and how did you modify your strategy after that?
Kartikey: I made one separate copy for mock analysis. I used to note down my mistakes and revise them regularly so that I do not repeat those mistakes in future.
Careers360: What was your time management strategy for section wise preparation vis a vis exam day?
Kartikey: Always solve the easy questions first or the ones you're confident about. I did VA & RC section first as I was confident about it. For LR &DI, I skimmed through all the questions and solved the easy ones first. Same goes for the quant section. One should solve the easy ones first to save time.
Careers360: How did you utilize the features like calculator and non-MCQs in CAT?
Kartikey: Using calculators is like a trap. It is time consuming. Avoid it if possible. Non-MCQs are a must go. These questions are the one which make a difference in the end.
Careers360: What were the topics of WAT and GD at B-schools you had appeared for? Also, mention the PI questions you were asked.
Kartikey: Almost all question asked in WAT were related to current Affairs. Questions related to my college, politics, social awareness, maths etc. were asked during PI round. 
Careers360: Any suggestion that you would like to share with aspirants?
Kartikey: Study with extreme focus and Mock analysis should be the priority. Low scores should wake you up.
Also Read
Stay tuned to bschool.careers360.com for more information on CAT toppers
Get real-time alerts on exam & colleges at your fingertips with Careers360 App!
Click Here to Install or Give a missed call on 08080944727 to get app link.
Questions related to CAT
Showing 9065 out of 9065 Questions