XAT 2021 Topper Ravi Prinshu 99.85 percentiler says, "Ignore toughness of exam, focus on preparation"
The new year continues to bring cheer for the engineering graduate who continues to scale new heights. First a CAT topper and now XAT 2021 topper Ravi Prinshu who scored 99.85 percentile in the latter is all set to make his way to the premier management institutes as he gears up for the next round of the selection process. In a candid conversation with Careers360, XAT 2021 topper Ravi Prinshu talks about the preparation strategy, comparison between the CAT and the XAT exam and urges the future aspirants to prepare for the exam without any stress.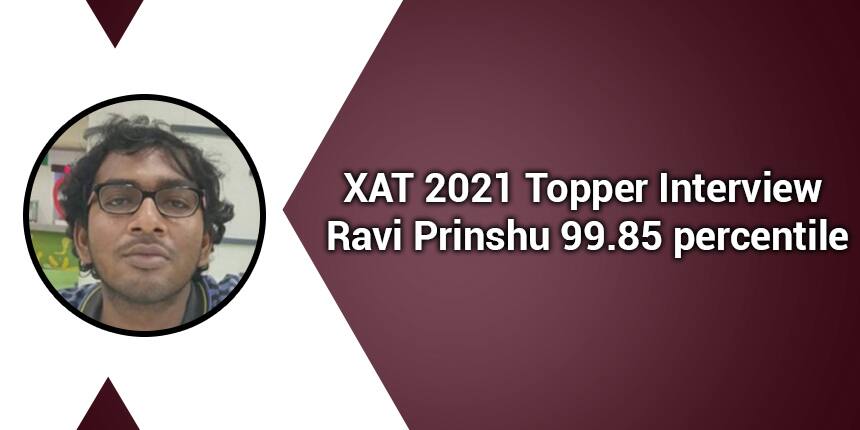 Careers360: Why XLRI over other B-schools?
Ravi Prinshu: It's not about choosing XLRI over other B-Schools . XLRI is among one of the top among the top B-schools with great brand image and placement records. The brand name of XLRI in the corporate world is big.Along with it being from Bihar and completing some part of studies in Jharkhand ,whenever talk of MBA use to come, the name of XLRI use to come to my mind.So this is among one of my personal preferred choices of college.
Careers360: Tell us something about yourself?
Ravi Prinshu: I hail from Bhagalpur and have done my schooling from DAV Public School, Khagaria and Jawahar Vidya Mandir, Ranchi. I am an Electronics and Communication Engineer from Birla Institute of Technology, Mesra.I have a decent academic record with 95% 91.2% and 80.9% in 10th 12th and B.Tech. respectively. After completing my Engineering, I was placed in Cognizant and worked there till November 2020 and left to focus on CAT. Recently I have joined a startup company named Simpragma Solutions.
Also Read
Got your CAT and XAT results? Know the B-schools to apply for
Major Topics For Group Discussion
Careers360: What was your XAT 2021 overall and sectional percentile? Apart from XAT, which other entrances you appeared for and what were your percentiles?
Ravi Prinshu: In XAT 2020,my overall percentile was 99.8597. Section wise Quantitative Ability:99.5185 Verbal and Logical Ability:95.6609 Decision Making:98.6938. For GK also I got a good percentile 98.5518.Apart from XAT I am going to give CAT . In that my percentile was 99.78(VARC-99.59 DILR-99.73 QA-97.22). I am going to appear for TISSNET also.
Careers360: When did you start preparing for XAT? Please share in detail your month-wise preparation strategy you followed.
Ravi Prinshu: Actually I started my preparation for MBA in April May . I was working so I could only prepare during weekends. My major focus was to give mocks and analyse them well and work accordingly.
VARC- This was one of my strong areas as I used to read a lot of novels and while preparing for VARC, I used to just give the mock tests. I had attempted all the questions in this section as I was confident that I would do well.
DI and LR - While preparing for data interpretation and logical reasoning, I had taken the test series by Career Launcher since they have sectional questions as well as tipc based questions also.
Quantitative Ability - This section was my main focus as it was one of my weakest. I gave sectionals ,topic tests and mock regularly for this. I searched Facebook groups from where I could get to know about the formulae and their short cut and I could execute them while solving the questions.
I started my XAT preparation once the CAT exam got over . In XAT the question level is little higher especially in VARC and decision making is a new section which is not there in CAT. For these things I just decided to see the mocks and analyse them .
Also Read
Current Group Discussion Topics
Group Discussion Topics on Current Affairs
Careers360: How did you manage your time during the test? What were your strong and weak areas? How did you tackle your weak area of the test?
Ravi Prinshu: In XAT time is never an issue . Though questions are tougher but we have ample time to solve it . Personally I started with DM and VARC since these sections can be solved faster . It helped in managing time in Quant easier. I think since I have so much time in Quant that's one of the reasons I scored so well in that even though it's my weakest area. And one other that worked for me was that CAT result was announced a day before XAT exam and I did really well in CAT . So in the XAT exam I was totally stress free.
Careers360: Your message/tip for this year's XAT aspirants?
Ravi Prinshu: Any exam, whichever you are taking, being stress free is always important . Secondly many people think the exam pattern of CAT and XAT is very different but the reality is 2 sections are exactly the same . So do not start with XAT preparation exclusively at start. Once your CAT exam gets over you have ample time to fine tune your XAT strategy.Another thing people say is that XAT is tough but it's tough for everyone . So do not worry about the toughness of the exam just focus on your preparation
Questions related to XAT
Showing 930 out of 930 Questions