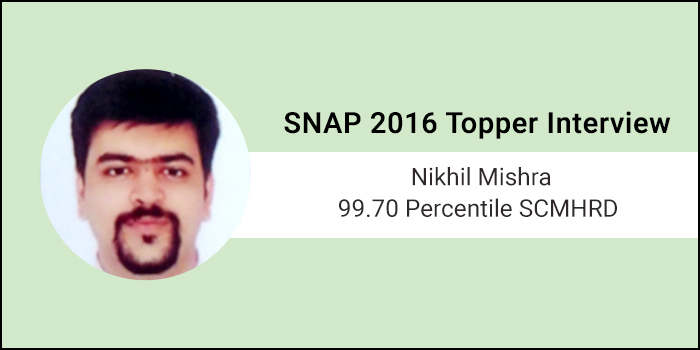 Nikhil Mishra appeared for multiple national level management entrance exams where he managed to score well in almost all of them. Nevertheless, his major focus laid on SNAP (Symbiosis National Aptitude Test) during the preparation. And his focus came quite handy when the results came out. He topped the exam with 99.70 percentile. Nikhil was selected for MBA in Sales and Marketing programme at SCHMRD, Pune. Apart from reading newspapers every, he also indulged into online forums to gain more knowledge during preparation. Mock tests, study material provided by coaching centre and online practice papers were an integral part of his preparation.
SNAP Sample Paper
Download Free Sample Paper for SNAP
Download Now
In this interview with Careers360, he shares his preparation journey and tells us why he chose SCMHRD over other B-schools. He also tells us the importance of coaching during preparation. Read on to know more. 
Read the full interview here:
Careers360: Congratulations on your admission to SCHMRD. What was your overall and sectional score in SNAP 2016? Did you appear for any other entrance exam? If yes, please share the score.
Nikhil: Thanks. My overall SNAP score was 84.5/150. The sectional breakup had Verbal Ability at 34/40, Quantitative at 13.5/40, Current Affairs at 15.5/30 and Logical Reasoning at 21.5/40. I had appeared for the other popular entrance tests such as IIFT, CAT, NMAT and XAT as well, of which I had 98 percentile in NMAT, 48.18 marks in IIFT and 96 percentile in XAT.
Careers360: Apart from SCMHRD, which B-schools made final admission offers to you? Why did you decide to join SCMHRD?
Nikhil: I had admission offers from XIMB and IMT as well, but SCMHRD stood out due to its location, academics, batch size and the placements.
Careers360: Please share your preparation journey. How did you strike a balance between your academic/professional life and preparation for an entrance exam?
Nikhil: Preparing for a host of entrance exams such as CAT makes one ready for the different areas asked in SNAP. General Awareness, however, is one section that requires a daily reading of newspapers. I made sure I read at least one newspaper every day in addition to the online forums I browsed through in my free time. I was lucky enough to have more time to prepare than most since my joining date to a respected MNC was deferred till after SNAP.
Careers360: What was your section wise strategy for Analytical and Logical Reasoning, General English, Quantitative, Data Interpretation and Data Sufficiency and General Awareness?
Nikhil: Going through a host of mocks made me realise that SNAP was all about going for your strengths first and going for the rest thereafter. I leveraged on this and went ahead with the following order: GA, GE, LR and Q DI/DS. I took longer in LR than I had expected which cost me on the Quant score front but I managed a respectable score overall. It makes sense to first go through questions you are absolutely sure of. This allows you to navigate through the paper in the stipulated time and managing to complete the easier questions as well.
Careers360: Mention section-wise books and study materials you referred during your preparation.
Nikhil: I had joined T.I.M.E. in Vadodara. The material provided by them was more than sufficient to cover all the sections, including regular mocks and classes for the General Awareness section as well.
Careers360: Were you a part of any coaching institute? Do you think coaching is necessary for aspirants to bag the top rank?
Nikhil: T.I.M.E. was a platform that allowed me to interact with like minded aspirants on a personal basis. The entire environment proved vital in giving the constant impetus to work hard towards achieving my goal. In case one feels that they are adequately motivated and believe they don't get bogged down easily, they can attempt the exams by going through the books of any prestigious coaching institute as well.
Careers360: What is the significance of mock tests in your success? When did you start taking mocks and what was the frequency?
Nikhil: As far as SNAP is concerned, one simply cannot stress enough on the importance of mocks. The pressure associated with the real exam coupled with the time constraint means that ideally one should become accustomed to the pattern of the exam and try completing the mocks in lesser than the stipulated time. Five mocks before the real paper should be adequate.
Careers360: What was your section-wise time management strategy on the exam day?
Nikhil: I didn't have a precise time-bound strategy in place due to the freedom of navigating through the sections and absence of sectional-cutoffs. Spending maximum time on your strengths as per me is an ideal strategy, as it still leaves out enough time to attempt the easier questions of other sections.
Careers360: SNAP will be conducted in the computer based mode for the first time. What are your thoughts on it?
Nikhil:  Navigating through the sections freely will become a challenge. Can expect the cutoff in terms of marks to drop slightly due to this change since a Pen & Paper mode of exam is always easier to attempt.
Careers360: How has your journey been at SCHMRD so far?
Nikhil: The journey has been thrilling, to say the least. Right from the induction programme to the incessant events that have constantly kept me engaged, there's no doubt that this is exactly what an MBA is all about- a sophisticated juggling act!
Careers360: Any suggestion that you would like to share with SNAP 2017 aspirants?
Nikhil: Make sure that you have etched a proper plan out and religiously follow that not just from the entrance exam's point of you but for the selection procedure that follows as well. This will reduce last moment panic situations and ensure a smooth journey.
Also Read
Questions related to SNAP