MBA after B Pharm: Top Institutes, Eligibility Jobs, Scope, Salary
MBA after B Pharm: B Pharm or Bachelor of Pharmacy is a four-year undergraduate program that teaches the fundamentals of pharmacy. Students learn the methods, process, dispensation of drugs, and in-depth knowledge of medicines. Biochemical science and healthcare make up the core of the course. B Pharm is also a trendline course for students who wish to be at the center of medicine, but do not want to be doctors.
Stay up-to date with CAT News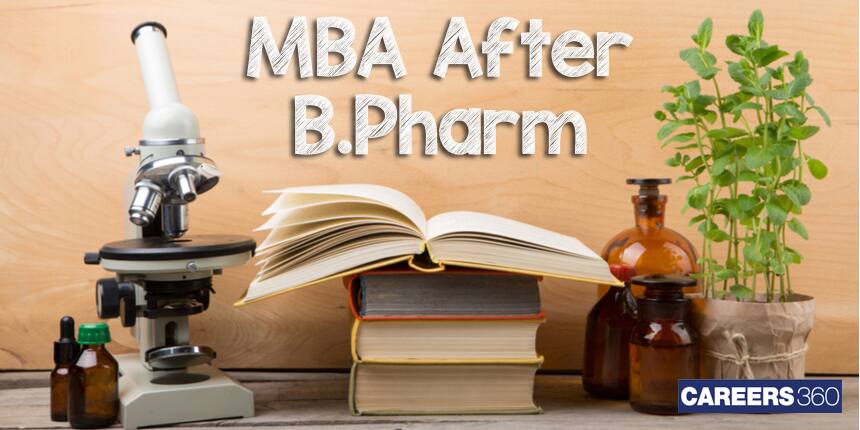 Other MBA Entrance Exams that you can apply for
MBA after B Pharm
In India, over 1000 colleges offer B Pharm. The graduates from the top colleges work in companies such as Pharma Ace, Genpact, Novartis, etc. Their starting package ranges from Rs 5 lacs to Rs 7 lacs per annum. Some of the top colleges that offer BPharm in India are :
Institute of Chemical Technology (Mumbai)

Jamia Hamdard University (New Delhi)

Punjab University (Chandigarh)

National Institute of Pharmaceutical Education and Research (Mohali)

Manipal College of Pharmaceutical science (Udupi)

Birla Institute of Technology and Science (Pilani/Goa/Hyderabad)
The B Pharm graduates who opt for a core job from these colleges get inducted into various organizations as Assistant Research Associates, Drugs Specialists, and Healthcare Associates. Some of the graduates even get into Formulation of Drugs or can get into jobs that require data validation. Most of these openings are normally in the private sector. The competition among the B Pharm graduates to get into such coveted positions is normally pretty high.
Top Colleges in India offering MBA
Why MBA After B Pharmacy
Pharmacy is a promising career option for any student opting for it. They can get into medicines, cosmetics, research, R&D Science, and much more. A graduate can even become a drug therapist, pathological lab scientist, or even a health inspector. But all these professions, after a point, have fewer growth options available. Typically, the careers in these areas tend to become stagnant after certain years of work.
An MBA can give a huge fillip to their careers. For any pharmaceutical firm, good managers who know how to manage the company and understand its core working are required. Some of the main reasons as to why a B Pharm graduate should pursue an MBA are:
To add managerial skills to the technical skills and get into higher echelons of management (not to mention, higher paying jobs!)

Get opportunities in the overall health care sector and not get restricted to the Pharma domain

MBA gives opportunities in domains other than Health Care or Pharma. Students who take up an MBA get into different sectors including Financial Sector, Retail, Automobiles, Consumer durables, and even eCommerce.

An MBA also opens the door for entrepreneurial opportunities such as private drug firms, pathological labs, and the chemical industry.

The salaries of MBA graduates from top IIMs and other BSchools can be upwards of Rs 20 lacs per annum on an average.
With an MBA, a graduate is not limited to options in just the pharmaceutical line of work in the country but also get to work in MNCs. Since the management skills allow a huge amount of flexibility and enhance their skills, students also get into Finance, Marketing, Operations, or even HR.
Resource Links for Online MBA
Also check;
Eligibility and Courses in MBA
MBA, being a competitive and demanding course, has prerequisites. It is also a course that invites diversity in its students. A larger pool of students from different educational backgrounds is always welcome and considered important too. BPharm students get an added advantage in admissions to the top BSchools. The basic eligibility criteria are as under.
The student must be a graduate from a college recognized by the Pharmacy Council of India (PCI)

A student is expected to graduate with at least 50% marks in B Pharma. (This is relaxed to 45% for reservation candidates - SC, ST, PWD)

Some MBA colleges may require prior work experience. Students should check with the respective college about this requirement. This information is normally available on the website of the respective BSchools.
MBA is a holistic course. In addition to teaching specialisations such as Finance, Marketing, Operations, IT or HR, the curriculum ensures that the MBA graduate is well equipped with Soft Skills. A student from any educational background has the opportunity to take up an MBA and further his career through better job opportunities. For a B Pharm graduate who would like to continue in the pharmaceutical line, there are core Pharma specialisations too such as
MBA in Pharma Business Management

MBA in Health Care Management
However, a student normally opts for MBA in General Management which gives him the scope to explore further.
With these degrees, one can take up any job of their choice of work in the drugs and management line. Additionally, hospital management work, Medical representation work, and even higher-level research work opportunities are available. The graduate has both freedom and flexibility of career choice after the completion of their MBA.
Know more about;
Salary and Jobs in MBA after B Pharm
The jobs and salary packages for an MBA graduate after B Pharm are lucrative. Since an MBA opens up a pathway for new and prosperous opportunities, a graduate can not only maintain a good career but also see growth in it. Some can even take up jobs which fall outside the line of Pharma.
The MBA degree allows networking of graduates in such a way that they are technologically and information-wise up to date. This also makes them ideal candidates for higher positions in firms. The various positions one can look forward to after an MBA are
Sales Manager at Pharmaceuticals Company

Business Development Officer

Drug Distribution Manager

Production and Quality Control Manager

Medical Representative in marketing

Drugs Market Research Analyst

Pharmaceutical Company Manager

Hospital management

Product Executive
Each of these jobs has a starting salary upwards of Rs 7 lacs per annum even in a tier 2 MBA School. Over time, once the experience increases and the responsibilities at the job, so does the salary. If one chooses to have their pharmaceutical firm, they can use their business and management skills to build their own organisations.
Other Top MBA Entrance Exams
Scope of MBA after BPharm
The need for drug experts and specialists is prevalent around the world. In India and abroad, companies that focus on pharmaceuticals, healthcare, cosmetics, and even microchemistry have grown largely. There is a huge demand for both specialists and managers for the same. The prerequisites for jobs and MBA abroad may differ from country to country and university to university. And as such, the job demand and salaries as well may vary, however, the scope is huge.
Browse Top MBA Colleges Accepting CAT Score: Location-Wise
Questions related to CAT
Showing 10886 out of 10886 Questions