Common mistakes to avoid while preparing for CAT
Common mistakes to avoid while preparing for CAT: Whether it's CAT or any other management exam doing preparation for the perfect shot is must. Sometimes, candidates make a timetable and after a few days of preparation they are unable to manage the prepared time table. This problem occurs due to the vast syllabus of CAT. This is the first mistake which one should avoid while preparing for CAT. Prior to avoiding such mistakes one should understand the syllabus and shortlist such topics which they find easy. The common mistakes to avoid while preparing for CAT include mismanagement of time, procrastination, lack of revision so on and so forth,In order to avoid mistakes during CAT preparation one should know how to do hard work and smart work. In the early days of CAT preparation, one should allot equal time for every section. Read the full article by Careers360 to know all the common mistakes to avoid while preparing for CAT exam.
Latest- CAT 2020 registration began from August 5. CAT 2020 to be conducted on November 29.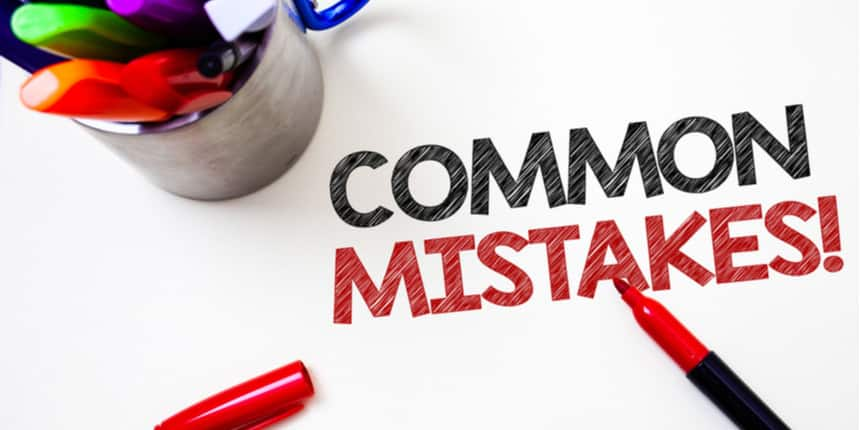 Also Read- CAT 2020 Preparation Strategy- Important Tips & Schedule
Not paying attention to the CAT syllabus
To start preparation for CAT, it is very much important for an aspirant to thoroughly go through the whole syllabus as it helps you to plan for further strategy for the preparation. But usually, aspirants skip this step and directly start their preparation due to which they fail to prepare an effective plan of preparation.
Do not judge your preparation on the basis of number of hours that you devote
One of the common mistakes to avoid while preparing for CAT is to assume that they have done a good job if they have devoted ten to twelve hours for preparation for CAT. What is important is how much has one grasped in the number of hours which they have devoted while studying for the CAT entrance exam. One can study with complete focus and dedication for four to five hours and grasp much more than what he or she does in ten to twelve hours. Therefore, here self assessment is very important. One should gauge correctly how much of the syllabus have they been able to cover within the stipulated time and if they are well versed with it or not.
Might be interested in- How toppers prepared for CAT
Common Mistakes to avoid while preparing for CAT- Do not avoid conceptual clarity
For the preparation of any entrance exam, conceptual clarity is a 'must'. If one is aiming to crack CAT, then they cannot afford to avoid a deep understanding of concepts of the given topics in the syllabus. Understanding the core concept of any topic wholeheartedly makes your base of preparation more strong. A good grasp of the concepts allows you to deal even with the complex questions based on the basic concepts of the topics but Lack of concept clarity would lead you to lose marks whenever a bit trick question will be asked from the same topic in the exam.
Do not procrastinate
Among the common mistakes to avoid while preparing for CAT is not procrastinate . Procrastination is a major problem with everyone and it is very much harmful for your preparation journey. Delay in action would only help you to lose your time for the preparation. Therefore, one should keep in mind that to start anything, the right time is 'now' so start your preparation and avoid waiting for the right time to prepare.
Lack of regular revision
To retain something for a long time, one has to revise it multiple times on a regular basis.One of the common mistakes to avoid while preparing for CAT is that the students should not become complacent and be on their toes by revising what ever they have studied on a periodical basis. Regular revision of the CAT topics frees you from overburdening yourself during the last 2-3 months before the exam. Therefore, it is always suggested that during the preparation, one should manage their daily routine in such a way that they would be able to manage time for revision of the topics which they are already done with.
Mismanagement of time
One of the common mistakes to avoid while preparing for CAT is mismanagement of time. In order to complete the CAT syllabus, candidates require a well-designed time table which they have to make on their own as per their own convenience. Managing the time well while preparing for the exam as well as during the exam will help the candidates to solve the questions with ease. In order to draw the right kind of time table, candidates must try to first go through the topics mentioned in the syllabus and see which will consume more time. Having done that, candidates must formulate a time table and ensure that they adhere to it.
Quick Links
CAT 2020: When and how to start preparation
Avoiding mock test analysis
Needless to mention how important are the CAT mock tests for the preparation of any national level entrance exam preparation. This is one of the common mistakes to avoid while preparing for CAT and that is evading the analysis of the mock tests. One should know that it is not nough to sit and only attempt mock tests? Absolutely not, the analysis of each mock test is something which is even more important. Analyzing every mock test helps you to know what are your strong and weak weak areas and compels you to think as to how well you should prepare further to convert your weakness into strength.
Why, When and How to take CAT Mock Test
CAT 2020: Tricks for Quant, DI&LR, VRC by 99 percentilers
Inconsistency in preparation
Inconsistent preparation does not allow you to get fruitful results from your hard work. If you are devoting enough time to your preparation for a month but in another month you are not giving your 100 percent to the preparation, it would make your journey of preparation more inconsistent. Hence, therefore, for preparing well and excel in the exam, one needs to introduce perpetuity in their practice.
Stop getting demotivated and develop a positive attitude
When one starts their preparation journey, there are so many factors which affect their preparation either positively or negatively. Unfortunately, aspirants generally get distressed due to initial hiccups. While one prepares for the CAT 2020 exam, one should try to learn from their mistakes rather than feel demotivated. So, it is advisable that students should not only start their preparation with a positive attitude, but also remain positive throughout the whole preparation journey as then only they will get the desired result.
Quick Link-
CAT 2020 Preparation Time Table
Questions related to CAT
Showing 8933 out of 8933 Questions