CAT preparation tips by toppers: Interview with Shashank Kashyap 99.52 Percentile
CAT 2021 topper, Shashank Kashyap with the score of 112 and 99.52 percentile has made it to IIM-Ahmedabad which is among those big achievements an MBA aspirant could dream of. Apart from IIM A, he has received calls from SPJIMR, NITIE, NMIMS, XLRI BM, XLRI HRM, IIT B, IIT D, IIT KGP, SIBM Pune, and SCMHRD.
Stay up-to date with CAT News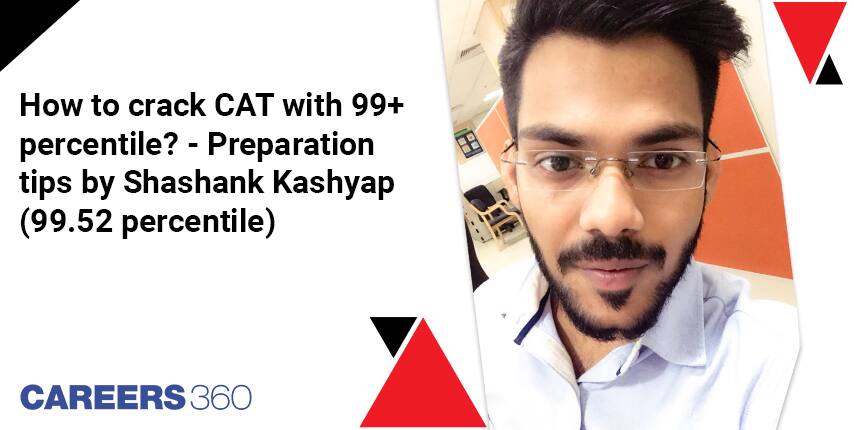 While sharing his journey with Careers360 about his outstanding performance in CAT, 2021, Shashank elaborated on his overall experience, regarding preparation for CAT and other management entrance exams and the procedure that was followed during selection in esteemed Institutes. He emphasizes practicing on a "Time-Based Format" and suggests the same to future aspirants as well. "WAT/PI is a different ball-game altogether. GDPI preparation should be taken seriously because trust me even a 100%iler can get rejected at top B-schools if the interview preparation lacks effort and dedication", said Shashank when asked about his experience while preparing and appearing for WAT/PI. To know more about his strategy to ace CAT and other entrance tests, do give a read to his full interview with Careers360.
Ongoing MBA Admission 2021
Careers360: Congratulations on converting to your desired institute! How do you feel?
Shashank Kashyap- I feel very happy to have converted my dream B-school, IIM Ahmedabad. It is a dream come true for me. I am grateful to everyone who has helped me achieve my dream.
Careers360: Please elaborate on your overall experience of the selection procedure followed at the said Institute.
Shashank Kashyap- I am a General Engineering Male candidate and getting a call from IIM A at 99.52%ile was very shocking. I couldn't believe it when I was shortlisted for an interview at IIM A. I started preparing for AWT because Ahmedabad is the only interview where you get this. I had my A interview on 15th March 2020. The AWT went well and then came the interview. The panelists were very chill and we had a good conversation revolving around my UG, work-ex, Uttarakhand flash floods, Chess, and football. I tried to not panic and give my best. There were a few Qs that I couldn't answer but the interview was good if not the best. IIM A result was declared on 13th May 2020 and I had been waitlisted initially at 16 in the general category. I finally made it to A on 1st June 2020 when my waitlist got cleared. The wait was anxious but it was worth it.
Browse Top MBA Colleges Accepting CAT Score: Location-Wise
Careers360: Which other B-Schools' selection rounds did you appear for? How was your experience in other institutes vis a vis in the institute you have converted?
Shashank Kashyap- I had calls from all the top B-schools except IIM C, IIM I, and FMS. Every interview was not the same because there is no fixed layout. It depends on what the interviewer is looking for in you. I would say luck plays a role in interviews as well. Sometimes your interview is driven along with your strengths but then there are days when you can't control much. I had a stress interview at IIM B and I panicked. It was my first major interview and I used the learnings from the interview in my other interviews.
Careers360: What was your score and percentile in CAT?
Shashank Kashyap- I had a score of 112 and my percentile was 99.52! I had calls from IIM A, B, L, K, S, CAP, MDI, SPJIMR, NITIE, NMIMS, XLRI BM, XLRI HRM, IIT B, IIT D, IIT KGP, SIBM Pune, and SCMHRD.
Careers360: How did you prepare for CAT? please share section-wise tips for others who are gearing up to take CAT this year?
People also interested-
Shashank Kashyap- I started my preparation in May 2020. I joined an online coaching class where I found a peer group to study with. The coaching also helped me maintain a regularity which otherwise I would have struggled at. My weakest section was VARC. I had 68%ile VARC in Cat 2019. I made it a point to improve my VARC significantly because I couldn't afford the same performance as last year.
I used to solve Past year mocks for my practice because I think they are the best source of practice. The questions are very standard and CAT level. I used to time my sectionals from the past year mocks and solve them. Then I used to discuss the same with my peers from my study group. VARC is more about reasoning than knowledge about English literature. One needs to work on critical reasoning to get the RCs correct. Eliminating options is always better than choosing the right one.
When it comes to LRDI, I used to watch the online classes videos and also used to solve sets from YouTube. One of the best channels was LRDI Master on YouTube. I followed that religiously and solved each and every set. Set selection when attempting the LRDI section is very important. It actually helps you choose your best bets in the paper. Accuracy matter a lot in this section.
Moving to quants, I had to work majorly to reduce the time taken per question. I tried the round method to attempt the paper but that was something not for me. I used to attempt all the QA I wanted to solve in the first 30 minutes and used the rest 10mins to attempt Qs about which I was not very sure. I had a notebook where I noted all the Qs which I couldn't solve or I had found a better approach. I used to revise that notebook every 10-15 days.
ALWAYS PRACTICE IN A TIME-BASED FORMAT. Always time your practice Qs as well.
Careers360: What was your WAT/PI and how did you prepared for it? How did you structure your answer? Was it easy or difficult for you to write/ think about the topic?
Shashank Kashyap- WAT/PI is a different ballgame altogether. I had joined an online GDPI preparation group where we used to have discussions every night about the current affairs topic. Also, I appeared for 10-12 mock interviews to prepare for the actual interviews. So according to me, Current affairs for the last 3 months is something that you need to prepare very well. I used to read newspapers regularly and know about what was going in the world. Apart from that, you should have decent knowledge about your UG subjects, work-ex, hobbies, and other achievements. For the HR Qs, I used to research the USP of the institute I was interviewing for and then tried to explain why I was a good fit. GDPI preparation should be taken seriously because trust me even a 100%iler can get rejected at top B-schools if interview preparation lacks effort and dedication.
Careers360: Did you took any external help or joined a coaching/crash course to prepare for PI and WAT? When did you start your preparations for IIMs selection?
Shashank Kashyap- Yes, I had joined coaching for WAT/PI preparation where I appeared for mock interviews and learned about the current affairs topic as well. I took help from my UG seniors and batchmates who were in a b-school and asked them to help me by conducting mock interviews and SOP reviews. I started preparing for the first week of January 2021 for my WAT/PI.
Careers360: Do you think that WAT/PI requires some separate preparation apart from what you mentioned?
Shashank Kashyap- Just know what are major events happening across the globe. Reading newspapers is a must. Always record your mock interview to analyze them afterward. Also, try to highlight the key points of your profile in your introduction. If the interviewer picks up any topic from there then you may get a chance to drive your interview in the direction you want. Try to converse with the panelists and always have a smile on your face when in an interview. Don't panic and try to keep your calm and composure.
Careers360: Please share the WAT/PI questions which you were asked during the admission rounds?
Shashank Kashyap- A lot of questions were asked from my UG subjects. I am an Electrical and electronics engineer from BIT MESRA Ranchi. So I was asked questions about Digital electronics, Electrical machines, and basic electrical. Also, prepare your work- ex well. I was asked about my work profile and the value that I added while working. The business impact of your work is something you should be aware of. Then come the hobbies and extracurricular. I played Chess, badminton, and football. So I had prepared for Qs from these areas as well. I was asked about my hobbies in few interviews.
Careers360: What do you think how one should handle a question when he/she has no answer to it during PI?
Shashank Kashyap- I think he/she must genuinely let the interviewer know that this is something that he/she is not able to recall right now. Don't try to play around with the interviewers. They have been doing this for quite some time and they will figure out if you are making up an answer or you genuinely have an idea about the same. Be HONEST with them.
Careers360: How must one approach a WAT/PI topic? Could you share some Dos and Don'ts for the same?
Shashank Kashyap- Reading newspapers and practicing WATs pretty much works. The WAT topic is generally from current affairs. In some cases, it can be abstract or opinion-based. Try to avoid an extreme stance on any topic. You might face counter questions from the interview panel and If you don't defend your stance it is a turn-off. Always try to analyze the topic and give a structured answer and not something written in a slapdash manner.
Careers360: Is there a particular kind of time management strategy that should be added to the candidate's skillset? Will it help in writing a completely structured WAT/PI in time?
Shashank Kashyap - I did not have any time management strategy as such for WAT but yes I always tried to complete my WAT with a conclusion and not let it open-ended. Make a rough flowchart of how you are going to write your answer and then start writing accordingly.
Careers360: How did you feel when you faced the interviewers during the PI? Please share a few details like the size of your panel and your overall experience.
Shashank Kashyap- I had appeared for mock interviews but nothing can actually simulate the exact interview because the nervousness and anxiety might be something that is different for both. But having said that mock interviews actually prepare you for expected Qs based on your profile. This actually helps sometimes. Coming to the panel size it was mostly 2-4. Overall PI was a very good experience. It was a long season of interviews and after a certain point of time, I got used to it.
Careers360: Which interview turned out to be the best one? Enlighten us about the finest one according to you.
Shashank Kashyap- My best interviews were MDI and IIM K. In MDI I was asked about my work-ex and then we had a discussion regarding EVs as I was from the EEE branch. It was a topic I had read about a lot and I had wonderful points which made the interview very engaging. It was more or less the same in IIM K but the Qs were mostly from current affair topics I had read about. So it was just a lucky day for me. I answered almost all the Qs. I converted both of these. Also, I converted all my calls except IIM B and SPJIMR.
Top MBA entrance exams 2021
Careers360: What about the questions which you found difficult to answer? How did you reply to them?
Shashank Kashyap- I tried to come up with the best answer. So there are some Qs that are just asked to test your approach rather than the veracity of your answer. Always try to answer in a systematic way. If you are not sure about any question let them know that this is something that you don't know about. Trust me there are a lot of Qs in an interview and a few unanswered Qs won't matter much if you have answered the remaining Qs very diligently.
Careers360: So in those situations, was the panel easy or harsh on you? What should one do when s/he has no answer?
Shashank Kashyap- Most of the time they were easy on me. They might be harsh if they are looking for a STRESS interview. But yeah again it depends. You can't really do much about it. Just don't panic and focus on the Qs you the answer to. If you have no answer for a Q, then directly say that you are unaware of the answer rather than making guesses and trying to blabber anything. Even if you are thinking of making a calculated guess do let the panelists know about the same in advance.
Careers360: What were the most fascinating questions you were asked? Please share your answers too.
Shashank Kashyap- There was this question asked in my IIM A interview. The panelist asked me to cite examples of things that go high and low alternately. Me being an EEE engineer answered it saying AC current. I gave him some more examples but he was not convinced. He then asked me if he could help me to which I agreed readily. He told me "Your UG grades across 8 semesters". We all started laughing. He had asked this Q initially to just talk about my grades In college which alternated every semester. It was really a stress buster!
Careers360: How different is an IIM interview from a non-IIM one yet a top B- School interview? Are there major differences? (If you have appeared for IIMs)
Shashank Kashyap- There is not much difference for sure. It is just that you need to understand the USP of the institute and you have to convince the panelists that you are a good fit. USPs differ and hence your answers to maybe the same Qs may vary. I had appeared for both IIMs and non-IIMs but they were testing the same thing only just in a bit different ways. That is all!
Careers360: How did you go about the preparations for PI? Did you search or looked up some questions or practice mocks?
Shashank Kashyap- I went through past year Interview experiences. I read a lot of interview experiences on Quora. It actually helps you to get an insight regarding the types of Qs you may expect there. Also do appear for Mock interviews. It will help you find gaps in your PI preparation which otherwise you will come to know for the first time in the main interview itself.
Careers360: And finally, what are the attributes or qualities that the interview board looks for in a candidate while selecting him/her for final admission?
Shashank Kashyap- Based on my personal experience I think what the interview board is looking for an eagerness to learn and how genuine a person you are. Being street smart always helps in B-school interviews. Always stay humble in an interview and convince the panelists that you are the guy who deserves it the most. Do read about the institute that you are interviewing for because if you are being asked something about the institute and you don't have the answer for it, it creates a negative impression. Just give your best and speak in a respectful manner. Always keep a smile on your face and be confident. If the interviewer wants you on the campus, he would mark you accordingly in the interview and make sure you get through irrespective of your maybe average percentile and profile. On the other hand, if he doesn't want you on his campus he would mark you pathetically and make sure you don't get through even at a 100 percentile. So just be calm and confident. Try to treat it as a conversation and not an interview.
Top Colleges in India offering MBA
Questions related to CAT
Showing 9789 out of 9789 Questions