CAT 2021 Last Minute Preparation Tips by Expert - Only a few days are left for CAT 2021 to take place. During this time, it is not only the good preparation of the CAT exam which would help the candidates to score high percentile but also their ability as to how they handle the last-minute pressure at this time.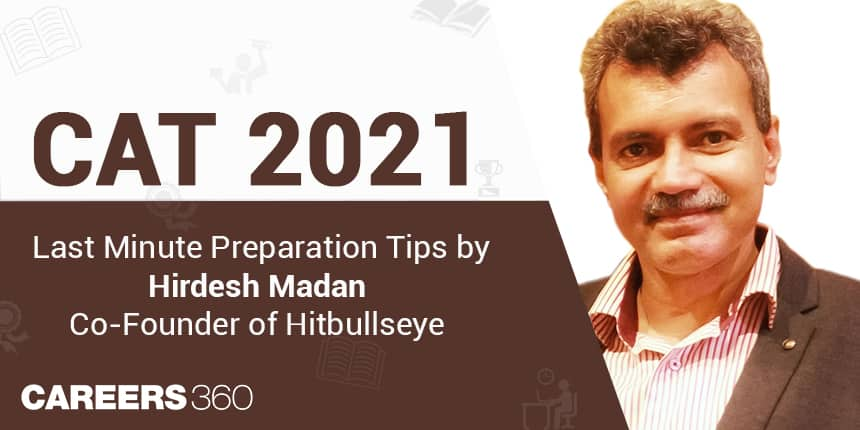 CAT 2021- Last Minute Preparation Tips by Expert (Hridesh Madan, Co-Founder of Hitbullseye)
With a few days to go for CAT 2021, it's time to calm down your nerves and add a final touch to your preparation. Here, you will find answers to all your last-minute queries and doubts related to CAT 2021 final strategy. Along with maintaining calm and composure, candidates need to keep in mind multiple things at the same time to maintain a balance between stress and preparation for the CAT exam.
Ongoing MBA Admission 2022
Things to do in the Last Days of CAT Preparation
By now, you must have gone through all the essential topics and practiced the corresponding
questions. However, CAT does carry a few surprises every time, which is why you need to take the exam with an open mind. The following points will help you cope with the uncertainties and crack the exam with a high score:
Keep it Simple- Many great performers tend to buckle under great pressure. So, it is best to keep things easy and not overdo any topic or type of questions at this stage.

Avoid Venturing into the Unknown- Unless a new topic is extremely crucial and carries a high weightage in CAT, you must avoid it. Learning anything at this time will just result in confusion on the final day.

Skim through the familiars- If you want to revise the formulas and tricks, do so through your pre-pared notes or flashcards. But refrain from spending too much time revising on daily basis.

Let go of discipline- No doubt, you would have followed a strict study schedule throughout your CAT preparation. Yet, the same won't help in the last few days. So, let go of your schedule and flow a little with your heart – infuse more of play and less of study in the final stage.

Partake in Leisure Activities- Since 3-6 months, you have been spending most of your time, energy, and focus preparing for the CAT exam. Now is the time to lighten up and have some leisure time. So, spend some time in things that you like and enjoy – watch your favourite movie, listen to your favourite song, dance to your favourite beats, reread your favourite book, etc. In other words, you need to defocus a little to stay completely focused on the D-day. With such fun activities, you get to relax your mind and regain the required clarity.

Stay healthy- Aspirants often tend to fall sick due to anxiety or lack of sleep in the last days to exam. So, it is important that you take good care of your health, get proper sleep, exercise and eat a well-balanced diet.

Sort out the necessary documents- As you know, you need to carry an admit card and ID proofs to the exam centre. It is always better to get all these documents ready beforehand, so you won't panic on the exam day.
Browse Top MBA Colleges Accepting CAT Score: Location-Wise
Mock tests provide a precise picture of the actual exam pattern, marking, and difficulty level. However, remember that the actual exam questions are bound to be a little different. So, it is good to take regular mock tests (preferably once every week), yet stay prepared for a bit of surprise. The best part about mocks is that they let you plan your exam-attempting strategy.
Quick Links:
India's Top NIRF-Ranked Private B-Schools
Appearing for CAT 2023? You must aim for these Top NIRF ranked B-Schools. Check out courses, fee, placements and more.
Download EBook
How many Sample Papers to solve in the last days of CAT preparation?
Ideally, you should avoid solving any sample or previous year CAT paper in the last week. This is because their results tend to give a fluctuation impression, which can impact your final performance. However, if you really need to take a mock to regain your confidence, try one at least 5-8 days before the exam day.
Top MBA Entrance Exams
CAT 2021 - Important Topics for Last Days
While you must not touch upon any new topics in the remaining 7 days, you must stay focused on the critical ones. As for the Quant section, the highest weightage belongs to arithmetic-based topics and the related application-based questions. The next important part is that of geometry and algebra.
In the case of the DI segment, you will need to use the arithmetic concepts while dealing with questions based on graphs, charts and tables. The reasoning part comprises the common logic-based puzzles, Venn diagrams, syllogisms, analogies, etc.
The RC passages are generally fetched from the economy, business, art, science or humanities-based area. The remaining verbal ability questions evaluate the basic tenets of grammar and check your vocabulary in different forms.
Top Colleges in India offering Management Courses