What after an MBA in Finance: Career, Scope, Salary and Jobs
What after an MBA in Finance - An MBA in Finance is arguably one of the most popular specializations chosen. It is opted for by most students pursuing an MBA - primarily because of its enticing career prospects. An MBA in Finance promises paying jobs that present opportunities to grow exponentially. It equips graduates with an amalgamation of both managerial and financial experience. So what are the job opportunities after an MBA in Finance? This article aims to expand on the opportunities and the necessary skills required to pursue those careers.
Latest Updates for CAT
1 day ago:

CAT 2022 exam tomorrow; know do's and don'ts to avoid any mistake for exam day. Click here.

6 days ago:

Click here to check CAT previous year questions and paper pattern.

15 Nov 2022:

Click here to know about the revision tips to ace CAT 2022 with 99+ percentile.
Stay up-to date with CAT News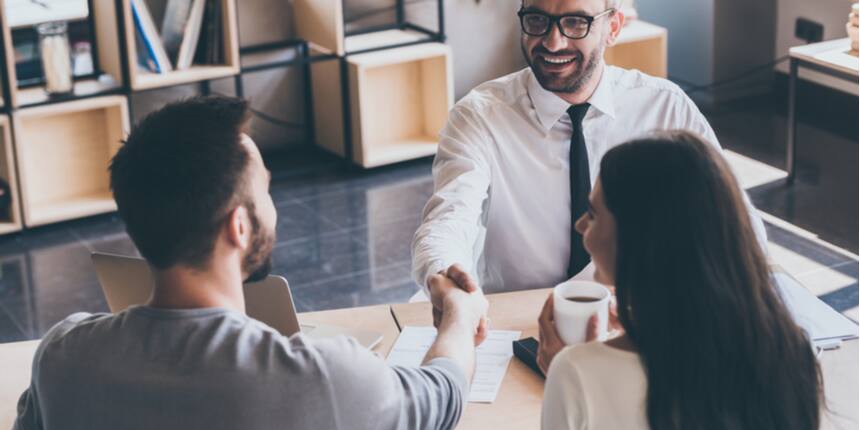 Resource Links for Online MBA
What are the career options after an MBA in Finance?
Money management is at the core of the career options after an MBA in Finance. Pursuing a finance specialization from a renowned business school opens the door to exciting career prospects. To list a few:
Investment Banking - A trendy career path among MBA graduates. Only an MBA can give you the required skill set and the business acumen to take on this job. Investment bankers are involved in mergers & acquisitions, restructuring of companies, raising capital through issuing securities, trading and engaging in strategic advisory for large corporations.
Known for being financially rewarding - investment banking requires a unique mixture of technical and soft skills to excel. It allows you to network with big players in the industry and helps to ease the transition to a different career if need be. It can be a taxing job - but handsomely rewarding in the long run.
Ebooks to read:
Private Equity - Another career requiring an excellent business acumen with a keen interest in investing. Private Equity companies acquire private companies and aim to increase their value over time to sell the company for a healthy profit finally. Financial modeling, knowledge of specific industries, and business expertise are a few essential skills.
Generally, people who break into PE have accumulated some experience in finance and a strong core skill set in financial modeling. The ability to identify investment opportunities is crucial. It can, however, be challenging to get into right after an MBA as firms look for prior PE experience/ core finance experience.
Management Consulting - A career most business school students aspire to pursue. Although an MBA isn't a necessary prerequisite to landing in consulting - it could certainly make it easier to break in and climb the ladder quicker. Problem-solving for organizations - to improve business performance is at the core of consulting while undoubtedly requiring skills like leadership, corporate strategy and good communication.
Knowing the right people can certainly help land interviews with top firms for consulting jobs. Management consulting can help you master a mixture of technical and soft skills, a skill set that can prove to be mighty helpful to advance in your career.
Corporate Finance - Corporate finance is all about optimum usage of a company's financial resources. It can involve raising capital, managing cash resources, capital structuring, decisions on dividend payouts, and making crucial investment decisions.
Knowledge of accounting and financial analysis is crucial. Certifications like the CFA can give the extra edge one needs to make it big. Known to be a stable career, corporate finance attracts a chunk of MBA graduates.
Entrepreneurship - Upon acquiring fundamental management knowledge with core financial skills - many MBA graduates fancy building their own business. An MBA gives them the skills required to give shape to their innovative ideas. An MBA in finance additionally equips them to deal with finances themselves. This is a deadly combination of skill sets to cut costs at the early stages of a venture - hence working out perfectly for graduates choosing this path.

Equity Research- A job involving tons of research on the overall market, individual businesses, and writing reports. Strong financial analysis skills while abreast with the latest market news are the necessary skills to pursue this career. Progressing in this career can lead to managing one's own portfolio/fund. Analytical skills to thoroughly understand a firm from its numbers are at the core of this job.

Corporate Banking - A super-set of investment banking - involves selling banking products to firms. Mergers, Risk management, and Liquidity management are some of the products. The opportunities here are immense - one could build a financial product or work on the front end as a relationship manager and sell these products to corporations.
Commercial awareness is key to cracking the growth ladder in this career.
Browse Top MBA Colleges Accepting CAT Score: Location-Wise
What are the jobs you can get into right after an MBA in Finance?
Some of the entry-level job roles are:
Other MBA Entrance Exams that you can apply for:
Top talent at the best business schools get into large corporations and get paid handsomely. A few of the recruiters at these B-schools are:
Goldman Sachs

Morgan Stanley

JP Morgan

BCG

Bain & Company

Mckinsey

KPMG

Deutsche Bank

ICICI bank

Barclays
Compensations/Packages
An MBA in Finance propels your career in terms of both - opportunities and compensation. The pay after graduation forms a massive reason for it to be the most popular specialization. The average salary after an MBA in Finance is close to 7 lakh per annum. An MBA in Finance from a top business school sees an average package of upwards of 20 lakh per annum at starting roles. The future after a finance specialization is undoubtedly extremely rewarding. Investment Bankers are paid the most among the careers mentioned above.
Summary
An MBA in Finance offers you the best of both worlds - a job that pays well combined with stability. The skillset that an MBA gives warrants the high pay, and the demand for people with the financial knowledge to keep companies running provides stability. Combine this with relevant experience - and the compensation packages skyrocket. As an added benefit, an MBA in Finance can help you manage your funds and secure your financial future as well.
Developing a solid network and connections in the world of finance will help increase your opportunities and grow quicker. An MBA in Finance puts you on the radar of big corporations and thrusts your career to the next level.
Questions related to CAT
Showing 10916 out of 10916 Questions