CAT 2019 Topper Pallavi Beniwal says," Academics, Industry Knowledge and Confidence matters holds the key"
CAT 2019 Topper Interview Pallavi Beniwal - It is not necessary that one always stays motivated while preparing for any competitive exam. It is our attitude towards stressful situations which shows how we deal with demotivation or difficult circumstances. CAT 2019 topper Pallavi Beniwal is also of the same opinion who made it to the IIM Bangalore with her impeccable efforts. She opines, whether it is an entrance exam or the selection process, time management plays a vital role and is key to success to ace both the former and later. Pallavi suggests that having strong command on basics can be proved as a bane for an MBA aspirant who is aiming to land up in any of the prestigious management schools across the country. In an exclusive talk with Careers360, she has shared her experience about the road to IIM Bangalore. Read the full interview to know the success mantra given by Pallavi Beniwal.
Latest: IIM Indore has released CAT 2020 admit card in online mode. CAT Mock Test 2020 has been released in online mode on November 5.
Stay up-to date with CAT News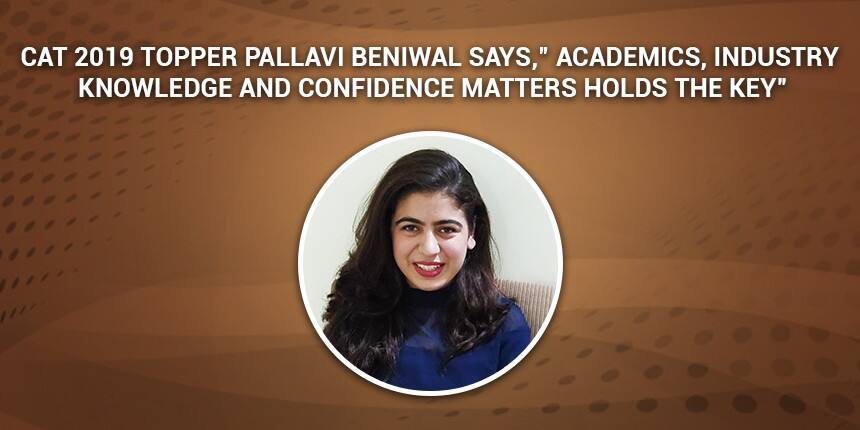 Careers360 - Congratulations on converting to your desired institute! How do you feel?
Pallavi Beniwal - Thank you very much for your congratulatory wish. It feels surreal to get what you have aimed for since years. In 2015, I was walking on Bannerghatta Road, Bangalore, when my sister showed me the IIMB campus entrance. Since then, I have had my laptop password as 'study' to remind me to prepare for getting this admit. I think now I can finally change that!! That's just on a lighter note, but yes, it feels great to be able to study from the best of faculty and peers at 'The Place to B.'
Careers360 - What is the selection procedure at IIM Bangalore?
Pallavi Beniwal - The selection process at IIM Bangalore consists of two stages.
The first stage is writing the Common Admission Test (CAT), which happens in November every year. First of all, a candidate must score more than the sectional and overall cutoff percentile. The WAT-PI shortlist has a few other components in different weightage fixed; CAT 40%, 10th board 20%, 12th board 10%, Bachelors 20%, Gender Diversity 2%, Work experience or professional course 8%.

Post the rolling out of WAT-PI calls, the candidates have to submit a Statement of Purpose (SOP) and two reference letters from their employers or teachers. The next stage is the Written Ability Test (WAT), Personal Interview (PI) and assessment of the quality of work experience. WAT is judged based on the content and style. During the PI, the candidate is judged based on the ability to fit in the program and benefit they can get from it. The final admits are offered after considering the different weightage of parameters; WAT 10%, PI 30%, CAT 25%, 10th board 10%, 12th board 5%, Bachelors 10%, Work Experience 10%.
Careers360 - Please elaborate on your overall experience of the selection procedure at IIM Bangalore.
Pallavi Beniwal - IIMB was the last one to release WAT-PI shortlists among ABC and so, had to wait a little longer. I was ecstatic seeing that I have been called for the next stage and shared the news with my dear ones. I informed my teacher and he said, "It's sad if you do not get a WAT-PI call, but it is worse when you cannot get the final admit even after given a chance."
IIM Bangalore asks for a Statement of Purpose (SOP) of 600 words and two References. The next task at hand was to draft a coherent SOP and submit within the deadline.
My Personal Interview (PI) was scheduled for 13th March 2020. Unfortunately, I developed a severe cold a day before the PI. This was the time when Coronavirus cases had started coming up in our country. I visited a hospital and got clarity on the same, but the cough was severe enough that I thought it would affect my PI. I tried getting it postponed, but that wasn't possible due to the time constraint.
Finally, it was the most awaited day. I had planned it many times before but not the way it turned out to be. I completed the document verification process by wearing a mask and sitting at the maximum possible distance from the other candidates. Then we were taken to the room where we completed our WAT process. I was fifth in my panel to be interviewed. The nervousness and excitement were at its peak. I remembered all the times I had dreamt of this day getting the opportunity to be interviewed for IIMB and that made me happy inside and provided me with confidence. The interview started on the discussion around my choice of studying Dairy Technology, work ex, people management, veganism, demonetization and Mathematics. The panelist seemed to be genuinely interested in knowing my take on several things. After the interview, I felt I had done reasonably well.
And now, when I have the admit, it does feel true that it was indeed the best interview of the season.
Careers360 - Which other B-Schools' selection procedure did you appear for? How was your experience in other institutes vis a vis in the institute you have converted?
Pallavi Beniwal - I had appeared for the interviews of IIM Ahmedabad, Bangalore, Calcutta, Lucknow, Indore, Kozhikode, Shillong, CAP, XLRI, IIFT, SPJIMR, MDI, and NITIE. This seems like a pretty long list, but this was my first attempt at CAT and other exams. Also, I knew it would not be possible to write again next year, I thought of writing all the major tests and luckily got the calls.
There were few interviews, after which I felt I had done a good job and a few others where I stepped out of the interview room thinking- you are not getting this Pallavi! But as it is said, even your worst interview can turn out to be a convert.
Know as much as possible about the current happenings in the world, India, and your field. I was asked questions from Mathematics in the Calcutta interview, whereas for Lucknow, the interview lasted only 4 minutes. Due to Covid-19, I appeared for four online interviews i.e., IIM CLI and NITIE.
Careers360 - What was your WAT/PI topic and how did you structure it? Did you find it easy or you had a difficult time writing/ thinking about the topic?
Pallavi Beniwal - My WAT topic was something on the lines of - India is one of the largest consumers of the internet in the world. This number is expected to increase further in the coming years. How can we leverage this opportunity to reduce the economic divide in the country? There was internet usage data provided along with this that made it easier to analyze in quantitative terms. I did not find the topic very easy, but over the next 4-5 minutes thought of some different perspectives that can be considered and structured my essay. Then I quickly wrote it down in neat paragraphs and was able to conclude within the given time.
Careers360 - Did you get external help or join a coaching school to prepare for PI and WAT? When did you start your preparations for it?
Pallavi Beniwal - I was a classroom student of TIME for CAT preparation. I needed a significant brush up as I had not studied much of Mathematics during the last six years. After the CAT exam, the answer key and your answer sheets are released within a week. You have an approximate idea of your percentile. But since I had a few other exams at that time, I did not focus much on PI prep. However, the reading on several topics from newspapers and articles continued through this phase. After the results were out, I maintained a doc where I would write the most expected questions like say something about yourself, career goals, why you want to join MBA, etc. These questions might never be asked to you directly, but it gives you a base on which you can further build and drive your interview. I used to share my responses with my friends and family members to ask what possible questions can come up from my answer.
I had given a few mock interviews at both TIME and IMS and worked on the feedback each time. To share with you, after my first mock PI, I was given a poor rating. Do not get afraid and try to improve each time.
Careers360 - Do you think that WAT/PI requires some separate preparation apart from what you mentioned?
Pallavi Beniwal - The first thing that any aspirant should do is to write a coherent story of their life, highlighting what they have done, how they did it, and what did they learn from it. This is a very tedious task and can even take days to complete. But trust me, it helps. Once you have done this, you will be good at going with the majority of the questions you can expect in PI.
Then you have to be thorough with your undergraduate study. Even people with 3-4 years of work ex are regularly asked questions on their academics.
If you have work experience, you should know how to explain your job easily and what value you add. If there are any significant projects that you have done, do mention them if you get the opportunity.
Be aware of your surroundings. Know all that is happening around currently in the world and you should have an opinion on the same. More than facts, they would want to know your take.
Give 3-4 mock PIs before your actual interview day as you will realize many mistakes while you are speaking and you will have time to work upon them.
Careers360 - Please share the WAT/PI topics which you were asked during the admission rounds?
Pallavi Beniwal - I had written most of them after my PIs to help the future aspirants.
IIM A (AWT): Air purifiers and masks are business making gimmicks for companies. Most of the electronic companies have released their products as per pricing set for the Indian market. Poor people cannot afford them. Whereas manufacturing creates pollution and releases emissions for which the poor also suffer. Hence, air purifiers should be banned.

MDI: Agriculture versus manufacturing; what should be the priority sector for India?

IIFT: For the powerful, crime is what others do.

IIM CAP: Should Surrogate advertising be allowed

IIM Kozhikode: Are religion and politics inseparable?

XLRI HR: A good HR manager knows how to walk his/her way out of any situation.

IIM S (CD): There is a manufacturing firm that is undergoing losses. There is an option to reduce the workforce. If not done immediately, then the company might shut. If it is done, then many people whose livelihoods depend on this job will be left jobless. You are the CEO of this firm. What would you do?

IIM B: India is one of the largest consumers of the internet in the world. This number is expected to increase further in the coming years. How can we leverage this opportunity to reduce the economic divide in the country?

WAT was not conducted for online interviews; CLI.
Careers360 - Are there ways to handle a situation when one has no answer to a question during PI?
Pallavi Beniwal - Yes, this situation comes very often. May be almost every interview would have questions which we are not aware of. The most important thing is not to get nervous at such times, and politely say that you are not aware of it. Even the interviewers would understand that. If there is a question about which you have some fair idea but are not entirely sure, you can say that you are not sure, but it should be something around... In my interviews, I even faced times when, after saying that I did not know the answer, the interviewers would not move to the next question and insist on answering it. This situation can become quite stressful, but do not panic. Take the most educated guess at that time, or say something humorous (this might not always work, gauge the situation first).
Careers360 - How must one approach a WAT/PI topic? Could you share some Dos and Don'ts for the same?
Pallavi Beniwal - There is a common and useful approach when it comes to WAT i.e., SPELT. You can analyze most of the given topics from a social, political, economic, legal, and technological angle. Once you have covered this, you will have the content ready for most of the topics and divide it as per the time, space and order of relevance.
Careers360 - Is there a particular kind of time management strategy that should be added to the candidate's skillset? Will it help in writing a complete structured WAT/PI?
Pallavi Beniwal - Yes, time management is crucial while writing WAT. In case of a 20 minutes WAT, spend the first 5 minutes to understand the topic and note your content in bullet points. This time maybe a few minutes less or more depending on your familiarity with the subject and how creative you can be. But try to cover, within 5 minutes. Then you can start writing with an introduction and neatly divide your essay into different paragraphs. Finish writing by the 18th minute and then you can relook to check for any mistakes. Don't forget to wear a watch on the day of the interview as many of them will not have wall clocks.
Careers360 - How did you feel when you faced the interviewers during the PI? Please share a few details like the size of your panel and your overall experience.
Pallavi Beniwal - Generally, there are 2-3 panelists in every PI. They can be college professors, alumni, or some industry experts. In my IIMB PI, I had a panel of three. Two of them were male and one was female. At first, I was a little nervous when I entered and greeted them, but soon I was comfortable. They were very calm while asking questions and gave me ample time to share my views on whatever questions were asked. My overall experience was very nice.
Careers360 - Which interview turned out to be the best one? Enlighten us about the finest one according to you.
Pallavi Beniwal - In my opinion, my IIM Ahmedabad and IIM Bangalore interviews were the best ones. IIMA was my second interview of the season after SPJIMR. I was quite nervous that day before being called for PI. I felt I had attempted AWT well. There were two panelists, a male and a female. The question that I did not want to come was why I left my job. As it turned out, this was the first question they asked. Also, this has been the first question in almost all of my interviews. I gave them an honest answer, and they took it. The discussion went around agriculture, my company, my roles, challenges, under graduation, current affairs and why MBA. There were questions on whether I have milked a cattle or what role my mother plays in agriculture. Overall it was a lovely experience and I felt I could make it.
IIM Bangalore experience I have shared in the previous answers.
Careers360 - What about the questions which you found difficult to answer? How did you reply to those?
Pallavi Beniwal - These situations would often come in interviews when you might not know the answers. The best is to not bluff unnecessarily at that time. The person interviewing you is highly knowledgeable and experienced. They will quickly gauge through your answers and it may have a negative impact. You can politely say that you are not aware of it, and that's what I said too. If I had some idea, I said I am not entirely sure about it, but I think it is something around.
Careers360 - So in those situations, was the panel easy or harsh on you? What should one do when s/he has no answer?
Pallavi Beniwal - It differed from panel to panel. Some of the panelists said it's okay and moved on to the next question. Some of them would keep waiting even after you have said you don't know the answer. This silence makes the situation very stressful as you are not aware of what to do now. Then they might prove you again to answer the same question. Please stay calm in such situations. Your stress should not be evident through your expressions. You can try making an educated guess or may drop the question. If they are harsh, that is to check how you perform under stress. You may provide some reasoning around why you did not know it, but that should not look like an excuse.
Careers360 - What were the most fascinating questions you were asked? Please share your answers too.
Pallavi Beniwal - In my IIMA interview, I was asked, if given a chance, which college would I choose between A and B. I replied B and stated my reasons for the same. I would not say everybody should say this but it worked for me. Yet, the interviewers can easily judge if you are honest or not.
In my CAP interview, I was asked about the chance that I would choose any of the nine colleges and leave ABC. I replied, saying that all the colleges are doing very well, maybe currently, they are not at par because they were established years later, but the way they have been performing, it will be an excellent opportunity to be a part of these institutes well.
In one of the interviews, I was asked the difference between a cow and a buffalo. After saying all possible differences that I could come up with from their scientific names, their geographical location, milk composition, body structure differences, heat resistance abilities, I was still not able to convince the panelists. I always wonder what the answer should have been!
In one of the interviews, I was asked by the owner companies of many different food brands. In another one, about women who have won Nobel Prizes and women who are heads of countries.
Careers360 - How different is an IIM interview from a non-IIM yet top B-School interview? Are there major differences? (If you have appeared for IIMs)
Pallavi Beniwal - There are not many differences. I can think of a few now as:
IIMs generally consider only WAT and PI in the second stage. Other B-schools may have Group Discussion (GD) along with these components (XLRI, IIFT, MDI, etc.)

There might be a difference in the way interviews are conducted like SPJIMR conducts Group Interview (GI), where around five candidates are interviewed in a group.

In my case, I observed that non-IIM interviews were shorter in duration.
Careers360 - How did you go about the preparations for PI? Did you search or look up some questions or practice mock PIs?
Pallavi Beniwal - As I had mentioned before, I appeared for mock PIs and took help. I prepared a list of most frequently asked questions and made the basic structure of those answers in a file. I read several interview experiences on Quora, Pagalguy GDPI anthology, and watched YouTube videos. These experiences can be intimidating because you are not aware of so many things that have been asked to other candidates. You can watch them only to have some ideas but don't be afraid. Your interview will follow based on your profile, your subjects, and your experiences. I took help from my friends, seniors, family members, and teachers. Some of the colleges assign mentors who can help you with interview prep and any doubts that you may have. Please speak to your mentors and get their feedback. If possible, you can ask them for your mock PIs. Additionally, most of the colleges share a WAT-PI kit with domain knowledge and expected interview questions. You will find many questions there and can prepare accordingly.
Careers360 - And finally what are the aspects or qualities that the interview board looks for in a candidate?
Pallavi Beniwal - I will try to answer this question from what I have observed:
Ability to communicate effectively

Clarity of thoughts

Confidence

Presence of mind

Awareness of current happenings and your opinion on the same

Academic knowledge

Knowledge of your industry

Attitude towards stressful situations
Quick Links-
CAT 2019 Topper Madhuporna Pal Who Made it to IIM-C says, "Practice puts brains in your muscles"
CAT 2019 Topper K. A. Althaf Who Made it to IIM-B says, "Dream Big & The Universe Will Help You"
CAT 2019 Topper Amit Gupta says "Don't lose your composure," makes his way to IIM Lucknow
Questions related to CAT
Showing 9972 out of 9972 Questions