10 Tips to Ace MBA Interview
With the admission season starting soon, here we share ten tips to ace an MBA interview, shared by Great Lakes Institute of Management Admissions Director, Gautam Lakhamraju. These tips will guide you about the steps to follow in order to crack the Great Lakes Chennai selection process.

You must have appeared in some of the top MBA entrance exams by now, like CAT, IIFT, MICAT, but, the battle is not over yet- in fact, it has just started. Now comes the time for the most critical part- the Selection Rounds, and importantly the Personal Interview (PI) round.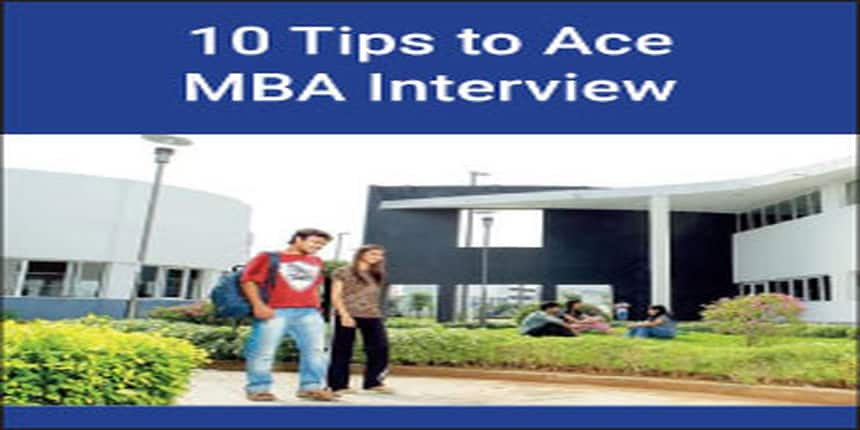 The PI is the most crucial component of the admission process and if you have received a call from a business school. However, it is still too early to celebrate as one needs to do well in the interviews to get a final call irrespective of how strong their application is.
So, how can you impress the school during the PI round? Here are some tips that might help you in your MBA interview.
1) Preparation is the Key to Success: It might sound like a no-brainer, but the key to successfully cracking a PI round lies in how well you prepare for it. Prepare your answers for the generic questions like, why do you want to pursue MBA, why choose this particular school, what do you bring to the school community, your past achievements, etc. You'll have to train yourself to give informative answers naturally and confidently and for this you'll have to review your application thoroughly. Even a little bit of hesitation or a hint of rehearsed speech can create a negative impression.
You May Also Like:

2) Build a Great Story: It is important to make a list of at least 5 key points that you wish to convey to the interviewer. Then, strike them off of a mental checklist as you talk about them as the interview progresses. Preparing for this ahead of time ensures that you don't leave the interview room regretting about missing out on a key aspect that could have been crucial for your selection. An MBA interview is like a business transaction, you have to make sure that the customer (interviewer) knows about your Unique Selling Proposition and for that, you'll have to be proactive instead of waiting for them to pull the information out of you.
See Also:

3) Practice your Answers: The interviewers are highly experienced professionals and can easily identify whether your answers are genuine or you are just reciting the crammed up phrases taken from all the prep sites. Therefore, practice the common interview questions with your friends. Mock interviews will help you reach the stage where you are clear and comfortable about the point that you wish to make but are no longer struggling to find the right words. This will help you interact naturally with the interviewer and you can expect a lot of good questions from him/her that will enhance the chances of your selection.
Students also Liked:

4) Listen to Understand and not just to Reply: It is easy to get excited about the great answer you are going to give even when you have listened to just half of the question. In that excitement, candidates generally make the mistake of giving a confused or incomplete response. So, instead of jumping ahead to answer the question, first listen to the question carefully and then prepare your response. Even taking a moment or two to compose your response is no crime in the eyes of the interviewer. On the contrary, it gives an impression of a calm and thoughtful candidate.
Read Also:

5) Develop a Rapport with the Interviewer: The chances of you getting selected in an interview increase exponentially if you strike the right chord with the interviewer/s. But, a seamless conversation does not mean that you can get casual with your responses nor does a friendly environment mean that you can lower your guard. Try to be as professional and confident as you can possibly be without sounding arrogant. The trick to build a rapport with the interviewer is to answer the questions honestly and sincerely while making them interesting. And if you are able to successfully do that, half the battle is won.
6) Lead the Conversation towards your Strengths: A strong candidate is the one who can direct the conversation to his strengths without the interviewer realising it. In order to do this successfully, you answer a question in such a manner that it briefly refers to something you can showcase – achievements, strengths, recognitions, etc. Then, there is a high chance that the follow up question will address that subject and you'll gain the control to shape the interview. However, it is advisable to do this carefully and not give absurd or completely off-topic references and responses.
Read Also:
7) Stay Calm in Adversity: Remember the fact that you have been called for an interview because the school believes you can be a great addition to its student base, but there can be a couple of issues that they might want to clarify in detail. So, keep calm and keep giving confident and positive responses if questions keep coming back towards one particular issue. Some schools want to see how you react when directly confronted with a weak point or how you behave under pressure. So, be ready for confrontation, but do not lose your composure. Again, identifying those weak areas and having a convincing answer on how you worked on them can actually help you turn adversity into opportunity.
8) Don't lie in your CV: Again, this might sound like a no brainer but you'll be surprised at the number of students who make this mistake and it effectively leads to their rejection. As mentioned earlier, the interviewers are experienced professionals and they can see right through most of the lies. If you are unable to back up the facts mentioned in your CV, then that will be the end of your interview and even a slightest bit of hesitation while answering a question in which you are supposed to be good at (as per your CV) will be enough to raise red flags.
Quick Links-
9) Ask Intelligent Questions: An MBA interview is a two-way process and your failure to ask relevant and intelligent question about the school and the program can work against you. You can discuss your interests, relevant hobbies and community activities and how the institute can help you in pursuing them. You can also ask about the faculty, research or networking opportunities in the area that concerns your studies. Whatever you do, make the conversation interesting and let the interviewers know that you are serious about this program.
10) The Basics: Just like any professional interview, it is important to reach the venue before time to efficiently collect your thoughts and get freshen up, so that you don't appear shabby due to the travelling. Also, it goes without saying that you must be dressed in your best professional business attire and must have a confident and positive body language. The handshake must be firm and do conclude the interview with a polite thank you!
You may also Like:
Other Popular Universities
Read More:
Great Lakes Chennai Updates and Articles
Questions related to Great Lakes Chennai
Showing 92 out of 92 Questions