Rishabh Dusad, who made his way to IIM Lucknow says, "Reading Newspapers is sufficient to take the WAT"
CAT Topper Interview, Rishabh Dusar who made his way to IIM Lucknow - Rishabh Dusar, currently employed at Barclay as a Tech Analyst in the Chatbot Team made his way to IIM Lucknow on the basis of CAT. Rishabh elaborates on his overall experience through the selection process of IIMS and other top B-schools. Rishabh Dusar CAT 2019 topper converted to various IIMs and top B-schools and finally decided to take admission in IIM Lucknow. Due to COVID 19, there was change in the selection process. Rishabh shares his online selection process experience. Talking Rishabh emphasis to stay updated on current affairs to be able to tackle WAT and PI rounds. Rishabh was shortlisted for the selection process of various institutes like IIM Lucknow, IIM Indore, SPJain, MDI G, FMS, IITB, NITIE, IIFT, and all other new IIMs. He converted for all the above mentioned B-schools except for IIFT.
Latest: Candidates can download CAT 2020 admit card from October 28. Get details related to CAT Mock Test 2020.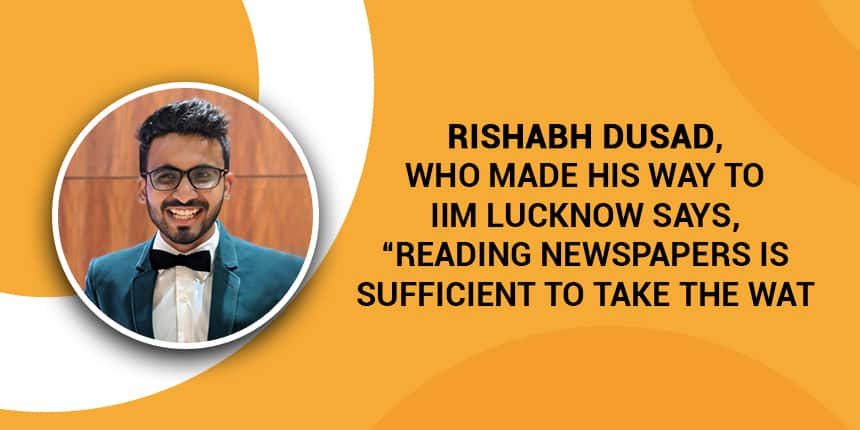 Further, Rishab shares his experience by stating that, "there are a few questions that are difficult to answer but not succumbing to those questions and finding your way out is a big differentiator when it comes to making a mark in the minds of interviewers". Read this complete interview to know how to tackle the difficult situations in front of the interviewer and tips to prepare for WAT rounds.
Careers360: Congratulations on converting to your desired institute! How do you feel?
Rishabh: Thank You so much Careers360 for the wishes and this opportunity. I have been in seventh heaven since the time (23rd May) I saw the admission confirmation on the IIM Lucknow Admission Dashboard. It feels really good to get that something that you've been aiming for a long time. I am filled with gratitude for the people who supported me in this journey and am excited to experience the Life at hel(L).
Careers360: What is the selection procedure at IIM Lucknow?
Rishabh: The selection process at IIM Lucknow like most of the IIMs is a two-phased process.
Phase I: Shortlisting the candidates for the Written Ability Test (WAT) and the Personal Interview (PI) Round. Candidates are shortlisted on the basis of their CAT Score, Past Academic Performances, and the Duration of their Work Experience. Using these metrics, a composite score for each candidate is calculated and the shortlists are released depending on the cutoffs for different categories. The detailed break down of each component is available on the Institute Website.
Phase II: Rolling out the Admission offers after conducting the WAT and PI round. Once the candidate receives the shortlist, he/she is required to fill out a Personal Data Form on the institute portal with due diligence. After this, the candidate needs to give a Written Ability Test and a Personal Interview on the scheduled date provided by the institute. Now, based on the previous details and the WAT and PI scores, a composite score is calculated and the final offers are rolled out. The detailed breakdown of each component is available on the Institute Website.
Note: Because of COVID-19, the WAT component was scrapped from calculating the final composite score for this year.
Careers360: Please elaborate on your overall experience of the selection procedure and your interview at IIM Lucknow?
Rishabh: Initially, my interview was scheduled on the 31st of March in Mumbai but due to the current situation, it was rescheduled to 15th May at 11:00 am in an online mode. As I already mentioned, the WAT was canceled, so the PI was the only controllable parameter in my hand to secure the IIM Lucknow Admit.
The interview began with two panelists having a casual conversation regarding my hometown and the situation of COVID-19 there Then they scanned through my undergraduate(BTech in CSE) mark sheets and asked me 2-3 questions each about Data Structures and Algorithms, Operating Systems and some Managerial Subjects with some cross-questioning.
Then, for the next 8-10 odd minutes, the interview revolved around my current job in Barclays as a Tech Analyst in the Chatbot Team. The panelists asked me questions about Artificial Intelligence and Machine Learning(different types of ML and algorithms)
The interview ended with me asking them a question which I've mentioned in the following article.
Careers360: Which other B-Schools' selection procedure did you appear for? How was your experience in other institutes vis a vis in the institute you have converted?
Rishabh: I am a General Engineering Candidate with decent academic scores (9/9/8) and near 2 years of Work Experience. I had scored a modest 99.52 percentile in CAT 2019 and had calls from IIM Lucknow, IIM Indore, SPJain, MDI G, FMS, IITB, NITIE, IIFT, and all other new IIMs. I attended all the interviews which were conducted (FMS being the nemesis) and converted almost all of them. My experience in all these interviews was almost the same with the interviews revolving around my under graduation specialization, my work experience at Barclays and a few questions around General Knowledge
Careers360: What was your WAT topic and how did you structure it? Did you find it easy or you had a difficult time writing/ thinking about the topic?
Rishabh: As I already mentioned, the WAT was canceled for the IIM Lucknow process but I wrote some WATs for other interview processes. Almost all the topics were focused around Current Affairs and some were Abstract ones. Reading Newspapers is sufficient to take the WAT. There are enough articles from experts present on the web about how to write a WAT. My piece of advice on this would be to form a structure about the write up in a couple of minutes in your mind and then put forward your thoughts backed up by supporting facts.
Careers360: Which interview turned out to be the best one? Enlighten us about the finest one according to you.
Rishabh: IIFT interview was my very first one and it was the best one according to me. After casual interaction, the panelists went through my personal data form and asked me the one thing any candidate can talk about for hours, the Fest I lead in my college. From that point on the interview was all about the Annual Boat Club Festival of College of Engineering Pune, Regatta, and questions around how I became the secretary for the event to the experience of leading a huge team to water sports Rowing and Kayaking. I loved the interview and was really happy after it. But to my surprise, I never converted IIFT.
Careers360: What about the questions which you found difficult to answer? How did you reply to those?
Rishabh: In my opinion, in every interview, there are a few questions that are difficult to answer but not succumbing to those questions and finding your way out is a big differentiator when it comes to making a mark in the minds of interviewers. In my case, I asked them for some time to think about it then came up with a strategic answer which was justifiable in case they come up with any follow-up questions.
Careers360: So in those situations, was the panel easy or harsh on you? What should one do when s/he has no answer?
Rishabh: Fortunately, none of the panelists were harsh on me in any of my interviews. In case you don't know the answer to any question, you admit it to the panelists. If they insist on you answering the question, ask them if you can take a guess and take one if they allow.
Careers360: What were the most fascinating questions you were asked? Please share your answers too.
Rishabh: It was a series of psychological questions that I was asked. I've summarized them below:
Q1) Are you in full control of your life?
Answer: Yes Sir, Absolutely.
Q2) Do you think fate has a major role to play in your life?
Answer: Sir, I'd like to believe so.
Q3) Do you think, these statements can go together?
Answer: I answered in literally two seconds: 'Yes, Sir. They can go together'. After answering the question, everyone in the room started laughing. I still don't know the correct answer to this question. I feel the answer to this question could be justified satisfactorily in both directions.
Also read:
"Right Attitude plays pivotal role in PI," says Ankit Desai CAT 2019 Topper who made his way to IIM Ahmedabad
Careers360: How different is an IIM interview from a non-IIM yet top B-School interview? Are there major differences?
Rishabh: Honestly, apart from the SP Jain interview process, I didn't find any difference between any other non-IIM and IIM B-School Interview. As for the SPJ interview process, I really loved how the institute has materialized the concept of group and ethics-based interviews.
Careers360: How did you go about the preparations for PI? Did you search or look up some questions or practice mock PIs?
Rishabh: I started preparing for my WAT and PI since the first week of January. The very first and basic thing I did was started reading newspapers thoroughly. There was a big difference between the way I read newspapers before CAT and after CAT. Before CAT, my sole focus was to increase my reading speed and try to understand as much as possible whereas, after CAT, the focus shifted to deriving opinions from the articles about the current affairs and noting down key facts and figures which will eventually help me in justifying my opinions in the WAT and PI.
Careers360: And finally what are the aspects or qualities that the interview board looks for in a candidate?
Rishabh: A fun fact about this question is that I asked this very question to my IIM Lucknow interview panel. They responded by saying that the key thing they're looking for in any candidate is Honesty. They're trying to look for a candidate who can give them honest answers and not sugar-coated or coaching institute answers. Another quality they're probably looking for is the ability to put forward your thoughts clearly and in a precise manner.
Also Read:
"Confidence, Compassion & Emotional Quotient needed to get into IIMs" says Anushree Naik CAT 2019 Topper
Questions related to CAT
Showing 9640 out of 9640 Questions