XAT 2021 Topper Malav Shah Says, "Do not fall in the trap of attempting more questions"
XAT 2021 Topper Interview: Malav Shah, XAT 2021 topper and 99.465 percentiler is currently pursuing undergraduate studies in Computer Engineering at LD College of Engineering. XAT 2021 Topper Malav Shah is of the view that preparation for CAT helped him to crack the XAT exam with a good percentile. He did not take up any coaching while preparing for XAT. In an interview with Careers360, XAT 2021 topper Malav Shah talks about his exam preparation tactics and section wise strategy. Read the full interview of XAT 2021 Topper Malav Shah to know vital tips for XAT preparation.
Stay up-to date with XAT News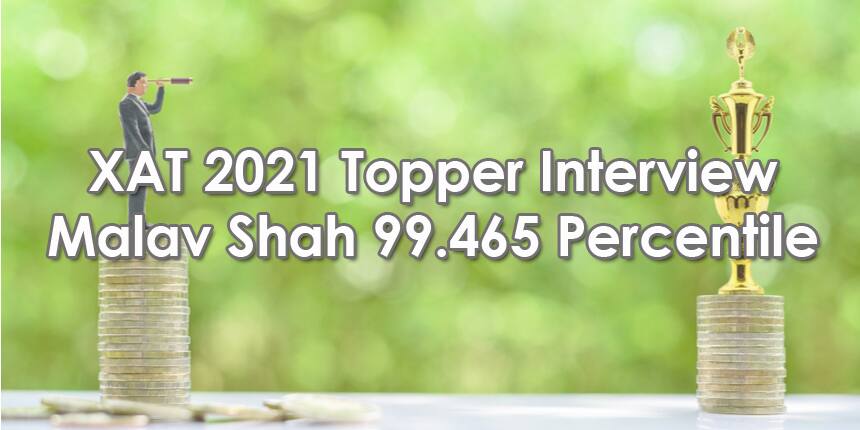 Also Check:
MBA Colleges in India Accepting XAT
Careers360: Why XLRI over other B-schools?
Malav Shah: XLRI college, Jamshedpur is one of the best colleges to study management in India with its vast alumni base, excellent pedagogy, and experienced faculty members.
Careers360: Tell us something about yourself?
Malav Shah: My name is MALAV SHAH. I am currently pursuing my undergraduate studies in computer engineering at LD College of Engineering. My father is a small businessman in the city of Ahmedabad and my mother is a housewife. Due to my father's business, I was greatly influenced by the various mechanisms which governed business and management and hence wished to pursue management studies as my post graduate course.
Careers360: What were your XAT 2021 overall and sectional percentile? Apart from XAT, which other entrances you appeared for, and what were your percentiles?
Malav Shah: I scored an overall 99.465 percentile in XAT 2021. My sectional percentiles were as follows:
VALR: 91.3183

DM: 99.5

QUANT 97.8
I also appeared for CAT Examinations and scored a 99.43%tile with a sectional score of
VARC:97.7

DILR:98.32

QA:98.74
I also appeared for the NMAT examination and scored 269 marks in it.
Careers360: When did you start preparing for XAT? Please share in detail the month-wise preparation strategy you followed.
Malav Shah: There is a huge overlap between the aspirants who appear for CAT and XAT exams and also between the course of XAT and CAT. Hence the preparation for CAT should be more than sufficient to crack XAT (at-least in the 2 common sections).
For an aspirant who is only preparing for XAT, he should start reading as well as interpreting as many articles as possible. According to me, any aspirant who is reasonably well versed in English will take a maximum of 90-100 days to be able to master the skill-sets required to crack XAT.
The concepts tested in the QADI section of XAT test the fundamental concepts of our school life and one has to just revisit his basics in order to ace this exam. The DM section of XAT is based on the case studies as experienced in real life and some daily practice in this section is more than enough.
My preparation strategy for each section was
FOR VALR:
As I was comparatively weaker in this section, I divided this section into 2 parts. i.e. The RCs and the CR part.
One should try to identify his strength in each section and try to maximize his score there. As RCs was my Achilles heel, I practiced a lot of CR questions and managed to maximize my score in this portion of the section.
FOR DM:
This is a very subjective and innovative section that is unique to only the XAT exam. Hence to master this section, one must be unbiased in his viewpoint and be as objective as possible in solving this section.
One must solve at-least 5-6 sets each day and more importantly understand the viewpoint of the author and incorporate that ideology in further questions. Here, solving as many questions as possible is the key as each and every set of DM sections is unique to each other but the thinking and solving process remain the same.
For QA:
As it was my stronger section of the 3 and have prepared this section extensively during my CAT prep, I used to just regularly brush up my concepts and formulas once every 2 days and would revise geometry regularly as its weightage in XAT is comparatively high as compared to other management exams.
Careers360: Which is the coaching institute that you joined. Was it of any help? Do you think students should focus more on self-study rather than go in for coaching?
Malav Shah: I was not a part of any coaching classes particularly for the preparation of XAT. I do not feel an average aspirant who has a good understanding of English needs a coaching institute for preparation of XAT.
According to me, the best source to practice would be the previous year's XAT question papers which are available widely on the internet. That practice along with regular mocks would be more than enough for any candidate,
Mocks play a huge role in the practice of any management exam as one learns both new questions, discovers new ways to solve such questions, and most importantly learns to manage his time efficiently during the test which will greatly help him during his actual exam.
Careers360: How did you manage your time during the test? What were your strong and weak areas? How did you tackle your weak area of the test?
Malav Shah: On D-Day, I decided to allocate my time into 5 time-durations. Firstly I started with the verbal section and gave nearly 45 minutes in this section and was able to solve around18 odd questions.
Then I moved to the DM section, spent another 50 minutes, and managed to solve 6 sets there. And then I went to my strongest section and managed to solve around 25 questions in this section in 65 minutes. Then I again went back to the DM section and solved the lone remaining set and then moved back to the verbal section to solve some remaining doable questions.
The verbal section was my Achilles heel in each and every management exam. So I started to regularly read and understand the gist of the articles from various sites like AEON, PROJECT SYNDICATE, and HINDU. Hence this greatly helped my comprehension capabilities. One should identify his strength and weakness by giving a mock or two and begin to start working on his weakness right away.
Careers360: Your message/tip for this year's XAT aspirants?
Malav Shah: My humble message to all XAT aspirants is to not fear this exam due to its verbal heavy pattern as is the case with many of the aspirants. If one has a basic grasp of understanding, one can easily score in the higher '90s in this exam and also do not fall in the trap of attempting more questions due to the policy of XAT of rewarding negative -.10 after 8 leaved questions. As the negative marking for an unanswered question is quite huge here.
Also Read:
XAT 2020 Topper Vandan Shah Interview
Questions related to XAT
Showing 932 out of 932 Questions