What after MBA in HR: Top Recruiters, Job Opportunities, Scope, Salaries
What after MBA in HR: Human Resources, or in other words HR is the process of hiring, screening, and training new employees. An HR manager ensures the right candidates are hired and allotted to the required departments of the company. He knows when the company needs to update policies and when to conduct benefit analysis. He also ensures timely disciplinary actions are conducted. The payroll process also comes under the jurisdiction of HR.
Stay up-to date with CAT News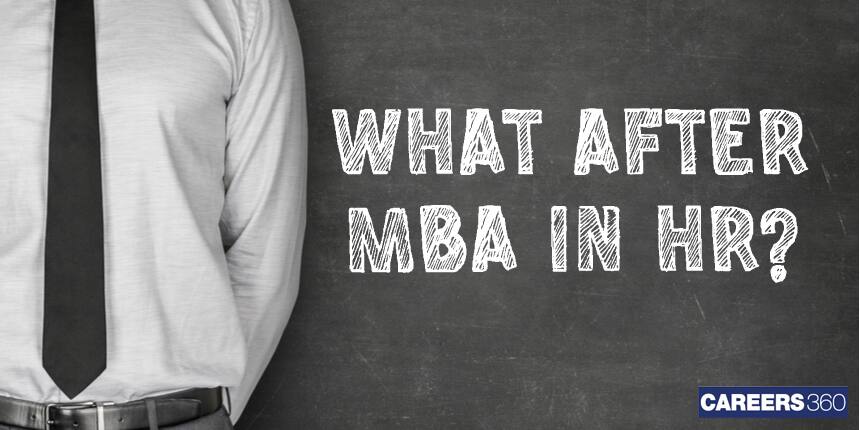 In India, many B schools are offering courses in HR management. The top B schools such as the IIMs, the XLRI, and NMIMS all offer the specialization in HR. The graduates are trained in managing the manpower of the organization. They uphold the company's values and culture while encouraging new joiners to do so too.
Other MBA Entrance Exams that you can apply for
What after MBA in HR: Eligibility Criteria and Course Structure
A graduate aiming to be an HR manager meets the eligibility criteria when he clears the basic MBA requirement:-
An average of 50% pass marks combined or aggregate 50% percentage in all subjects during undergraduate which varies as per the admission requirements of the b school one is applying to.

The candidate must be a graduate of a recognized college or university.

The candidate must have qualified in competitive entrance exams such as CAT, XAT, GMAT, SNAP, etc. Candidates must check the respective exam conducting websites for the registration dates of the examinations.

If a student falls under the SC/ ST/ OBC category, they are given some concession which varies in B schools. The candidate must check this status on the B school website before applying.

Specifically for MBA specialization in HR, the candidate must go through the website/s of the respective B school/s beforehand. This is to ensure one understands the course structure and additional entrance requirements, if any, before applying.
Also check;
Since HR is a specialization under the general MBA, the core subjects remain the same as any MBA. But the specialization subjects are divided into core specialization and electives. Some of the subjects are:-
Human Resource Management

Human Resource Information System

Human Resource Planning and Development

Quantitative Techniques in Human Resource Management

Economics of Human Resources

Organisational Change and Development

Compensation and Reward Management

Individual behavior in Organisation
These subjects and more train the graduates in mainly seven skills needed for an HR Manager, namely:-
Leadership and Guidance

Decision making during critical times

Being proactive

Advising and Coaching

Planning and Execution of employee and corporate programs

Impeccable Communication

The ability to understand human behavior
This ensures that the graduate is the ideal candidate for any HR positions job at all kinds of firms and organizations. Both psychological and management skills are enthralling skills in HR. Any work environment requires not only a proper organization but also a free environment where the employees have a safe and comfortable workplace.
An HR manager ensures that all comforts of the employees are taken care of. Starting from hiring, planning events, organization of workforce, handling employee issues, and much more. Therefore, an HR manager is a must for any firm.
Top Colleges in India offering MBA
Jobs after MBA in HR
Time commitment, high organizational and leadership skills are what all firms require from HR. Be it a small or a multinational company, an HR manager is needed for overseeing the smooth functioning of the workforce. Some of the common roles that students take up after graduating their MBA in HR are:-
Human Resource Manager

Human Resource Consultant

International Human resource professional

Human Resource Generalist

Human Resource Specialist IT

Employee Education Consultant

Director of HR Training and Development

Staffing Director

Technical Recruiter

Employee Relations Manager

HR Manager Compliance

HR Professor

Employee Performance Manager
These graduates, if they are from the top B schools, get a starting salary package of around Rs 25 Lakhs and above per annum. The range of salaries is from Rs 25 Lakhs to Rs 52 Lakhs per annum. Not only do the graduates have fantastic salary packages but also see booming career options and career growth. Some of the top companies which recruit the graduates are:-
Amazon

Apple

JP Morgan

Reliance Industries

KPMG

WIPRO

Infosys
Other Top MBA Entrance Exams
If a student does not wish to pursue any of the streamlined jobs, yet wants to retain the training of an HR manager, he can take up other job opportunities as well. Since an MBA is a gateway for opportunities, having parallels careers to prior education is viable. Although unconventional, these jobs require similar skill sets and have similar career paths. Some of these jobs are:-
Career Counselor

Wellness Program Coordinator

Professional Resume Writer

Life Coach

Human Resource Consultant

Payroll Specialist

Social and Community Service Manager
The salaries of these jobs range from Rs 15 Lakhs to Rs 40 Lakhs per annum. There is high scope of growth in this unconventional career path. In addition, the salary prospects also rise with experience and time. Internationally as well there is a high demand for these roles.
Also check;
Study after MBA in HR
If a student wants to pursue education further, he may take up courses that allow skill refinement. Short term as it may be, these courses provide a knowledge edge to students.
Some of these courses are:-
Society for Human Resource Management Certification

Certified Talent Management Practitioner Program

SAP HR Certification
These courses allow graduates to pick up practical skills along with business services. Thus allowing wholesome training.
Know more about;
Career after MBA in HR
HR is one of the most demanding positions in any firm. Though there may be another workforce to reach the company's goals, there needs to be a manager for this workforce to ensure maximum utility and output. For this, HR ensures the top candidates are recruited and trained accordingly. Along with that, HR also ensures a good working environment is created for the workforce.
In India and as well as abroad, the job of an HR is challenging and crucial. Every firm is in a constant state of operation. HR needs to make sure that nothing interrupts the operations and also needs to hire and or workforce as and when needed. The salaries of HR abroad have a median salary of Rs 75 lakhs and above per annum. All in all, the career and salary growth in the HR field are promising.
Browse Top MBA Colleges Accepting CAT Score: Location-Wise
Questions related to CAT
Showing 10058 out of 10058 Questions