IIFT Syllabus 2022 - National Testing Agency, the conducting body of IIFT does not officially release the IIFT 2022 syllabus. However, based on the previous years' question papers and the trends followed candidates can get familiar with the topics of IIFT syllabus 2022. The syllabus of IIFT includes topics from Verbal Ability & Reading Comprehension (VARC), Quantitative Aptitude (QA), Logical Reasoning & Data Interpretation (DILR) and General Knowledge. Knowing the exam syllabus in detail will help candidates in a better preparation. IIFT is a national level entrance exam for admission to MBA (IB) programme at various IIFT campuses. Read the article to check section-wise IIFT syllabus 2022, best books, study material and more.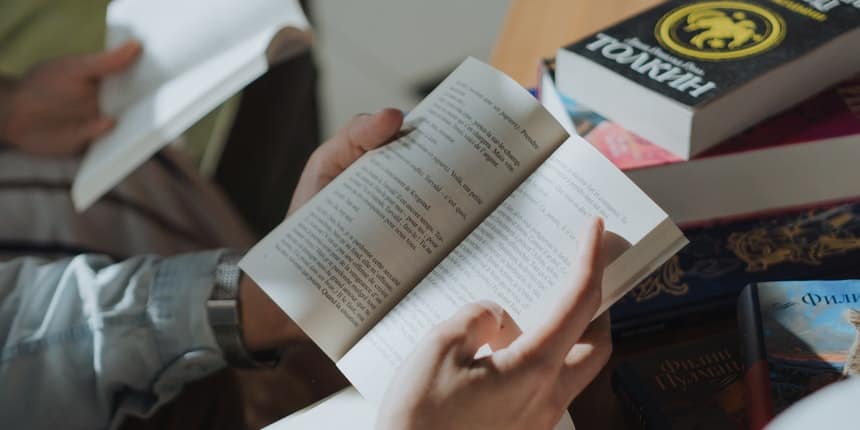 Also Read -
Section wise preparation strategy for IIFT
IIFT Syllabus 2022: Sectional Distribution of Questions
Candidates appearing for IIFT 2022 can check the list of sections from which questions will be asked in IIFT exam, the number of questions and marking scheme. Check the table given below:
Topics in IIFT 2022 Syllabus
| | | |
| --- | --- | --- |
| Section | Total questions | Mark awarded for each correct answer |
| Verbal Ability & Reading Comprehension | 35 | 3 |
| Quantitative Analysis | 25 | 3 |
| Data Interpretation & Logical Reasoning | 30 | 3 |
| General Awareness (GK) | 20 | 1.5 |
| Total | 110 | -- |
Section-wise IIFT Syllabus 2022
In order to be well familiar with the topics that are asked from each section in IIFT exam, we have given in detail the following syllabus. Check the tables given below.
IIFT Syllabus 2022: Verbal Ability & Reading Comprehension
Section Name

Topics

Verbal Ability

Para Formation Questions

Fill in the blanks

Synonyms-Antonyms

Prepositions

Analogy

Phrases

Grammar

Spellings

Matching word meanings

Figures of speech

Odd one out

Reading Comprehension

Current Affairs – Business & Economy

Social Scenario in the country

International happenings and their impact on India

Opinion Based Abstract topics

Fact based data driven topics
IIFT 2022 Syllabus for Quantitative Aptitude
| | | |
| --- | --- | --- |
| Percentages | Number System | Binomial Expansion |
| Arithmetic Progression | Simple interest | Ratios |
| HCF & LCM | BODMAS | Median |
| Compound interest | Arithmetic Mean | Coordinate geometry |
| Standard Deviation | Vectors | Set Theory |
| Instalments/ payments | Permutation & Combination | Mode |
| Trigonometry | Mensuration | Probability |
| Clocks | Time, Speed, Distance | Logarithm |
| Geometric Progression | Averages | In- equations Quadratic |
| Profit & Loss | Venn Diagram | Calendar |
| Geometric Mean | Ratios & Proportions | Linear Equations Algebra |
| Geometry | Work & Time | Harmonic Mean |
IIFT Syllabus 2022: Data Interpretation and Logical Reasoning
| | | |
| --- | --- | --- |
| Decision Making | Series | Data Structures |
| Blood relations | Coding-Decoding | Alphabetical Series |
| Syllogisms | Verbal Logic | Visual & Critical Reasoning |
| Linear & Matrix Arrangements | Puzzles | Family Tree Problem |
| Statement & Conclusion | Cause & Effect | Input & Output |
| Partnership | Line Graph | Tables |
| Bar | Pie Graphs | - |
IIFT Syllabus 2022 for General Knowledge
Politics

Industry

Geography

Business

Society

International Affairs

Science

Economics

Banking

Awards & Awardees

Entertainment

Sports

History

Mythology
Best Books for IIFT 2022 Syllabus
So now you know the entire IIFT syllabus. But how do you cover it? Or, from where do you cover it? Well just the knowledge of IIFT 2022 syllabus is not enough, what IIFT study material should you prefer in order to cover the syllabus play an important role. Let us check the section wise books for IIFT:
Books for Verbal Ability
How to prepare for Verbal Ability and RC by Arun Sharma and Meenakshi Upadhaya

The Pearson Guide to Verbal Ability and Logical Reasoning by Nishit Sinha

Word Power made Easy by Norman Lewis

30 Days to a More Powerful Vocabulary by Wilfred Funk and Norman Lewis
Best Books for Quantitative Aptitude
How to prepare for Quantitative Ability for CAT by Arun Sharma, published by Tata McGraw Hill

Quantitative Aptitude by R.S. Aggarwal

The Pearson Guide To Quantitative Aptitude And Data Interpretation by Nishit Sinha

Quantum CAT by Sarvesh K Verma
IIFT Books for Logical Reasoning and Data Interpretation
How to prepare for Data Interpretation for CAT by Arun Sharma

Logical Reasoning and Data Interpretation for CAT & other MBA exams by Nishit K Sinha

Data interpretation and Logical Reasoning for CAT by Pearson
Best Books for General Awareness
India Year Book

Manorama Year Book

Newspapers like Indian Express, The Hindu, Economic Times, Financial Express

Magazines like Business India, Business Today, Business World, Outlook, Forbes
IIFT Exam Pattern 2022: Key Highlights
Let us have a quick look over the exam pattern of IIFT in order to understand the exam better.
There are a total of 110 questions in IIFT exam

The duration of the exam is 120 minutes

The questions are multiple choice based

There is no sectional time limit

The test will be conducted in an online mode

There are overall four sections namely - VARC, QA, DILR and GA

There is a negative marking of 1 mark per incorrect question in VARC, DILR and QA while deduction of 0.5 marks for GA section

The total marks allotted to the exam are 300
IIFT Sample Papers 2022
An important aspect of IIFT exam preparation is practicing sample questions and mock tests. Candidates can learn about the exam pattern and time management for the examination by solving the sample paper. Also the sample papers of IIFT help in determining the exam level that has been continued over the years.
Frequently Asked Question (FAQs) - IIFT Syllabus 2022
Question: What is the duration and mode of IIFT exam?
Answer:
IIFT is conducted in online mode and the duration of the exam is 120 minutes.
Question: How many questions are asked in the IIFT exam?
Answer:
There are usually around 110 questions in IIFT question paper.
Question: Is the IIFT syllabus the same as the CAT syllabus?
Answer:
Yes the topics under QA, LRDI and VARC are the same for both CAT and IIFT except the latter having extra sections of General Knowledge.
Question: Is there any change in the IIFT syllabus for the 2022 exam?
Answer:
No, until now there is no change in the IIFT syllabus for the 2022 exam. If any, it will be known when IIFT 2022 exam notification is released.
Question: What are the topics from which questions will be asked in the Quantitative Aptitude section of IIFT?
Answer:
QA section of IIFT exam comprises all the topics of Geometry, Algebra, Arithmetic, Mensuration, Trigonometry and Modern Math.
Questions related to IIFT
Showing 217 out of 217 Questions